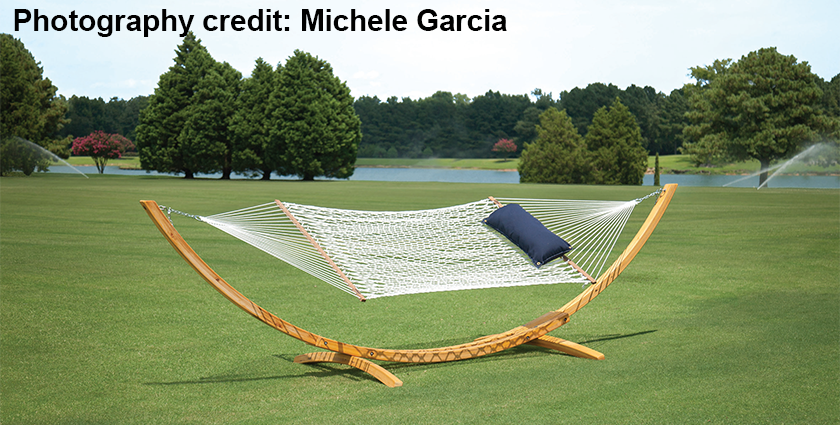 Redefining relaxation
The world's leading manufacturer of hammocks and outdoor furniture, The Hammock Source, sees enduring success with a new range of innovative, sustainably made products
For over 50 years, The Hammock Source (Hammock Source) has produced exceptional quality, hand-woven hammocks for customers all across the world. As a leading producer of outdoor leisure furnishings, the company now offers its customers everything from chic patio furniture, to recycled plastic tables and chairs. Using its tried and tested blend of traditional and modern manufacturing methods, Hammock Source now sees organic growth, and ongoing success in a range of international markets.
Starting out as a family company, The Hammock Source has grown over five decades and two generations into the global operation it is today. As Chief Executive Officer, Walter Perkins III, reveals: "The business began with my father. He was a buyer for the American Tobacco Company in the early 1970's, and his job took him all over the country. Before one of his trips to South Carolina, my grandparents asked him to go down to Pawley Island to get a hammock for the beach house, and my father did as they asked. On his way, he realized how far he needed to travel just to get their hammock, and so he bought two, one for the beach house, and one to take apart, so he could learn how to make them.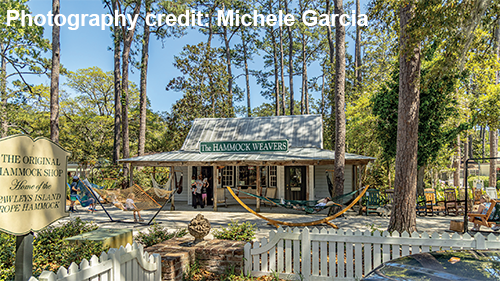 "After that, he started making and selling hammocks out of the back of his car while he traveled around buying tobacco. He would stay in hotels, work all day, and peddle hammocks in the evenings. He named the company Hatteras Hammocks, and picked up his first major customer a few years later. LL Bean was a large catalogue retailer, and it gave him his first step into the world of national commerce. He learned how to work with big businesses, and in 1997 he was doing so well that he was able to buy the Pawleys Island Hammock Company.
"Following the acquisition, Hatteras Hammocks became The Hammock Source. In 2004, we bought another hammock company called Nags Head Hammocks, which was on the outer banks of North Carolina. It had several brick-and-mortar stores, and an established website, which helped step up The Hammock Source in terms of infrastructure.
"Today, the company imports and manufactures hammocks alongside a range of other products. We make goods and sell them to retailers through our catalogs, and we also do our own retail business. Since the early 2000's, we have diversified our product offering to include other outdoor furnishings, including a range of garden and camping furniture, and outdoor rugs."
Cultural symbol
Throughout its long history, Hammock Source has earned a reputation for exceptional quality and hands-on manufacturing. As Walter explains: "Culturally we have always been a manufacturer first and a retailer second. My father started out making his own hammocks, and we have kept that tradition alive. We also really enjoy branching out and making new products.
"Our catalog now includes a range of outdoor furniture products alongside our core range of hammocks. We have a variety of hammock stands, pillows, single and double swings, wood, metal and additional moving parts. Recently, we ventured into High Density Polyethylene (HDPE) products, including Adirondack chairs and bar stools.
"Materials are a big focus, so we use really high-quality fabrics and rope for our swing seats, and we also have a lot of textiles in our portfolio that can be used for outdoor curtains and other enclosures. We have also innovated with traditional products to create something original of our own, for example, Hammock Source's tufted hammocks are very unique. They are heavy tufted like a mattress for additional comfort, and our customers absolutely love them."
The authentic, hand-woven feel of the company's hammocks and textile furnishings are an important part of Hammock Source's enduring brand. As Walter enthuses: "People associate hammocks with luxury and peacefulness, which makes them a powerful cultural symbol. We have used that allure as part of our brand, and it has been well-received.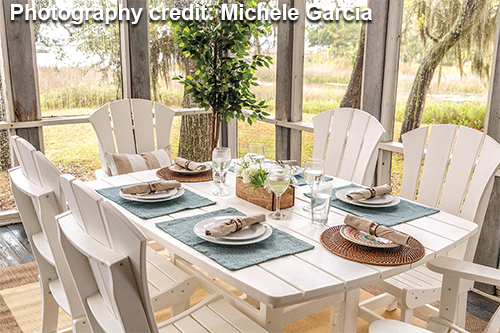 "We offer people a product that provides them with ultimate relaxation in a variety of contexts. For example, we produce camping and travel hammocks for customers across North America, as well as more permanent fixtures for holiday homes or people living in sunnier regions. We also offer our products at an entry level price point, so people can access the luxury world of hammocks without the cost that usually comes with it."
Creative development
All of The Hammock Source's furnishings are designed to fit seamlessly into outdoor environments. Similarly, the company's manufacturing process is all about being eco-conscious and sustainably driven. "When my father started this business, he didn't have any money, so everything was saved and reused where possible. We were very strict about reducing waste, and saved everything, I even climbed in dumpsters for cardboard and packaging that we could re-purpose. Those experiences really instilled environmental consciousness and minimal waste as important values within the business.
"That's where the sustainability drive came from. Our HDPE line is made from recycled materials, and can be recycled at the end of its lifecycle. It's also incredibly durable, and comes with a lifetime warranty, which reduces waste," explains Walter.
Mixing authentic, hand-weaving manufacturing practices with the efficient use of cutting-edge technology means that Hammock Source's facilities are both sustainable and effective. "Our current footprint is about 300,000-square-feet. We have a facility in Greenville, North Carolina, that does all of our manufacturing and warehousing. The hammock manufacturing operation is very low-tech and manual. All of our hammocks are hand-woven, using a very simple loom that's made of two pieces of vertically standing pipe. For the stands, we have welders and electrostatic powder finishing systems in-house; the end-product is a nice blend of traditional and modern manufacturing methods that draws on the best of both.
"We use more cutting-edge technology to produce our HDPE products. For those, we use CNC machines, automatic chop saws and robotic assembly. We also use advanced IT systems to run all of this equipment. Our IT team is really great, they've been able to keep everything running smoothly as the company has grown into more sophisticated manufacturing over the years.
"There is also a seasonal element to the way we manufacture. A lot of the hand-woven products are done in advance, due to the extra time they take to complete. In the off-season, mostly the winter months, we continue to manufacture and store those for sale in the spring and summer months. We sell a lot of products through major retailers in the US, that we import from our international partners in Asia and India, who we have really strong, long-standing relationships with," Walter discusses.
Today, the people behind Hammock Source are hard at work designing and prototyping exciting new products for next year's spring and summer seasons. As Walter concludes: "We are now coming into our off-season for the rest of 2022, which means we will shift into creative development gear ready for 2023. People have been investing more into their private outdoor spaces since the pandemic, so we will continue to grow our HDPE line, as well as our other product ranges, to meet the increased demand. We see ourselves moving more into the recycled plastic category, with lots of big things in the future."
The Hammock Source
www.hammocksource.com
Products: Hammocks and outdoor furnishings