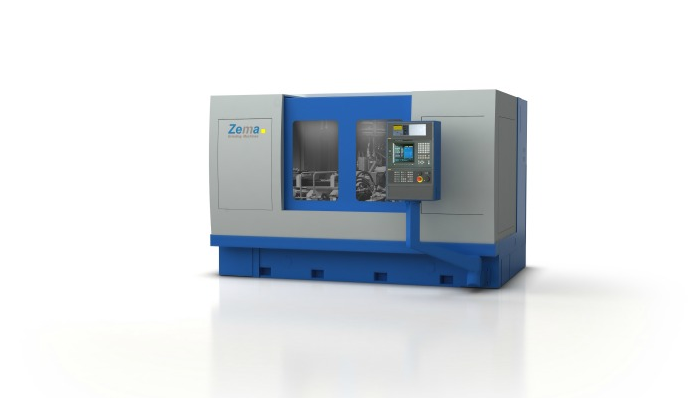 For the past two years, The JUNKER Group has been on the rise. The Nordrach, Germany-based company has grown its status as a global leader for high-speed, cubic boron nitride (CBN) grinding machines by staying innovative in its solutions for customers and expanding its business worldwide.
Founder Erwin Junker started the company in 1962 in an old grain mill in the Kinzig Valley of Germany's Black Forest. Today, JUNKER operates production, sales and service facilities in Germany and the Czech Republic, as well as additional locations in the United States, Mexico, China, Russia, India and Brazil.
The company also continues to demonstrate its ingenuity and innovation with new platforms. Horst Zemp, the president and CEO of Erwin JUNKER Machinery Inc., in Elgin, Ill., notes that these include a platform for the cylindrical and non-cylindrical grinding of work pieces.
The platform, which features a swing diameter of 470 millimeters and a part length capacity of up to 4.8 meters was developed for customers who wanted a machine that could grind large crankshafts in a single setup. The equipment is part of Junker's JUCRANK series of grinders.
Known as JUCRANK 8, the machine comes with newly developed steady rests with CNC control, and integrated measuring systems to overcome the challenges of large workpieces. "It is mainly for the power generation business, where the quantities of cranks are high enough that the CBN grinding approach is a benefit," Zemp says.
The machine also has prospective applications outside of crankshafts, including printing rollers, electric motor shafts and others. But its biggest benefit, Zemp notes, is its ability to grind a crankshaft in a single setup, saving users valuable time.
When other machines were used, "The crank was moved from one machine to another until it was complete," he recalls. "It used to take eight to 10 hours."
JUCRANK 8 can reduce that time to as little as a half-hour, Zemp says. "It doesn't have to be taken off the machine for re-measuring," he says. "All the corrections are made with machine axis motions."
JUNKER's recent innovations also include the JUCENTRIC 500, a grinding machine that operates without work piece deflection but with strong accuracy. The machine, Zemp notes, supports work pieces as they are positioned and clamped between centers.
When grinding is performed, the JUCENTRIC 500 holds pieces stiff and straight, saving users time. "We can grind a shaft so much faster than using a center-less grinding approach," he says. "A one-and-a-half-inch-diameter shaft that is up to 20 inches in length can be ground in 18 to 25 seconds."
A Good Fit
JUNKER expanded its market share with the recent acquisition of ZEMA, a grinding machine manufacturer based in Brazil. "We are the majority owner of the company," Zemp says.
ZEMA, which was founded in 1953, specialized in CNC grinding machines with conventional grinding wheels for the Brazilian market. The acquisition will bring ZEMA's products to a worldwide customer base, as well as expand JUNKER's expertise in the grinding sector. "Now we can fulfill any customer needs, open up additional markets and supply combined production lines," Rochus Mayer, CEO of The JUNKER Group, declares.
While production on the JUNKER side was normally used for high speed CBN grinding, "Now we have offerings for aluminum oxide or non-CBN grinding technologies," Zemp says, noting that this gives JUNKER a complete production line. "In the past, we didn't have those products and were only able to provide the CBN grinding technology portion of a production line."
Zemp praises ZEMA's hydrostatic machines. "There is no wear and tear [to them]," he says. "They have a very long lifespan with the highest accuracy and reliability."
ZEMA's experience in the automotive industry makes it a good fit with JUNKER, since its clientele includes Bosch Auto Parts, ThyssenKrupp, Ford Motor Co and General Motors. "They are all existing customers worldwide," Zemp says, noting that this played a part in JUNKER's acquisition.
Since the acquisition, "We have gained several customers, mainly in Mexico for medium-sized production," he says, noting that lower grinding technologies are required below the border.
Elgin Expansions
JUNKER recently incorporated LTA Lufttechnik GmbH, its industrial air cleaning systems company in Nordrach, in the United States. Previously, "We were mainly active in Europe with those products," Zemp recalls.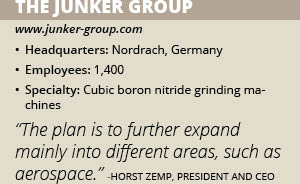 The move will allow JUNKER to be a complete supplier to the grinding and air filtration industries worldwide. As LTA Industrial Air Cleaning Systems Inc., which is also based in Elgin, the company extends throughout North America "with active sales of single units and entire systems," he says, noting that it will operate as its own entity.
Zemp also highlights a new showroom that Erwin Junker Machinery opened in Elgin, where it displays machines from JUNKER, ZEMA and LTA. This will allow customers to see the world-class grinding machines and air-filtration units first-hand.
Spanning 4,000 square feet, the showroom will have its first open house later this year. Zemp notes that this will provide more exposure for Lean Selection and ZEMA products.
The company also plans for the showroom to host live run-offs and grinding demonstrations, as well as special events for invited guests. "Customers can see the quality of how the machines are built, as well as the quality of the grind they can do," Zemp says.
Beyond Borders
Business is growing for JUNKER's Erwin Junker de Mexico operation in Querétaro, Mexico. "From there, we support our Mexican customers," Zemp says, noting that these include Volkswagen, Ford and John Deere.
Its growth at Erwin Junker de Mexico includes additions to its personnel. "We have expanded the sales team, as well as [hired] service employees that are local," he says. "The entire office is staffed with local employees."
He adds that Erwin Junker de Mexico recently exhibited at the Expo Manufactura, ExpoMaq and the International Manufacturing Technology Show, where it also exhibited products from ZEMA. "[All] are available for viewing at our demo room in Elgin," he adds.
JUNKER plans to keep growing, Zemp says. "The plan is to further expand mainly into different areas, such as aerospace, as well as expand further into the automotive industry [and] agricultural applications," he says, noting that the company also has its sights set on Canada, particularly Toronto's automotive industry.
Made to Order
Based in Nordrach, Germany, LTA Lufttechnik GmbH says it is a technical leader in filtration products. "We research, develop and manufacture filtration systems for industrial air purification," it says. "With our constantly growing portfolio of clean air innovations, we impress our clients all over the world – from machine shops and small business to global corporations."
The company started operations in 1980 and joined The JUNKER Group 15 years later. LTA's products include filters for oil and emulsion, welding and soldering fumes and dust. "LTA products are used primarily with machine tools, as additions to existing machines, as central air filtration systems in production halls – or as individual solutions – made to order," the company says.
LTA notes that its air filter systems provide the right filter for each type of particle. "They're extremely efficient and economical with regards to both purchase price and use," it says. "They lower your operating and energy costs, protect the environment as well as resources and ensure excellent air quality in your place of business.
"LTA solutions ensure a healthy and productive working environment long-term: an environment in which your employees can work, unhindered and with higher morale, assuring your company's continued success," LTA says.
One to Rely On
The JUNKER Group's clientele includes large groups, as well as medium-sized and small companies. "All the renowned automobile manufacturers and suppliers, tool makers and companies in other industries rely on JUNKER technologies," it says. "For either mass or small series production, JUNKER machines are highly precise, economical and reliable."
The company's automotive division provides a strong level of expertise "in development and system solutions, catering to the automotive manufacture and supplier industries, as well as to other manufacturers who use automated production facilities," it says. "That applies to both the development of optimized grinding concepts and to complete manufacturing cells and plant construction."
JUNKER also has its Tooltec division, which provides discerning customers with "grinding machines to produce tap drills, twist drills, milling cutters, reamers and countersinks, as well as indexable inserts, saw blades and various special cutting tools," it says. "High-precision, economical and reliable, these high-performance production machines represent some of the top solutions available in the world of cutting tool manufacture."
JUNKER's Service Centers also strives to keep its machines efficient. "The range of services we have to offer helps us to maintain the availability of your JUNKER grinding machine, to provide you with safe planning and to make costs transparent," it says. "The JUNKER Service Centers are there to assist you worldwide."
Ideal Technology
Users demand a lot from their grinding machines today: short and easy set-up, versatile and flexible use, good accessibility, high precision and, last but not least, simple operation. The JUNKER Lean Selection grinding machines were designed with these in mind. They are easy to use and feature pictograms that make programming a snap. As typical JUNKER machines, they can produce with CBN and diamond abrasives and are optimized for minimal set-up times. The JUNKER Lean Selection has many areas of application. Among other things, it is ideal for use by contract manufacturers, small suppliers and medium-size companies and is perfect for the manufacture of both single parts and series.
First-class shaft grinding is performed on the NUMERIKA cylindrical grinding machine from ZEMA. Versatile, rugged, long-lasting – the NUMERIKA series meets any requirements for the series production of a broad range of workpieces, up to a length of 3.70 meters. A torsion resistant machine bed, hydrostatic guides and grinding spindles mounted on rolling or hydrostatic bearings provide for perfect grinding results. The user-friendly control system offers all required input masks for grinding with corundum. Its debugging screens and features are leading the industry. ZEMA also offers grinders for large parts. With its KARGO it offers solutions for parts of up to 6.5 meters and 8 metric ton parts.