The key to 75 years of success is innovation; here's how Parvalux did it
Parvalux was founded in 1947 by Leslie J Clark in Romford, Essex. It began selling motor rewinds, but following a relocation to Bournemouth, it expanded the service to designing and manufacturing complete gear-motor units for industrial applications.
By 2008, Parvalux was prospering, and found itself in a position to acquire its main competitor, the DC motor application specialist, EMD Drives Systems. This duo established the UK's largest privately-owned manufacturer of sub-one-kilowatt electric motors and gearboxes.
However, one of the biggest milestones for the company was when a Swiss motor manufacturer acquired Parvalux and made it part of the maxon group in 2018. maxon operates in 40 countries and employs more than 2050 people, of which more than 1316 are based in Sachseln, Switzerland. At the time, Parvalux had 185 employees in three production sites in Bournemouth and generated a revenue of £23 million annually, with just under 50 percent being exported globally.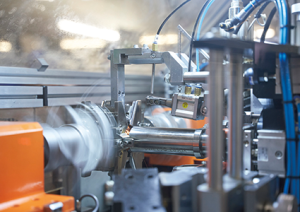 Since then, the company has continued to grow and expand in a business, manufacturing, and geographical sense. Joining the maxon group enabled Parvalux to transfer its sales operations to the maxon subsidiaries, essentially gaining a sales team in 40 countries around the world. Parvalux re-focused its sales team to support that network, increasing market, application, and product awareness in the local teams.
There has also been an expertise expansion, with technology and knowledge sharing between the group fostering even greater product innovation.
Considering this extensive history, reaching its 75th anniversary is a proud moment for the business. Its longevity is a testament to the innovation and hard work of the team that has kept the doors open all these years. "We still have employees in the business who joined over 40 years ago, and share their knowledge with new talent now, combining years of motor design expertise, and the latest engineering approaches," shares Doug Sheppard, the Managing Director.
Speed to market
In terms of Parvalux's operational scope, today, the business manufactures sub-one-kilowatt electric motors, gearboxes and associated accessories, and supplies OEMs worldwide with complete drive solutions. "Our products are often hidden in plain sight, operating automatic doors, stairlifts, train windscreen wipers, AGVs and even candy floss machines.
"More specifically, we produce permanent magnet brushed and brushless DC motors, along with AC induction motors. Our gearbox range includes worm drive, inline or right-angle gears, planetary and double-reduction gear heads.
"These core products are all designed and manufactured in-house and are supported by additional encoders and controllers. With our ability to provide brakes alongside this equipment, we are capable of supplying application specific motors and gearboxes, but also full drive system solutions."
The company's expertise in the market enables it to work as an extension to its customers engineering teams, offering rapid speed to market with modular and application-specific solutions, and reliable products that perform in the most challenging of environments. "We manufacture across three facilities, all located in the Bournemouth and Poole area. This is split into high-volume and low-volume assembly facilities, and a CNC machining center. Our core competencies are CNC turning, gear cutting and motor winding. We test and approve our products in our state-of-the-art test lab and all products go through rigorous testing before being sent to our customers," says Doug.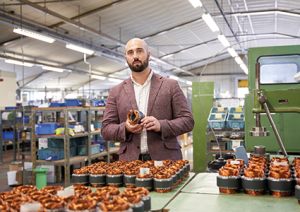 Naturally, a 75-year-old business is going to have a legacy of some old equipment, as well as new. Recently, Parvalux approved a three-million-pound investment in capital equipment to go alongside its new facility with the intention of investing in its people, skillset, and technology. "We don't want to move into a brand-new manufacturing building with aged machinery, so we're currently looking into how our
systems are automated, but then also what that means for our people. We don't want to invest in automation to lose people; it's a case of investment in automation to upskill our teams and allow them to go on to bigger and better things in their job roles."
Research & Development is at the heart of Parvalux, and innovation is critical to its on-going success. "Last year, we launched our first controller and a two-pole, bi-directional, highly efficient brushed permanent magnet DC motor, designed for applications in markets such as agriculture, medical, industrial, and building automation.
"We achieved this through our product development life cycle. This has been designed specifically for our customers' needs and starts from feasibility through to product maturity. It is a detailed approach, appropriate for our customers' rigorous standards," shares Doug. A key focus for the business this year is to develop several new roadmap products, increase its portfolio and allow it to grow into new markets, while improving market share in existing applications.
Sustainable production site
Doug then goes on to discuss projects that demonstrate the business' capabilities. "In response to record demand for Parvalux drive products and a long-held desire to improve production efficiency and sustainability, we began construction of a multi-million-pound headquarters and production facility last year, which is an investment from our parent company, maxon, in Parvalux's future." The new building will provide some 14,000 square meters of factory space, on an 8.75-acre brownfield site, previously occupied by Siemens and Barclays. It is anticipated that the new HQ and production facility will be fully operational by summer this year.
Sustainability is also key to what Parvalux does as an electric motor manufacturer, and its new headquarters has been designed to be carbon neutral, with one of the largest photovoltaic arrays fitted to a single building in the local area and potentially the South of England. This 1500 PV array will generate the electricity required to heat and light the whole building. "Our team comprises of more than 200 people over three sites. This new facility will bring us together into a single location, and facilitate decades of future expansion, whilst enabling us to remain at net-zero emissions."
The final aspect that Parvalux is dedicated to is contributing to the development of the future skilled workforce, with apprenticeship roles in which individuals can learn new skills, and train to excel in their chosen field. "Parvalux is a great place to start a career journey in a growing industry. Some of our employees have been with us for over four decades and have a wealth of knowledge that can be handed over to the next generation of engineers and professionals.
"We have a great track record of progressing level two apprentices into all areas of the business from quality engineers to finance managers, and production engineers to team leaders. We have a high success rate of developing apprentices through the business. In fact, two of our apprentices just won awards in the Manufacturer Top 100 Young Pioneer category."
It has become evident over the last 18 months that there is a growing skills and retention gap in the manufacturing and engineering sector, which Doug believes can only be tackled by attracting people into the industry and doing so at a young age. "We are only at the planning stage, but the ambition is to transition over the next few years to have our own academy working with young, disadvantaged, and non-manufacturing sector trained candidates to bring talent to our industry. We see this as a multi benefit initiative, bringing value to the community, enriching lives, but also creating our own pipeline of talent who will be future changemakers for us and other companies in the sector."
Business across many industries has been facing unprecedented challenges in recent years, and manufacturing was potentially affected more than most because of instability in global supply chains, lockdowns and port closures, boats getting stuck in the Suez Canal, and more recently the issues caused by the war in Ukraine with increased inflation and interest rates.
"Usually, it would be tough navigating one or two of these issues, but they have come both concurrently and quickly. We have had to remain agile and resilient, and could only have done this by having a strong
team with innovative thinking. We generally applied a 'fail fast' approach, which has allowed us to pilot scenarios, and run trials and then make corrections quickly if we weren't seeing the benefit. Combined with switching to a much more proactive approach in our risk management, and scenario planning, we have been able to adapt quickly to most of the issues," he expresses.
The result of this is that the company achieved two record years, growing substantially in both domestic and international sales in the process. Now, Parvalux looks forward to a prosperous future where it will continue to develop its manufacturing capabilities and improve its quality level. "In a physical sense, we will have been settled into our new plant and building in Poole, and that site can support our growth through to 2030.
"We are also fortunate to be part of the maxon group, which invests in the future of the business, and our people, so I can see us growing our team, fostering talent through our academy and working with many new customers and partners from across the globe, making Parvalux a shining example of a British manufacturer on a global stage," Doug concludes.