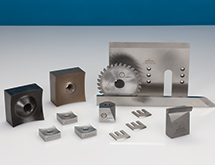 Established in 1948 by C.L. Masters, The Kinetic Co. Inc. is a family owned firm that began as a one-man, garage-based operation. The company now resides in an 80,000-square-foot facility in Greendale, Wis., and has 110 employees. Kinetic is run by the founder's grandsons: Jared Masters, president, and Cash Masters, who serves as the vice president.
To help serve international clients, Kinetic also owns Microblade, a circular saw manufacturing company based in Sheffield, England. In January 2014, Microblade also acquired Tempered Tools of Sheffield, a 200-year-old manufacturer of shimless tooling for the steel slitting industry. "Each of these operations working together, whether it be sales force coordination, or shipping and handling of product for customers, enables us to cost-effectively handle our world-wide customer base," Jared Masters says.
Kinetic manufactures 20 categories of knives and offers 5,000 different SKUs. "We're unique compared to our competition," Masters notes. Whereas most of its competitors make blades for a single industry, such as paper cutting or steel cutting, Kinetic manufactures blades for a range of industries including paper, wood, plastic, metal, and food processing and packaging applications.
Masters says that working in a variety of industries helps its clients. For example, Kinetic has been able to transfer the knowledge it has learned from manufacturing blades for different industries. "For cutting plastic film, the blade has be very sharp and refined," he says. "We've been able to apply this knowledge of paper cutting and modified the blade to use for film." He adds that since the applications are similar, the solution can lie in simply machining an existing blade to create something totally new.
Quality Assured
Whatever the application, every Kinetic knife is guaranteed to be made to the exact specifications that its customers need. Both in terms of quality materials as well as state-of-the-art equipment, Masters says Kinetic will "jump through every hoop possible to make sure every customer issue is addressed.
"Our products are well-known for their quality," Masters claims. "In addition, we are always searching for better materials and methods to manufacture our products."
Kinetic relies on its suppliers to provide it with the best materials possible. "We have a small, select group of suppliers that we have worked with over the years," Masters says. "They deliver good product on time – though it may not be the least expensive." In fact, he says two of its steel suppliers are actually Kinetic customers: "We do a good deal of machining work for them."
Substantial investment in state-of-the-art equipment has also kept Kinetic on top of its game. Since 2006, the company has invested $4 million in equipment upgrades including CNC programming training for its operators. Additionally, keeping all of its manufacturing processes in-house ensures that quality meets the firm's high standards. "We grind, mill, heat-treat and turn material at our facility," Masters notes.
Kinetic also helps control output through copious documentation. "We maintain consistency by keeping very detailed procedures and work instructions on every product we manufacture," Masters says. "We include details of the setup, drawings, photos and any other details." He adds that keeping track of this information helps ensure precise quality control.
"We can pull up products that were made five years ago and know they'll be made to the exact same specifications," Masters says.
Substantial investment in training is also a large component of its quality investment. Over the past two years, the company has invested more than 3,000 hours in training in such areas as safety, CNC programming and grinding methods. "We even have our top grinders take grinding classes to learn other methods and help develop their skills," Masters says.
Kinetic also solicits its staff for quality improvement and cost-saving ideas. "One employee used a special block machine for grinding angles," Masters says. "He told us that if we could get new blocks he could get twice the amount of work done in the same amount of time." He adds that even though the company had to make a small investment in new fixturing for the machine, the investment was recouped within a few months because the operator could work more quickly and efficiently.
Tackling The Challenge
In developing a knife, Masters says its engineers look at the material that needs to be cut as well as what the client is currently using. In determining the best option for that operation, Kinetic will offer different material and price options to produce the knife. "There may be less-expensive options that work just as well," he notes. "We want a client to make an informed decision that best suits its operation's needs and costs.
"We know the issues that our clients face," Masters says. "Whether a blade is wearing out too quickly or not cutting properly can cause their costs to increase."
Masters cites an automotive manufacturing client as an example. "In steel-cutting applications, higher tensile strength is critical so the blades can withstand the deterioration caused by the cutting operation," he explains. "Improper cutting can significantly impact the material being cut, which can lead to waste." Additionally, downtime due to frequent knife changes can also add costs.
"Our product line managers and engineering team will get together to figure out a cutting solution," Masters says. "We pride ourselves on listening to our clients' needs and then finding the ideal solution."
One of Kinetic's customers needed to employ a wood-cutting knife. "They needed lead babbits to help install the blades," Masters says. "Not only was the lead expensive, changing out the blades was a time-consuming process that resulted in substantial downtime." To combat these issues, Kinetic designed a new blade that eliminated the need for lead and featured a different fastener system "that allows for insanely fast setups," he describes.
"Our customers are very particular and demand the best," Masters says. "[With Kinetic knives] they know they'll get the best finished product and the most life out of it."