The Leeds Welding Company
Future-focused
To remain at the forefront of the fabrication and welding industry The Leeds Welding Company is investing in new equipment, facilities and the diversification of services
It has been an eventful 12 months for The Leeds Welding Company (LWC), which has been under taking a strategic overhaul in its operations to ensure its position in the market is not only strengthened, but also expanded. Major developments that have taken place recently include the acquisition of a new 33,000 square feet building and the appointment of new production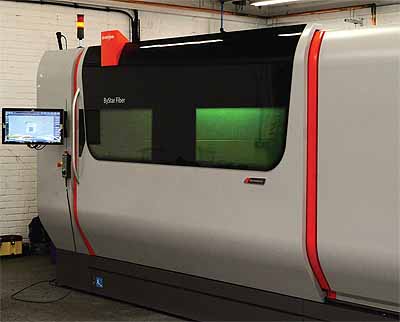 director, Ian Verity. A chartered engineer, Ian has long-term experience in launching cutting edge IT systems and extensive experience in the setting up of new factory layouts and production facilities. Keen to continue LWC's trend of year-on-year growth, Ian and the team behind the innovative fabrication business have been implementing modern manufacturing techniques and changing the factory layout to ensure increased productivity through improved operational efficiency.
A direct result of its ongoing success, the new 33,000 square feet building will enable LWC to expand its workforce and ensure impeccable standards for customer service and quality are maintained. This policy of continued investment also cements LWC's reputation as a leader in laser cutting, stainless steel fabrication, mild steel fabrication, robot welding, tube bending, 3D engineering, assembly and CNC folding.
Discussing these developments is Richard Eaglen, Managing Director at The Leeds Welding Company: "We have seen steady growth over the last five years, which has reached a point that we are now embarking on a programme of re-vamping the way we do things. For example, Ian Verity joining LWC means we will modernise some of our production techniques, principles and practices; this has started with a revamp of our factory layout. This is the first thing we embarked on, as it is a project that is no mean feat when you are moving these machines, taking a week to de-commission them and two weeks to rebuild them."
He continues: "With our position changing and a lot of investment going on, we have also recently finished training on the first 10kW fibre 4M x 2M laser cutter, which is now in production at our facility with full automation. I believe we are the first company in the country to have this variation of the machine; there are others with 10kW laser cutters and others with four metre machines, but we are the first in the UK to have this variation that locks together the biggest and best combinations of all three variants. We have also recently begun the installation of a bespoke paint facility, which we have never had in-house before. However, we will shortly have a bespoke facility in the new building for painting applications up to 15M long and 5M wide, so this is a big operating window for us."
This diversification into turnkey paint services, delivered in-house, will further strengthen LWC's connection with its customers who return to the company time and again thanks to the one-stop-shop offer available. "It is very rare for us to say we can't do something for a customer, we will always say that we can arrange it via one of our subcontract partners. While we were previously sending paint operations out elsewhere, customers liked the fact we were getting it for them as part of their purchase of metal work, so we took the decision to bring it in-house," comments Richard.
Now operating from four sites, LWC's main site is set to become a parts manufacturing centre where all components will be manufactured. The remaining three sites will then be used for the fabrication of these parts, with one site for large fabrications, another dedicated to stainless steel and aluminium fabrication, and the third will be used for the fabrication of assemblies that will then be sent for galvanising. "We are streamlining the way we are building some of these products so we can not only improve the consistency of quality of the products we make, but also improve the process times as well, the introduction of Robotic welding over the past year has played a large part in increasing productivity," says Richard.
Following this period of transition, LWC is keen to continue focusing its attentions on its apprentice recruitment drive, a development that began three years ago in line with a national skills shortage and the more recent complexities of Brexit. "We have spent the last three years looking to recruit our own apprentices and to train them up in-house alongside college providers so we can plant some seeds for the future. In 2016 we took on four apprentices, and in September 2017 we took on another five," says Richard.
Looking ahead, the company will continue to invest in skills and training to maintain a steady flow of new employees coming through the business. The company will also seek to gain accreditation standards to ensure continued growth in new markets such as the nuclear and automotive industry. "There are plenty of people from the military, automotive and construction sectors that will audit our systems themselves and are very happy with the way we do things, however it will potentially be a stumbling block to open new doors in the future," says Richard.
"We have also joined the EEF, which has some great benefits in terms of business support, contacts and opening up new trade relationships with other people," he concludes.
The Leeds Welding Company
Products: Engineer, cut, form, fabricate and finish a range of systems and components