Quality products and customer serv­ice are the driving forces behind the operations of the world's leading manufacturer of commercial and ind­ustrial floor machine brushes."We believe in taking care of our custom­ers and going the extra mile for them today, as that allows us to be sure we can take care of them tomorrow," says Jeff Malish, president of The Malish Corp., reflecting his company's philosophy of "Malish Means More."
"Our on-time delivery levels are extremely high; over the last two years our deliveries have been to 98 percent or higher of our customers' [delivery] want date," he adds.
In addition to producing brushes used on floor cleaning machines, the Willoughby, Ohio-based company also manufactures a line of hand brushes for use in the janitorial and foodservice industries, as well as plastic extrusions that can be used to produce a wide variety of tubes.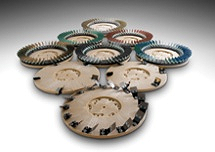 Malish Corp. operates manufacturing facilities in the United States and China, giving it a true global presence. The China facility opened in 1998. "We were ahead of the game in setting up a manufacturing operation in China, and that has truly allowed us to grow during the last 10 years," Malish says. "Being global is extremely important; our customers are located all over the world, so we need to be able to serve them no matter where they are."
The company continues to expand with the introduction two years ago of the Diamabrush™ diamond abrasive preparation system. The system, comprising four different tools de­signed for use on commercial clean­ing machines, is for concrete floor polishing, mastic removal and hardwood floor preparation.
The line recently earned the company the William Cordes Innovation Excellence award from the American Brush Manufacturers Association.
Staff Advantage
Both the Ohio and China manufacturing plants feature staple set brush manufacturing capabilities. The staple set process involves manually loading blocks and brush filaments into machines, then drilling holes into the blocks and placing the filaments into them, Malish says.
The U.S. facility also features plastic extrusion capabilities. The China facility features injection molding machines, giving the company the ability to mold its own blocks.
The company's technology team closely examines manufacturing in both locations with an eye to finding ways to improve its processes, including automation.
"We really focus on finding ways to improve our throughput, whether it's finding new equipment or modifying existing equipment to make it better," Malish says.
The technology team exemplifies what Malish calls the company's greatest strength. "For a small company, we're blessed to have very smart and talented people," he adds.
Many of Malish Corp.'s employees have been with the company for 20 years or more. "Our employees are ex­tremely important to us, and they know our customers' business well," Malish says. "We will work with customers in design stages and try to develop products for them at the lowest customer cost."
Three Generations
Jeff Malish is the third generation of leadership at the family owned company, founded in 1948 by his grandparents John and Pauline Malish. The couple started the company producing brushes out of their home, remaining a small mom-and-pop operation until 1968, when Jeff Malish's father, Terry J. Malish, joined the company.
Terry J. Malish, a former Air Force fighter pilot, set his sights on expanding the operation to become a supplier to OEMs. He led the company from 1968 until his retirement in 1998, and currently serves as its board chairman. Jeff Malish joined the company full-time in 1993.
"I am very fortunate to have grown up in a family business and been able to foster and grow the company over the past 20 years," Malish says. "With­out the people and the team we have, that growth would not be possible.
"What gives me satisfaction every day is coming in here and working with such a good group of people."