The Managing Director at Cressall Resistors is proud of how his company is championing sustainability
Mr H. Cressall and his brother founded the Cressall Manufacturing Co. Ltd (Cressall) in Birmingham, in 1912, with the aim to produce asbestos woven resistance nets. The company grew steadily, and by 1939, it boasted 70 employees, and the company's sales of expanded mesh resistors continued to reach new heights.
In 1955, Cressall was taken over by The Expanded Metal Company, which had a resistor and heater section that could deal with requirements of 50 amps and upwards. The new company, which retained the Cressall name, had a wider range of resistors and heaters than any other manufacturer in the UK.
By the time the 60s arrived, the company began to diversify, particularly into printed circuit boards (PCBs), and electronic devices. The company name changed to Cressall Printed Circuits, and an agreement was concluded with one of the leading American makers of PCBs, which enabled Cressall to become one of the leaders in this field. However, during the second half of the 20th century, the company suffered a dip in success, and by the time it was bought by the Halma Group in 1990, there were fewer than 15 employees. Worse still, the product range had slimmed down to a core of just expanded mesh, edge-wound coils and steel jacketed heaters.
The application of Halma's rigorous financial and managerial disciplines revived Cressall's fortunes during the 1990s. In 1993, the company moved to its present premises in Evington in Leicester. New products, such as neutral earthing resistors, portable load banks and standard dynamic braking resistors, and a more market-led approach to sales meant that by 2005 the company was employing more than 60 people, with a turnover in excess of £5 million. Investments were made into new equipment and businesses, extending Cressall's range of resistor technologies to its present wide scope, and made Cressall the leading force in the power resistor business in the UK.
Specialized products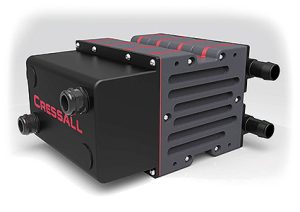 In 2006, Halma sold its resistor businesses to Telema Group, the world leader in power resistor design and technology. Cressall was merged with Telema Group's existing UK subsidiary, TPR Resistors, and the companies now trade as Cressall Resistors Ltd.
Nowadays, Cressall employs a team of over 100 on two different sites (Leicester and Dereham) with an annual turnover above £12 million.
We hear from Simone Bruckner, Managing Director, about the strengths of the business, and how Cressall continues to be an industry leader, especially when it comes to sustainability. "We offer a much wider range of technologies than any other power resistor manufacturer in the world because we have over 100 years' experience in the design and manufacture of these specialized products. Our main markets are in power generation, high and medium voltage power distribution, marine and offshore electrical systems, drives and controls for cranes, hoists and industrial machinery, rail traction and standby power systems," Simone shares.
The company's range of products include neutral earthing and grounding resistors for medium voltage electrical distribution networks, dynamic braking resistors for inverter drives and electric vehicles (BEV and FCEV), load banks for testing diesel generators, uninterruptible power supplies and batteries, dummy loads for routine testing and the operation of diesel power plant or for protecting offshore windfarms, and high voltage filter resistors. Applications may use natural convection, fan cooling, or direct or indirect water-cooling by heat-exchanger.
Environmentally responsible
Regarding Simone's own career journey, the Managing Director has collected years of experience and knowledge in a variety of sectors, which made him perfect for a role at Cressall. "In 1997, I achieved an MSC in Mechanical Engineering at Genoa University, in Italy. After completing my military service, which
was spent as a navy officer on Amerigo Vespucci, I worked in some of the most important companies in Italy in the marine and yacht building markets. I joined Telema Group in 2009, while managing another company in Italy dealing with metal fabrication and marine systems.
"It wasn't until 2015 that I decided to move to the UK to take the responsibility of Cressall. From 2022, I started to manage the new acquisition of Telema Group, in Italy, which is Tesio Cooling Systems, and the rest, as they say, is history," he shares.
When asked about the ways in which the company prioritizes its environmental responsibilities, Simone shares that Cressall has been certified for ISO 14001 for some years. "We are a low-risk company regarding our environmental profile, in other words, all the raw materials are recyclable and the manufacturing processes are cold. We are monitoring the electricity and gas consumption, and trying to optimize them, and managing waste and setting targets on metal scrap, as well as considering environmental standards of our supply chain," he says. All Cressall's products focus on electrical functionality, which makes them inherently eco-friendly.
One area in which the company is working to raise awareness is regenerative braking. Imagine if you could reclaim some of the energy you lose throughout the day, without needing to rest. Electric vehicles (EVs) are able to do this through regenerative braking. It is an efficient way to reuse some of the energy lost as heat when a vehicle brakes, and it encourages efficiency, as well as the ability to travel further on a single charge.
Cressall's range of EV resistors convert excess electricity into heat that can be dissipated or used in other parts of the vehicle, such as to heat the cabin or to keep warm fuel cell stacks. The EV2 is a lightweight, compact resistor that absorbs excess heat into the cooling water where it is stored and used elsewhere. Cooling is achieved by pumping cold water, which comes into one end of the system and absorbs the heat. It can then be pumped through a radiator located away from the heat generating equipment.
Through this level of innovation, the company is well on its way to becoming a leader in the resistor manufacturing sector. As it takes on 2023 with a determination to increase its offering, and strengthen its quality, the years ahead look just as promising. "We are focusing on the development in the automotive and renewable market with some dedicated products such as EV2 and other renewable applications. Last, but not least, we are excited to be increasing our Power Prove, which is our internal division that focuses on load banks. With these actions in place, the future is exciting for Cressall," Simone concludes.