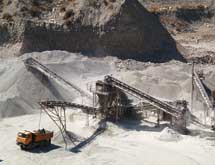 The Mellott Co. is a total supplier to the aggregates industry. For more than 75 years, the family owned and operated business has adapted to changing conditions to meet customers' needs efficiently. Today, the company offers creative solutions for the aggregate, slag, construction and power industries from its headquarters in Warfordsburg, Pa., and offices in East Syracuse, N.Y.; York, Pa.; and Greensboro, N.C.
The company provides equipment, parts, repair, crushing services in large or small volumes, equipment rentals and sales, systems engineering and environmental wears. These include wire and screen and synthetic media, truck bed liners, backing material, special application linings and dust enclosures.
Mellott Co. also offers parts and service; crushing services; equipment and rental services; systems and engineering; environmental, wear protection and screen media services.
Buyer Tracy Mellott says the company's level of service and dedication helps it stand out in its industry. "The customer is our highest priority," he adds. "We take a lot of pride in our training; it's a significant part of our service commitment.
"We have a full fleet of trucks and can offer service 24/7, and in our call center operations, we make sure whoever's calling gets to talk to a live person, we don't want to talking to a machine," Mellott says. "We try to have a personal touch."
Material Handling
Material handling is a tough business. Mellott Co. has created a business unit that addresses the specific challenges of abrasion wear and environmental responsibility called environmental, wear protection and screen media services.
Selecting wear materials can be difficult in a marketplace that offers a vast range of choices. Complex factors such as material properties, cost, longevity, inertia, moisture, vibration and many others must be considered. Picking the incorrect wear protection materials can be costly. The company's experienced application engineers analyze the factors that affect an operation and make recommendations for existing equipment.
Environmental compliance is another challenge Mellott Co. is ready to meet. The company's engineers assist in reducing noise and dust by selecting the correct materials and methods.
Screening Plants
Responding to customers' requests, Mellott Co. has expanded its operations to offer a complete line of track-mounted crushing and screening plants to its fleet of portable crushing equipment. These highly portable, state-of-the-art processing plants have allowed increased coverage to incorporate smaller volume projects ranging between 10,000 and 100,000 tons. Track-mounted plants enable crushing of smaller tonnages competitively with plants from 100 to 250 tons per hour with operator and mobile equipment if required, the company says.
Mellott Co. carries a multimillion-dollar parts inventory to keep customers up and running. With four branches helping customers east of the Mississippi, the company can deliver the parts needed along with after-hours emergency service.
The company's field technicians are ready to mobilize to get customers running again quickly. Factory-certified technicians with fully equipped mobile workshops can be on-site when required. The company offers customer training, repair, rebuild, service and maintenance.
The service department can repair and rebuild crushers, screens or feeders. Service offerings include vibration analysis, thermographic testing, noise/decibel level testing, dust suppression solutions and spray urethane. The company says it can meet screening needs for the lowest total cost with a complete range of opening, wire diameter, metal and weave types.
 Safety Achievement
Mellott Co. has been a family-owned business since 1927, and as with any family, it wants everyone to return home injury-free. In May 2009, employees of Mellott Co. reached a major milestone, having worked 1 million man-hours without a lost workday due to injury. This record dates back to September 2006 and includes em­ployees in all areas of the operation, including crushing services, equipment services, fabrications, engineering, sales, warehousing and administrative support services.
Compliance with the regulations of the Federal Mine Safety and Health Act, the MSHA Logo Occupational Safety and Health Act, and the Motor Carrier Safety Improvement Act are Mellott's minimal requirements.
The company educates and trains all employees as safety guardians. Mining and the manufacturing and transportation of mining equipment is a tough and dangerous business. Hardworking and caring employees have created many innovative safety programs and improvements. Many of these training programs, policies and safety improvements are posted on Mellott's website.
The company adheres strongly to five core values: safety, integrity, commitment, respect and excellence. "Our top value is safety," Mellott stresses. "We try to make sure our guys go home at night the same way they came in."
Ecological Responsibility
Mellott Co. believes that mining industry activities can and should be conducted in an environmentally harmonious and responsible manner. Mellott consistently and vigorously monitors compliance with all environmental requirements and regulations at each of its operations, it says. The company says it provides environmental responsibility and methods training to its employees, and maintains a proactive vision with regard to community involvement and environmental safeguards.
Mellott has an in-house team of environmental professionals to help maintain a record of good environmental stewardship at all operations. The environmental department team is wholly involved in environmental design and compliance oversight for Mellott Co. operations.
With more than 45 years of combined experience in environmental engineering and compliance work, the team provides expertise in geology, engineering, site planning and development, materials management and handling, site reclamation and all environmental monitoring and permitting.
With its commitment to environmental responsibility, Mellott Co. enjoys a productive and respectful relationship with various governmental agencies and local communities. Mellott has taken the lead in environmental stewardship and supports community projects such as stream channel renovation.
"We not only care for our employees, we care about those we impact," Tracy Mellott says. "We have concern for the community we're in, we don't want to have an adverse impact on the environment, we want to be viewed as a positive part of the community."
In addition to its environmental practices, the company also works with the community through a job skills program for high school seniors. Mellott employees work with students on mock job interviews and other professional skills, Mellott adds.
Started With Lumber
In 1927, Herman Benjamin "H.B." Mellott started a lumber company with a World War I army surplus truck. In the late 1930s, construction of the Pennsylvania Turnpike fueled demand for aggregates, and Mellott saw an opportunity to enter the quarry business. When World War II
lowered demand for aggregates, he adapted quickly to the changing times and used his equipment to process coal. Within a few years, Mellott employed more than 200 people at several coal operations in Pennsylvania and West Virginia. In 1948, he placed his son Herman Jr. in charge.
On July 16, 1948, while flying from Charleston to Chicago for an equipment show, the small plane carrying H.B., Herman Jr., a superintendent, and the pilot crashed, killing all aboard. After this tragedy, the operations were taken over by H.B.'s widow, Amy, and his 21-year-old son, Paul. However, Amy and Paul faced enormous challenges.
H.B. died without a will or a life insurance policy. Furthermore, the coal industry was entering a period of low demand and low prices.
To pay estate taxes, the coal-related properties and equipment were sold and all efforts focused on the quarry business. To this end, the H.B. Mellott Estate Inc. was incorporated in 1952 with Paul Mellott in charge.
In 1954, Paul Mellott continued his father's success through adaptability when he opened a ready-mix concrete operation at the company's home base in Warfordsburg, Pa. The following year, Mellott opened a silica sand deposit, which complemented the company's existing quarry and concrete operations.
Paul's brother Forrest joined HBM in the summer of 1958, and business boomed with the beginning of construction of the new interstate highway system. Business was going so well that Paul and Forrest ended up adding four quarries to the operation in the 1960s and '70s.
They developed Beaver Creek Quarry in Hagerstown, Md., in 1965, and leased a quarry in Frederick, Md., in 1966. Further quarries were added at Hancock, Md., in 1968, Rockdale Quarry of Hagerstown in 1975, and Big Cove Tannery, Pa., in 1936.
Portable Crushing
The third generation of Mellotts came onboard when Paul's oldest son Paul Jr. joined Mellott Co. in 1974. His other sons, Herman and Brian, started full-time with the company during the following year.
The company explains that the three sons were exposed to all facets of the company and became very involved in Mellott Co.'s newest business: custom portable contract crushing operations.
The initial venture into this type of work had been made on various road jobs in 1966, but in 1975 Mellott began to crush for customers in quarries with its first new portable crushing plant. By 1977, four portable plants were in operation, and the business now has grown over the years to include up to 22 plants operating in the field.