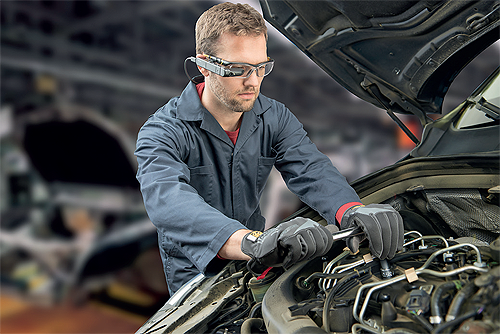 The Covid-19 pandemic has had a significant impact on the manufacturing industry. According to a global survey, about 95 per cent of manufacturers describe their operations as having been negatively impacted by its effects. Lost productivity due to remote working, lack of capacity on factory floors and sick employees having had the greatest impact.
As the manufacturing industry continues to navigate the pandemic and plan for what's next, focusing on the use of innovative technologies will be essential. Advances in enterprise technology offer a win-win for companies, boosting the efficiency of business operations with the added benefit that employees can ultimately work more productively, or remotely as needed. One example that is seeing a growth in adoption is wearable technology, an industry expected to hit $54 billion in value by the year 2023.
Wearable technologies such as assisted reality (AR) smart glasses promise to have a valuable impact on industries with a heavy reliance on frontline and field-based workers, such as manufacturing, aerospace and warehousing. So, what is assisted reality? And how will it power the manufacturing industry's next 'normal'?
Assisted reality
AR refers to projecting additional information into a user's field of vision, importantly hands-free. It differs from its perhaps better-known cousin, augmented reality, in that it does not change what the user is seeing, only adds an extra layer of information into their peripheral vision through diagrams, texts or videos. While having been on the business agenda for some time now, during the pandemic, industries reliant on frontline and field workers have increasingly adopted assisted reality smart glasses. Enabling collaboration amongst potentially distributed workers and on-the-job training, while overcoming the ongoing challenges that social distancing poses.
Powering the next phase of productivity through collaboration
Assisted reality smart glasses can enable effective collaboration amongst distributed teams, while allowing workers to move freely around an industrial site as needed. Employees can be working with machinery or on a new product, sending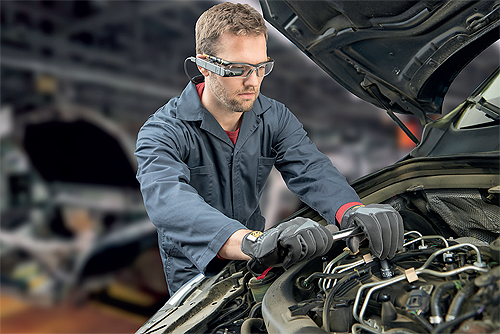 updates to off-site colleagues in real time. Simultaneously, with the Remote Expert solution, other technicians – from a safe distance on-site, or from an off-site location altogether – can collaborate in real time to fix problems, generate ideas or offer advice on how to complete a task. We'll see skeleton on-site crews continue as the industry remains navigating the pandemic and the social distancing rules that come with it, so ensuring teams are set up with the right productivity tools is vital.
Once a relatively simple task, social distancing or travel restrictions have disrupted auditing within the manufacturing sector. Smart glasses have a lot to offer when it comes to completing important tasks of this nature. Instead of traveling to the audit location, AR smart glasses can be sent to someone already on-site who can then use the glasses as instructed by a colleague. This way, manufacturers are given the same image, data and understanding as they would get in person. Providing auditors with an accurate report is key, and delays can end up costing businesses time and expense as operations become derailed. With assisted reality smart glasses, manufacturers can quickly gather the necessary information and meet deadlines without disrupting business operations.
Manufacturers are recognizing a number of unintentional benefits, too. Reduced down-time of employees traveling, access to restricted areas and significant CO2 and cost savings could see the adoption of AR smart glasses skyrocket beyond the pandemic.
Enabling on-the-job training – all at a safe distance
Another example of how assisted reality can power the manufacturing industry's next 'normal' is through on-the-job training – all at a safe distance. By using wearable technology, employees can receive ongoing, on-the-job training where technicians can be mentored live, in a real-world environment, via direct video support and instructions from afar. Using a Digital Workflows solution, technicians can refer to checklists, other text or diagrams through their head-mounted viewer, keeping their hands-on tools at all times. Coupled with the Remote Expert solution, more senior technicians can be on hand to offer training and direction for how to complete a task.
The Manufacturing the Future Workforce report has shown how ongoing and flexible training courses – which can be used to upskill and reskill an existing workforce – deliver a steadier and more sustainable growth in workforce confidence and productivity. In the world of manufacturing time is money, and so too is quality. Getting the right training and support quickly increases the efficiency of a workforce, not only on the front line but also of remote workers who would otherwise need to be present at a job.
While on-site non-distanced training typically involved one expert and one trainee technician working together, remote training can accommodate many more. Assuming that not all technicians need support at one time, experts can be connected to three to four trainees at once. By watching a screen of monitors, experts can dial into specific conversations through the smart glasses in response to a trainee requesting help or guidance. We can expect this trend to continue beyond the pandemic, as manufacturers embrace the benefit of training more of their workforce at one time, via remote support.
These are only a few examples that demonstrate how wearables are set to power the next phase of workplace productivity and accelerate a return to 'normal' for the manufacturing industry. Manufacturers have no doubt placed a renewed focus on investing in the right technological tools to maintain business continuity as the pandemic continues. For many, the shift to remote working has been both a challenge but also a success, not only unearthing new ways of achieving collaboration but also proving that it must be at the heart of any manufacturer's strategy moving forward.
Nick Offin
Nick Offin is Head of Sales, Marketing and Operations, at Dynabook Northern Europe. Formerly operating as Toshiba Client Solutions Co. Ltd, Dynabook Inc is now wholly owned by Sharp Corporation. With over three decades of engineering excellence, Dynabook Inc continues to deliver products and solutions of the highest quality and reliability to support its partners and customers in achieving their goals.
http://uk.dynabook.com/generic/business-solutions