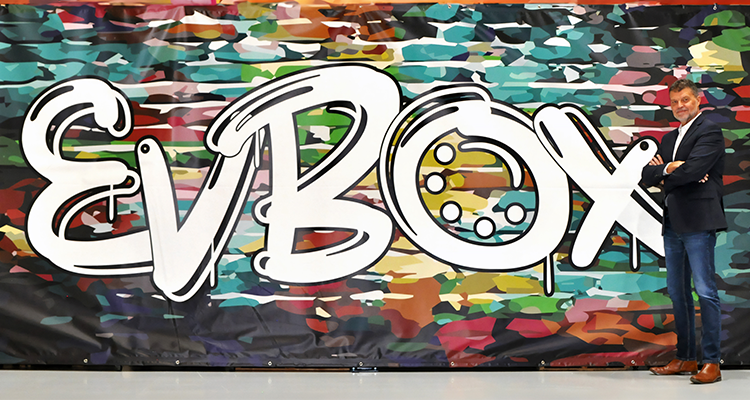 The potential of electric mobility with EVBox's cutting-edge charging technology 
A prominent player in the electric vehicle (EV) industry, EVBox Ltd provides high-quality charging and software solutions. With established factories in France and Illinois, EVBox caters to the diverse needs of EV owners around the world. Its comprehensive product range includes Level 1 charging units for convenient home charging, Level 2 charging points widely available in retail and shopping car parks, and Level 3 charging infrastructure. By offering lightning-fast charging times, EVBox is revolutionizing the EV charging experience. With an extensive global presence, exporting to over 70 countries and serving renowned customers such as Unilever, Engie, Rexel, and Your Parking Space, EVBox has secured its position as a trusted partner in the industry, servicing over 20,000 business customers worldwide. Rob Ottley, Head of Manufacturing North America, discusses the company's history.
"EVBox was founded in the Netherlands in 2010, with a primary focus on residential and public vehicle charging solutions. In 2017, we were acquired by Engie, and in 2018, we further expanded our product offering by acquiring French charging station manufacturer EVTronic. This move enabled us to enhance our direct current (DC) charging capabilities. Two years later, our US manufacturing facility in Libertyville, Illinois, where I am currently based, began construction. It was formally opened for business in July 2021. Our business focus then evolved to encompass both alternating current (AC) and DC charging, providing integrated solutions along with software solutions. As a result, the EVBox Group has successfully delivered over 500,000 charge ports to customers worldwide, earning recognition and awards for its design and technology. Our most recent accolade was received for our latest residential charging station, EVBox Livo," he says.
With over 12 years of experience in the industry, EVBox has honed its competitive edge. "Having entered the industry during the early stages of the electric mobility market, we have been manufacturing charging stations and continuously learning and developing in tandem with the market and its customers. The Netherlands, being a front-runner in the early days of EVs, played a significant role in shaping our growth and expertise. I believe our Early Adopter Program for new products also makes us quite unique. This program is designed to improve the full product journey from installation to end use. As a part of that, we are increasing our testing cycles, including real-life testing with partners to ensure the highest quality when the products become more widely available.
"Another primary way we differentiate ourselves in the market is through our meticulous attention to detail in customer experience. EVBox has a strong strategy to reinforce product support with a nationwide service and support network throughout the US and Europe. We understand the critical importance of uptime for efficient EV charging. Thus, we have taken proactive measures to address any service issues that may arise. Our support team is readily available to respond promptly through remote monitoring and troubleshooting. With our best-in-class remote tech support, we are committed to delivering industry-leading uptimes. Additionally, we provide one of the best manufacturer warranties in the EVSE (Electric Vehicle Supply Equipment) space, which includes parts and labor. EVBox
customers also have the option to extend their coverage for up to five years with our service contract and maintenance plans. One of our goals is to establish a dedicated US operations center, complete with a highly skilled team and a local supply base. Our efforts have led us to achieve BABA (Build America, Buy America) compliance for DC charge units manufactured at our facility in Libertyville," he informs.
Rob delves into EVBox's approach to scalability and effectively managing the ever-increasing demand. "It is inevitable for any operations organization to face ongoing and varying degrees of change in various forms. Therefore, our approach and methods must be adaptable and remain agile. I would say then that agility is the key factor that enables us to keep up with demand. In Libertyville, our preparations for DC production this year are well underway. Equipped with a single assembly line, we have established a strong and flexible supply partner base in the US that can seamlessly adjust and adapt alongside us. Currently, our realized capacity stands at 1750 units per year, operating on a single line with a day shift pattern. However, we have proactively invested in the plant's infrastructure to support the scaling of our output to 20,000 DC chargers per year, whenever the demand requires it. Furthermore, we have strategically positioned ourselves with eight assembly lines, ready to accommodate rapid growth projections in the coming years.
"As I mentioned earlier, our agility remains of utmost importance to meet the evolving demands of customers within a relatively short timeframe. For instance, our DC EV charging solutions are what we call 'modular.' With the imminent launch of our DC products in the US, this modular concept allows customers to select products with the relevant power rating, while also incorporating future-proofing capabilities. This means that as charging needs evolve, customers can easily increase charging power and reduce charging times without the need for model changes or additional installations," he enlightens.
Through continuous innovation, agile adaptation, and dedicated customer service, EVBox is poised to power the future of electric mobility across the globe.