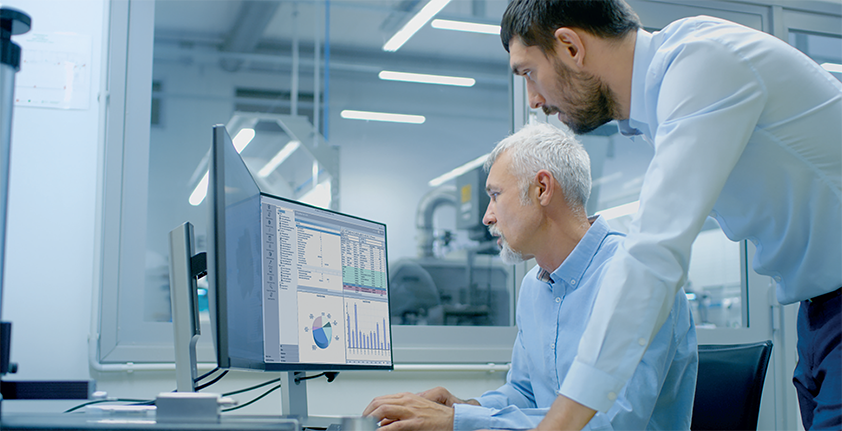 Technology has been an essential part of manufacturing operations for years now, but it is only within the past few years that manufacturers have realized the impact technology's data has on their business. A recent Boston Consulting Group (BCG) survey of more than 1,300 manufacturing executives found that nearly three quarters (72 percent) of manufacturing companies consider advanced analytics to be more important now than they were three years ago. As shown by the introduction of Industry 4.0, or the new phase of the Industrial Revolution that focuses on real-time data and interconnectivity, data has become essential to measuring the effectiveness of operations. Plus, data is industry agnostic and can provide critical insights no matter what size the company or how old or big the equipment is. Whether a Make-to-Order, Make-to-Stock, discrete, batch or process manufacturer, collecting and analyzing data can mean the difference between a successful quarter and an operational nightmare.
According to the same BCG survey, 91 percent of manufacturing executives consider data sharing to be at least somewhat important, with 71 percent giving it significant impor tance. However, only 39 percent of companies have managed to scale data driven use cases beyond a single value stream. The opportunities to mature in data collection are endless for manufacturers, but many may not know where to begin. One tried and true avenue is Machine-to-Machine (M2M) communication.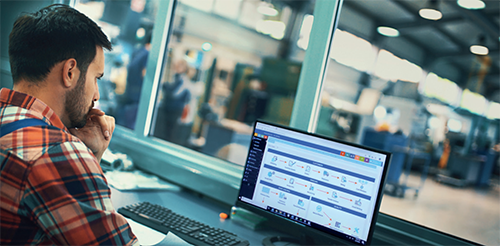 M2M is considered a broader terminology that can be utilized to define any technology that enables devices on your network to communicate and exchange information and data. Other terms that are associated are Artificial Intelligence (AI) or Machine Learning (ML) which can be tied to the Internet of Things (IoT).
M2M communication is created by tapping into sensor data and information that transmits to your company network, including wired and wireless abilities. Many times, it can integrate with any Enterprise Resource Planning (ERP), MRP II (Manufacturing Resource Planning) or MRP (Materials Requirements Planner). These kinds of sensors include:
Wi-Fi or cellular communications
Radio Frequency Identification (RFID)
Various computing software that is programmed to help interpret data and make decisions
M2M can be critical when it comes to Warehouse Management Systems (WMS) and supply chain management (SCM) and can be applied no matter how old your equipment is. Using a tool to help analyze machine performance, for example, can help reduce downtime to improve overall machine health. Business Activity Monitoring (BAM) alerts and automation can also help companies monitor key activities. Through alerts and warnings, business leaders and staff can easily identify conditions that require attention, items that need to be reordered and invoices that are overdue for payment. These alerts can help ensure potential challenges are addressed before they become larger, more costly problems.
M2M is an extremely valuable means of data collection for manufacturers. It has been proven that M2M can increase machine productivity by 15 percent, according to Data Inventions. That percentage increase translates to an extra hour of uptime per machine every day, which values about $20,000 per machine per year.
M2M communication has the power to completely transform how you conduct your business. It helps manufacturers increase productivity, save on costs of machine repairs, boost profits, discover new opportunities and protect themselves against production errors and defects. It just depends on how and if you want to leverage the power of data in manufacturing today.
For a list of the sources used in this article, please contact the editor.

Hilary Johnson
Hilary Johnson is Product Marketing Manager at ECI Software Solutions. Hilary has vast experience in manufacturing from various industries such as aerospace, additive manufacturing, architectural products, fuel cells, batteries, sensors and medical devices. While currently working in a marketing role, she is also a mechanical engineer.
ECI Software Solutions provides industry-specific business software solutions and services, focusing on cloud-based technologies. For 30+ years, ECI has served small to medium-sized manufacturing, wholesale/retail distribution, building and construction and field service organizations. Privately held, ECI is headquartered in Fort Worth, Texas, USA, with offices throughout the US, Canada, Mexico, England, the Netherlands and Australia.
www.ECISolutions.com