After more than 35 years, The Remcor Group (dba Platinum Tank Group) has prospered by developing and maintaining strong relationships with its customers, suppliers and employees. "We've had long-lasting relationships and tremendous loyalty throughout the years at all levels," Roberts states. "They enjoy working with us, and we enjoy working with them."
Based in Chambly, Quebec, Platinum Tank Group is the marketing and sales umbrella for Remcor's tank trailer manufacturing facilities. Roberts' father – Peter Roberts – founded the company in 1979 with the creation of Remtec Inc., which specializes in aluminum petroleum, aluminum asphalt and aluminum crude trailers for clients in Eastern and Western Canada.
Tony Roberts, who joined the company in the mid-1980s, became involved in many of the acquisitions that helped Remcor grow its industry footprint. Most of the acquisitions, he notes, were industry recognized players would encountered financial troubles and were in need of a restart. "I became the negotiator of the acquisitions with my father and then I would be a member of the executive team that would restart the operations," he recalls. These acquisitions included the purchase of Columbia Remtec in 1994, a manufacturer of aluminum petroleum tank trailers, aluminum crude tank trailers and specialty trailers for the Western Canadian market.
A decade later, Remcor purchased the Omaha-based LBT Inc, formerly known as Fruehauf. "If I am not mistaken, the Omaha facility was at the time the largest tank manufacturing facility in North America," Roberts says. LBT is a manufacturer of aluminum tank trailers of many varieties, aluminum dry bulk trailers and other specialty tank trailers for the North American marketplace.
A couple of years later, Remcor purchased 50 percent of Almac Tank International based in Lanoraie, Quebec. Almac manufactures aluminum truck-mounted heating oil and petroleum tanks, aluminum aircraft refuelers and other specialty equipment for the North American and International markets.
"We've been very fortunate to acquire well established and recognized industry players with very good product designs, capable administrative staffs and very importantly loyal and knowledgeable experienced tank trailer builders," Roberts concludes.
"When you are a new owner, each environment you enter has a different culture, a different outlook and disbelief that they had financial difficulties," Roberts notes. Remcor's attitude was always to respect all elements of human aspect it encountered and to support it and grow upon their uniqueness.
This approach allowed Remcor to succeed. "We have been able to create a positive synergy between manufacturing employees and management, but also between the existing staff and our management team."
The Lone Wolf
As a result of the previous industry recession of 2009 and 2010 and the present industry recession which has been upon us for far too long, the tank trailer industry landscape has transformed dramatically, Roberts explains. "Private equity funds, mergers and acquisitions, bankruptcies and plant closures have become common place in what was historically a mature and stable industry."
In the opinion of Roberts, in terms of impact, the two most important transactions have been the merger/acquisition of Heil Trailer and Polar Trailer who were the top two aluminum tank trailer producers in North America and the entry of Wabash National – of Dry Van Trailer notoriety – into the tank trailer industry through their acquisition of Benner Tank – a very important player in the stainless steel trailer industry in particular – and the acquisition of Beall Trailer out of bankruptcy who were the largest and most respected tank trailer manufacturer in the Western United States.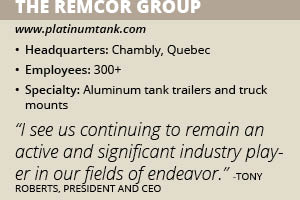 "However the truth is there have been very few players left untouched," Roberts says. "Fortunately, the Remcor Group of companies have managed tighten the hatches and remained relatively unscathed and become one of the lone wolfs through these most difficult times." He credits this to the strong financial integrity within the family company, allowing it to be virtually financially independent. "We have kept retained earnings and reasonable expenditures as the back-bone of our fiscal policy. No boats, no planes nor any other discretionary expenditures that might absorb necessary cash flow in tough economic times." With the industry's facelift, Roberts feels the company's longevity within the industry has given a number of potential customers the confidence to consider Platinum Tank Group as an alternate supplier of equipment. "They are more open to looking at other possibilities," he says.
Important Improvements
The North America tank trailer marketplace is a very mature industry and as such has not recently seen the addition of significantly new products per say. However, over the years there have been innovations and improvements to the existing designs of equipment. For instance, the change from steel to aluminum suspensions providing significant weight savings and lower maintenance costs.
Also, the introduction of galvanized steel frames as opposed to painted steel frames again reducing maintenance costs and retaining a better overall esthetic look. Many key improvements in the overall ergonomics of the trailers have simplified the operation of the working equipment. And finally, the efforts to reduce the overall weight of the equipment without compromising the trailers overall integrity has been and continues to be a critical objective. As Roberts says, "It is very simple, every pound you can reduce in the weight of the product is another pound of payload and therefore this is where the money is made."
Quality Focus
Manufacturing quality products is a major focus for Remcor, starting with the utilization of superior products and components – aluminum being a very important example. "The selection of all materials and components is critical," Roberts says.
The company also ensures the equipment used in the manipulation and manufacturing processes is always well maintained and properly functioning. "Whatever kind of equipment you're using to fulfill the manufacturing processes needs to be well maintained and either upgraded or changed out as technology improves," he states.
As well, a very important aspect of quality and efficiency is the company's manpower, Roberts says. The company strives to keep the employees "well-trained and understanding the essential need for high-quality workmanship while assuring a safe and clean work environment," he says.
Remcor strongly believes in cross-training between its different departments. By doing so, "your efficiency and quality are not compromised by a few employees missing on a given day," he says. "It's great if you have individuals who can multi-task. We are dedicated to that."
Finally, the manufacturing processes used within the production facilities is critical to the efficiency and effectiveness of the overall work force. "We are constantly evaluating and re-evaluating the manufacturing methods and processes to fine tune efficiency, quality and safety," Roberts says. "Lean manufacturing and continuous improvement are manufacturing principles that we adhere to."
Long-time Partners
Remcor has a long history of developing close relationships with its suppliers, Roberts says. "They're partners in our business from our point of view," he says. In fact, Roberts is currently working with the second generation of leadership at several companies that Remcor has partnered with for years. "They are an important element," he says. "They also help in the after-market. When there is an issue out in the field, they are most often the ones that create a solution."
This same concept of close relationship is equally true with Remcor's long-time customers and employees. "Intimately knowing all aspects of your business environment and developing strong relationships at every level has proven to be a formula for success for us," says Roberts.
Staying Active
Within the North American tank trailer market, Remcor is a prominent player in the product niches it focuses on. With the present flux of changes, "One has to remain aware of what is going on and adjust to the changing environment as necessary," Roberts says.
Roberts predicts a strong future for the Remcor Group of Companies. "I see us continuing to be an active and significant player in our fields of endeavor and overcoming transitions smoothly and effectively for our customers, suppliers and employees."