Grand designs
Renowned for its expertise in fabrics and wall coverings, The Romo Group's commitment to innovative designs, high quality products and fast delivery has resulted in global success
Founded in 1902 by Robert Mould, The Romo Group (Romo) initially began as a furniture manufacturing business; however, in the 1930s, the company shifted its focus to the supply of furnishing fabrics. Discussing more recent developments within the group's history, Director of the Romo Group Felicity Mould begins: "In the 1980s we introduced our own in-house design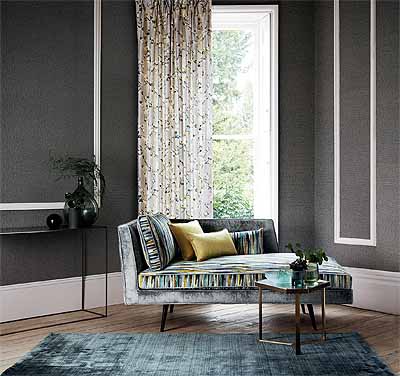 studio, injecting a more creative approach to our products, which redefined Romo as the design led company it is known as today."
Still a family run business, Romo is in its fifth generation, with five family members actively involved in the day-to-day running of the business: Jonathan Mould, CEO of The Romo Group, his three children, Felicity, Creative Marketing Director, Emily, Romo & Black Edition Design Director, and Jordan, Kirkby Design Creative Director, as well as Jonathan's niece Lindsay, Sales Director. Located in Nottingham, the company has offices and showrooms in London, Europe and the US and six established brands within its portfolio: Romo, Black Edition, Kirkby Design, Mark Alexander, Villa Nova and Zinc Textile. Each unique brand has its own character and style, as well as its own in-house design studio where a diverse range of fabrics, wall coverings, trimmings and accessories are developed to suit the tastes of its broad customer base.
Led by Design Director Emily, the Romo studio is a hub of activity and creativity, full of sketches, paintings, fabric and colour charts, with walls a constant source of inspiration for the Romo collections that are launched twice a year. "To come up with new collections, the design teams are constantly researching design concepts to find inspiration in an eclectic mix of sources, from fashion, architecture and design to the natural world and a variety of cultural influences," explains Felicity.
All collections developed by Romo for each of its brands are worked on in-house, with designs drawn both by hand and through the use of a variety of computer programmes that enable Romo to play with scale and colour combinations. Working closely with a number of textile mills and printers to realise its designs, the company then reviews the designs through an extensive trialling process before final decisions are made to produce a finished collection that is then launched to clients across the globe.
"We are currently preparing for several trade exhibitions including Sleep in November 2017 and Paris Deco Off in January 2018 where we will be exhibiting new collections from Mark Alexander, our new Romo and Villa Nova rug collections and contract fabrics as well as a preview of Zinc Textile's March 2018 launch. On top of this, we are working on new collections for several of our brands that will launch in 2018 and are developing ranges across the Romo Group that have a focus on products for the contract and hospitality market. There are far stricter fire regulations for interior projects in bars, restaurants and hotels where durability and performance are also essential. We are looking forward to introducing our brand styles into this market in a meaningful way."
Not a company to rest on its laurels, Romo is also excited about its collaboration with renowned rug makers Louis de Poortere, which shares Romo's passion for creativity and innovation as well as a strong sense of quality in production. "We have selected some of our favourite patterns from new and existing collections by Romo and Villa Nova that we felt would work well as either a flat weave or hand tufted rug, enabling our customers another way of bringing our designs into their home."
Having demonstrated continued and significant growth in its export sales over recent years, the group was awarded the prestigious Queens Award for Enterprise for International Trade for the second time in 2017. The group first won the award in 2008 and over the last nine years has further developed its existing brands using design and innovation to maximise sales potential throughout the world.
"Approximately a third of our customers are UK based, however more than 70 per cent of our sales are to international markets, with the US and Europe our biggest export markets. As well as expanding our international sales teams, we have also launched three new brands in the last eight years, including Zinc Textile and Mark Alexander in 2010, and Black Edition in 2013, all of which are aimed at high-end, international interior designers and consumers. This significant investment in brands, designs and new products has enabled us to grow worldwide sales from £58 million to £88 million between 2010 to 2016," highlights Felicity.
Looking ahead, with a number of collections due to be launched, further growth is certain for Romo as it continues to develop and expand its product lines and build on the success of its forefathers. In line with the ongoing development of its portfolio, the company will expand its flagship showroom in Chelsea Harbour, London, by more than 50 per cent of its original size to accommodate all of its brands and create the ideal working environment for customers. "We are also developing a new head office in Nottingham, which, when complete in 2018, will be architecturally outstanding and will house our dedicated export sales and administration departments together with our outstanding design studios, show space and a state-of-the-art warehouse. These updated facilities will provide staff with the best possible working environment as we look optimistically forward to the challenges of the future," Felicity concludes.
The Romo Group
Products: Designer of fabrics and wall coverings