The right components
With more than five decades of industry experience, The Sertec Group has established itself as a specialist manufacturer of automotive components in aluminium and steel
The Sertec Group Ltd (Sertec) was founded in 1962 as an engineering business, predominately in the manufacture of press tooling for the automotive industry and has since grown to represent a major force within the UK manufacturing industry. "In 54 years, Sertec has witnessed dramatic changes in the UK automotive sector with a clear objective to grow and prosper. The company's strong management team and commitment to excellence in everything it does has seen it not only survive where others have fallen, but rise to become the largest independently owned manufacturer of its kind in the UK," explains Group Managing Director, Dave Steggles. "Quality manufacturing has ensured the continued success of the business and through a policy of continued improvement, investment and acquisition, Sertec is now responsible for over 1500 employees across its five manufacturing sites that deliver sales of over £200 million."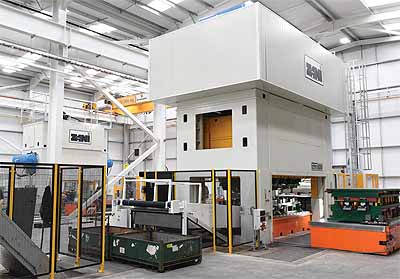 Sertec operates two factories in Coleshill, one in each of Aston, Saltley and Tyseley in Birmingham as well as a tooling business in Guangdong Province, China. Across these sites the company is specialised in the delivery of products ranging from stamped components in both steel and aluminium; complex assemblies utilising robotic and manual welding; as well as employing the latest automated riveting technologies required for aluminium structural assemblies.
Sertec also supplies tubular assemblies including exhaust bright trim and wire formed products; with customers currently including world leading names such as Jaguar Land Rover, Ford, Scania, Tenneco, Denso, UYS, Unipart, Arvin Meritor, TRW, ZF Lemforder and GKN. By working with several industry-leaders in the automotive sector, the company has established a strong market presence with its products reaching markets within China, the USA, Mexico, Germany, Sweden, Holland, France, Belgium and Brazil. The business has enjoyed significant growth over the last eight years with sales rising from £40 million in 2008 to £200 million today.
The trusted and long-standing relationships between Sertec and its customers have been founded upon the company's dedication to working in close collaboration with them to ensure that it delivers the best solution to meet every component's unique requirements. Once a solution has been agreed on, Sertec remains on hand to provide assistance throughout the entire development of the final product. "In co-operation with our main customers, Sertec has been successful in innovating and enhancing the use of aluminium to deliver a broad base of 'lightweight structures'. We intend to develop these products further with significant investment and engineering resources focused purely in this area. Over the coming years we will also continue to work to further develop our understanding and knowledge of alternative materials," Dave says. "Sertec manages a dedicated design team that supports our customers with design feasibility right through from initial design to full design testing and prototype supply. Our commercial a
nd logistics team also operate established teams to support any customer aftermarket requirements."
To allow Sertec to continue to better serve its customers, it was announced during February this year that the company had secured a £20 million funding package from the Business Growth Fund (BGF) and Lloyds Bank Commercial Banking to support the company's management team in its continuing expansion plans for the business. Sertec currently produces over three million components per week across its five operating sites within Birmingham, while new BGF funding will allow the business to accelerate its production and growth strategy. The funding comes in addition to £20 million in working capital that was invested into Sertec by Lloyds Bank in August 2015.
Indeed, Sertec invested heavily across all of its operating centres during 2015, through the implementation of new robotics, presses and site upgrades. During 2016 the company will complete a brand new £16 million press shop at its Coleshill factory, where 13 new transfer and progression presses will be fully operational within the next 12 months. The investment by BGF and Lloyds Bank will facilitate Sertec's continued expansion to support Jaguar Land Rover's exciting development of new vehicles such as last year's launch of Discovery Sport and Jaguar XE and this year's arrival of Jaguar's new crossover F-Pace and the convertible version of the record breaking Range Rover Evoque. "Partnering with both the BGF and Lloyds is critical to the next steps the business needs to develop not only our product range, but also our international footprint," Dave observes. "Following a full review of our UK plants, the board decided to not only focus our stamping facility in one UK facility, but to also replace predominately manual capacity with the latest progression and transfer automated capacity. This will both improve the productivity of the group as a whole as well as to future proof the site."
Additional to allowing Sertec to invest in its plant and equipment, this latest deal also supports the company's on-going programme of restructuring. The reshaping of the business began as long ago as 2006 with long term plans in mind; and as part of this latest investment, Sertec's founding Mosedale family have retired from the business, with a strong executive management team comprised of Grant Adams (CEO), Dave Steggles (Managing Director) and Finance Director Martyn Hughes taking over the reins of the business. Across this team there exists over 83 combined years of experience in working at Sertec and a passion that will ensure that they will continue to lead the company for years to come. "Bringing BGF on board complements the strong partnership we have enjoyed with Lloyds Bank for over 50 years and allows us additional flexibility for our ambitious growth plans. The combination provides a well-balanced source of support and funding, both now and in the future," Group CEO Grant Adams says. "Whilst we share important plans with Jaguar Land Rover, we must also expand our customer base and extend our geographical reach into Europe. It is testament to our potential that this is The Business Growth Fund's largest single investment in the automotive industry to date."
Since securing the latest of a series of financial investments into the business, Sertec has moved to increase its manufacturing footprint. For example, during May 2016 the company announced an agreement to lease a brand new Logistics facility at The Hams Hall Estate, just a mile from its head office as part of its ongoing expansion plans. Indeed, as Sertec continues to grow, the inclusion of this new facility will allow the company's existing storage areas to be reallocated to the production of finished goods. "Our Group strategy has always been to attract more customers and a more diverse range of products to manufacture. Furthermore, export markets are becoming more and more important to us and we must improve our sales to both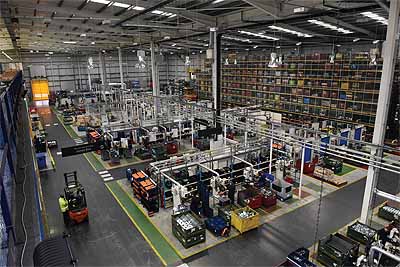 existing and potentially new customers overseas," Dave details. "Given such targets, this exciting new development will allow us to not only demonstrate greater manufacturing capacity across our factories, but now we have added an outstanding stand alone distribution centre to our business. As we invest in our future, such developments are essential to accelerating growth whilst continuing our drive for performance excellence."
But the very latest initiative is all about the people Sertec employs. With the continuing success locally to Sertec of Jaguar Land Rover and the automotive industry in general, the pressure on the UK Midlands supply chain to find new skilled labour continues to be an issue.
The Sertec Group's investment in bricks and mortar, plant and equipment has certainly increased manufacturing capacity. But to sustain such growth, the business is now investing in its people with the launch of the Sertec Learning Academy.
Training has always been a part of building an effective and efficient workforce. But with the launch of the Academy, Sertec can now take new, unskilled people, give them a world class induction and train them before a single day's work is done.
Based at Sertec's Wincaster House headquarters, the Learning Academy covers all aspects of the manufacturing processes involved in the supply of automotive components, not only for new starters but for existing employees too.
CEO Grant Adams said: "This is only just the beginning. The possibilities are endless in our efforts to up-skill our workforce and with our current team of 1500 people increasing by a further 100 workers over the next 12 months, the Academy is an essential development in the future of our business."
Quality and performance excellence is the be all and end all in automotive manufacturing and Sertec has instilled a mentality and a structure to reflect that. This is achieved through the implementation of quality procedures that are fully compliant with all applicable industry standards used throughout the Sertec Group of companies. Shared database facilities and group wide functions such as advanced quality planning (AQP) and supplier development ensure that the quality of products and services is of the highest quality of all times.
Jaguar Land Rover has in recent years awarded Sertec its highest accolade relating to supplier quality and manufacturing, over and above more than 1200 JLR suppliers worldwide.
The combination of the company's modern production facilities, dedicated staff and leading quality management systems have made Sertec a trusted partner to some of the automotive industries most demanding clients and will further strengthen the business as it continues through the second half of 2016 and beyond.
"Market conditions generally remain positive for us at present and we expect the sector to remain strong throughout 2016 as we launch several new products," Dave concludes. "Our main competitive edge remains as it always has been on our people and our ability to adapt to market and technological changes. This is added to class leading quality and delivery performance."
Sertec Group Ltd
Products: Specialist manufacturer of components in steel and aluminium for the automotive sector