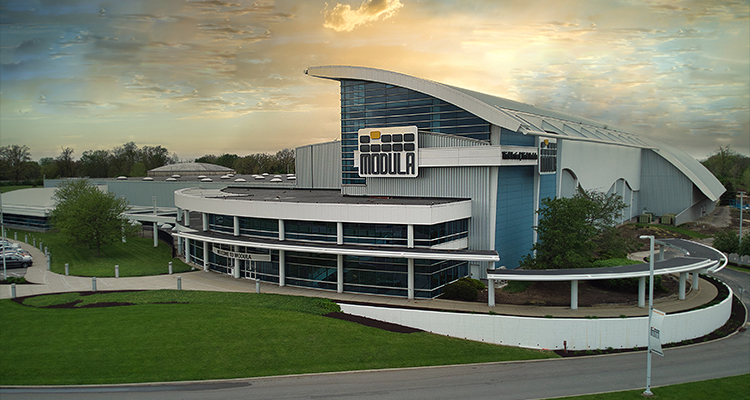 The solution to warehouse inventory is held at Modula Inc
This 35-year-old company is on a mission to produce 2,000 vertical lift modules (VLMs) in the US within the next few years. It is currently at 600 and going strong. In a deep-dive conversation with CEO, Antonio Pagano, Business Development Director, David Lind, and Marketing Director, Valentina Cecchi, we learn about what makes Modula Inc.'s (Modula) products so unique, and how the business continues to be one of the most successful developers of automated storage and retrieval solutions.
"We began our life in Italy, solving problems in intra-logistics," David begins. "What we saw happening inside factories and warehouses is that lots of parts and goods that need storing are either stored on the floor, where they can be in the way, or they're on racking, and it takes people, time, and energy to find and sort everything out. Our goal is to bring efficiency and organization to these warehouses.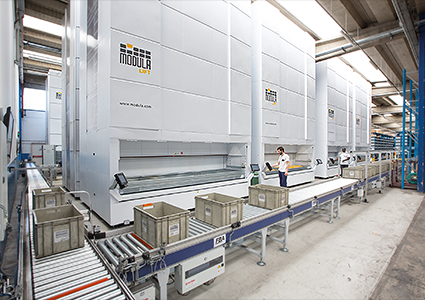 "We opened our fourth factory in Franklin, Ohio, in 2021. We've got a manufacturing facility in Lewiston, Maine, where we manufacture horizontal carousels. We also have a factory in China near Shanghai. And, of course, we have our main location in Italy. We are planning to produce 2,000 VLMs, in Franklin, Ohio soon."
Valentina adds: "Our founder was inspired to start the business by a vertical carousel. Drawing inspiration from this rotating warehouse, he designed a vertical storage system that provided rapid and ergonomic access to essential components. It was so clearly innovative and useful that it basically drove us to grow quickly. That was back in 1987. Then, at the turn of the millennium, we were opening offices in France, Germany, and the UK. The solution has so many benefits that are tangible that once you install them, our customers continue to purchase more of them."
For the CEO of the business, one of the key aspects to the company's success is its multinational footprint. "Although we are an Italian company, we have a presence across three continents. Because we localize production and our operation, our expansions are based on where our customers need us most. We believe it's important to offer close customer support for the aftersales, but also for continued maintenance; that's what makes Modula the best player in the sector," says Antonio.
Another trait of the business' longevity is that it is predominantly vertically integrated. "This is what has made us extremely resilient against supply chain issues, which, for manufacturing, is obviously such a massive benefit."
Antonio's experience in this sector is extensive. Having started with the business in 2006, he outlines how he made his way through the ranks to play a significant role in the leadership team. "We started with a group of 20 people, so we were small. Even then, our senior leadership was invested heavily in this idea, which is how we achieved success as a corporation and led us to become a multinational company. So, we added people and increased skills, and that's the reason why I was able to grow my career in the organization to the point where there was a need for someone to lead the operation in the US. It's been a blessing. We have gone through a lot of challenges, but we've also experienced many achievements. While I run the US operation, Modula's headquarters is in Italy, and of course, I report to the CEO who is based there. We have a unique structure with three CEOs in Italy, who share the responsibility of running the organization. We are also privately held, and our chairman is a visionary. He's the kind of person who really likes technology and is investing a lot of money in our organization, which has improved the growth pace of the business. If you consider when I joined, we were 50 people, and doing about 100 VLMs a year. Now, we produce more than 4,000 units worldwide, and we are a multinational company with a global footprint. The fuel has been put behind us to accelerate our growth."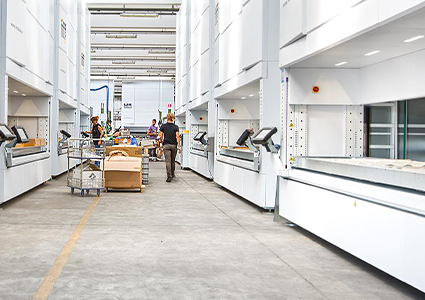 The conversation then shifts to the product itself. When asked about its benefits, David shares a few. "Our VLMs are space efficient," he says. As a result of the pandemic's disruptive impact on supply chains and manufacturing operations, businesses are increasing inventory across warehouses and factories. This is where the VLM comes in. "Inventory obviously takes up space. While some organizations must expand their buildings, which involves high capital expenditure, disruption, and timely planning permission processes, the biggest and overriding benefit of the VLM is that it enables customers to pack 90 percent more into their building.
"By exploiting vertical space there is the opportunity to store and handle more goods. Once you've got that inventory control, you're able to know, at the touch of a button, where everything is."
Speaking of which, inventory management is the second benefit of the product. "It's possible to be more productive with fewer people because the goods are coming to you. Employees save time by not having to walk to find the goods and a single operator can do the work of three or four people. Another benefit is that the ROI is exceptional; our customers tell us that it is usually under 18 months."
Finally, the products are ergonomic. "If you've ever worked in a warehouse or a factory, there's a lot of bending down, climbing stairs, going up in forklifts, trucks driving around – it's a challenging work. With Modula's products, there's none of that; the goods come out right at hip-level. The product is designed and certified as ergonomically sound from a physical distribution perspective. It also means that you can hire people of different abilities to start doing your picking and retrieval. It opens wider opportunities. Additionally, the world has gone digital, which is attractive to younger generations looking into manufacturing. With our product, all these benefits can be taken into consideration, making it one of the best options on the market," explains David.
The founder of Modula has always believed in investing in manufacturing. Even with the challenges posed by the Covid-19 pandemic, the company remained resilient and committed to growth. In 2020 he invested over $30 million in a new production site in Franklin, Ohio. Covering an impressive 242,000 square feet, the Franklin facility expanded Modula's annual future production capacity and increased access to customers across North and Central America.
"Our lead times are very fast too. From receipt of the PO, we can deliver our products to our customers' facilities in about 12 weeks. That's pretty fast compared to automation which can take one or more years to deliver, because it's coming from the Far East. The other benefit to investing in growing our footprint is that customers can come and see how the machines are made. That's important. So having a factory in China for the Chinese market, in Italy, for the European market, and in the US for the North American market allows us to be very dynamic.
"Our experience, our energy and our passion are what makes our goal to achieve 2,000 units in the coming years very possible," David concludes.
www.modula.us