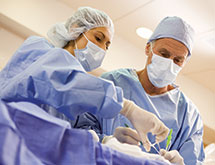 Over the past six decades, the company has influenced development of heart-lung equipment, blood management systems and accessories that enhance the efforts of surgical teams.
More than 1 million patients in 100 countries are helped by Sorin products annually, the company reports. The Sorin Group's employees are dedicated to researching, developing and manufacturing cutting-edge technology to treat cardiovascular diseases. "Their commitment has made our company the world leader in cardiac surgery and a major global player in managing cardiac rhythm disorders and heart failure," the company explains.
The Sorin Group develops, manufactures and markets medical technologies worldwide. Its 3,750 employees focus on two major therapeutic areas: cardiac surgery, which uses cardiopulmonary products for open heart surgery and heart valve repair or replacement prostheses; and cardiac rhythm management, which uses devices such as pacemakers, defibrillators and noninvasive monitoring to diagnose arrhythmias and deliver anti-arrhythmia therapies, as well as cardiac resynchronization devices for heart failure treatment.
For cardiac surgery, the Sorin Group provides cardiopulmonary solutions for open-heart and minimally invasive surgery and for heart valve replacement or repair to treat structural heart diseases, such as valvular regurgitation or stenosis and congenital heart defects.
The Sorin Group also designs and manufactures devices such as implantable cardiac defibrillators and pacemaker systems that restore normal cardiac rhythm, cardiac resynchronization therapy systems to treat heart failure, and patient management and arrhythmia assessment systems.
10,000th Heart-lung Machine
In July, the Sorin Group delivered its 10,000th heart-lung machine to Brigham and Women's Hospital in Boston. The heart-lung machine helps sustain a patient undergoing open-heart surgery procedures. It provides blood oxygenation and circulation for extracorporeal support to the brain and major organs while the patient's heart and lungs are temporarily bypassed. Every year, more than 1.5 million patients worldwide suffer from cardiac disease requiring extracorporeal support from a heart-lung machine.
In 2013, the Sorin Group expanded its global reach by acquiring Alcard, a heart-lung machine manufacturer based in São Paulo, Brazil, to better meet the needs of physicians and patients in Brazil and Latin America. To market and develop cardiac rhythm management (CRM) devices in China and build a local presence, in May, the Sorin Group officially established a joint-venture company with MicroPort Scientific Corp., a Chinese medical device manufacturer. The Shanghai-based joint-venture company, named MicroPort Sorin CRM (Shanghai) Co. Ltd., began operations in June.
The company also began a greenfield project in Suzhou, China, to manufacture locally disposable cardiopulmonary products. "We will continue to invest heavily in research and development, focusing our new products, enhancing user convenience and contributing to the financial health of the more than 5,000 hospitals around the globe," the company says.