The story behind CHL Systems' partnership approach to custom food processing equipment
CHL Systems (CHL) designs, builds and installs the systems and equipment that move, make and pack the products that feed our communities. A family-owned company, CHL has enjoyed over 65 years of business, and is under third generation management. With roots in service, repair and installation of equipment in food, pharmaceutical and general manufacturing facilities, CHL has grown to encompass full design engineering and manufacturing capabilities. Today, most of its custom design-and-build business operates within the food processing industry and focuses on improving processes that ultimately make products safer and better, offering added value to customers.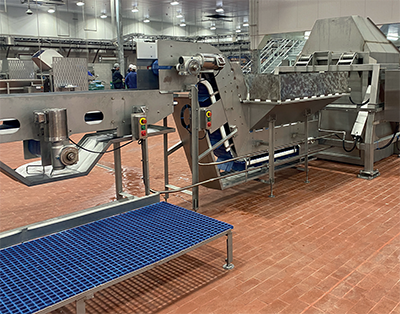 With an illustrious career in manufacturing, and six years' service at CHL, Mike Giagnacova, CEO, sits down with Manufacturing Today to discuss past and present operations, as well as future plans.
"To give some background about what we do at CHL," Mike says, "we design, build, and install the systems and equipment that move, make and pack products that feed our community, and our nation." In any processing facility, there are products that need to be moved, whether raw materials or finished products, and that's where CHL comes in, he explains. "We design and install the equipment and conveyance systems that move the product. This can be for a 500,000-square-foot brand-new facility, for example, or a replacement system where limited space is a constraint."
Turnkey solutions
Additionally, in a processing facility, there are products that need to be made, such as pork or poultry products, or dog food. "In that processing, there's some custom equipment that needs to be made to process the raw ingredients into the finished product, so we will work with the customer to design custom machinery if that is what's needed," Mike says.
In every processing facility, the final step is packaging the product for shipment. "From weighing and packing to palletizing, we also design, supply and install equipment that puts the final product into its packaging and moves it out the door," he explains.
Because each customer is unique in terms of product and facility, it's crucial for CHL to champion a partner approach to customer relationships. "We don't just sell a piece of equipment for the customer's process line," Mike explains. "We work with our clients from the outset to help design or integrate exactly what they need, install it on site, and then ensure it does exactly what it's required to do." This approach is key to ensuring a successful project and often leads to long-term relationships, he says. "We like to engage customers for the long-term in order to establish a level of trust and rapport. In this way, we develop a good understanding of our customers' needs, and can provide solutions from a turnkey system to advanced robotics."
Partnership approach
An example of the value CHL places on customer relationships is demonstrated in the work it recently completed for Bell & Evans, which now boasts a nearly 500,000-square-foot world-class poultry processing plant that harvests live birds all the way through to the finished product for shipping. As Mike details: "Of course, there were many key players involved in that project, but it's important to note that it took less than 20 months to get the production plant up and running. The only way this was accomplished was because there were such strong partnerships in place. We have dealt with some of the key players for a long time. This familiarity and trust, coupled with a great group of contractors, was pivotal to promoting a team environment to deliver this facility in record time."
Taking the poultry plant as an example, Mike goes on to discuss the role of technology and automation in manufacturing operations. "In a facility such as a poultry plant, there is a considerable amount of hard automation: machines that do straightforward, repetitive physical tasks. Within automation however, there are different levels, and this is where Artificial Intelligence (AI) can come into play. To incorporate AI, it's crucial to have a full understanding of what you are trying to accomplish to be able to build the appropriate algorithms that make accurate decisions on the production line. From decisions surrounding quality control to picking and packing, the finer levels of AI are only just beginning to gain traction. It is the future, but it's a little further down the road. When compared to hard automation, it's far more complicated to take a non-regimented process, add layers of decision-making to changing scenarios, and then create an automated process out of that," he explains.
As is the case for the majority of businesses, other, more pressing considerations have taken center stage over the last couple of years, and particularly so, in terms of supply chain issues. "We are starting to see some stabilization of certain components," Mike notes, "but obviously, there have been price increases, and some items are still difficult to get, particularly electronic components. For us, the vendors that we use are essential, and we pride ourselves on bringing the same level of partnering to our supply chain as we do to our customer relationships. In terms of the Bell & Evans project, despite the fact that it occurred at the height of the pandemic, our strong network of vendors and contractors worked with us to accomplish our goals within an aggressive timeline and difficult circumstances."
This partnership approach also filters through to the company culture. "Our culture here is very family-oriented, and localized," Mike says. "As we've expanded, we've added employees from different areas of the country, and, while they may not be in the main office, they do feel part of the team. We're proud that our culture transcends our four walls."
Tackling the challenges
Part of this culture is to create a sustainable business for the future. "We have been in business for 65 years," highlights Mike. "Sustainability is the key to ensuring another 65. The methods and the means we use to manufacture are increasingly efficient and environmentally friendly. We are a family-owned company that has transitioned to a board of directors model, a move designed to ensure the longevity of the company. As I consider the future of CHL, I am encouraged to see the level of engagement by our younger generation of staff members and am excited about the impact they will have in the years to come."
Looking to the future, CHL aims to continue doing what it does best: helping organizations within the food industry face the challenges of producing higher volumes, at a superior quality, while being more efficient and sustainable.
As Mike concludes: "The biggest challenge for us can sometimes lie in educating our customers, so that they understand how automation can be used, what the long-term cost benefits are, and how it can best fit their unique needs. If partial automation or robotics are a better fit, we will offer that as a solution, and provide full turnkey services, including installation and training. A big part of our success is partnering with our customers to truly understand their production goals and what automation options can work for them."
www.chlsystems.com