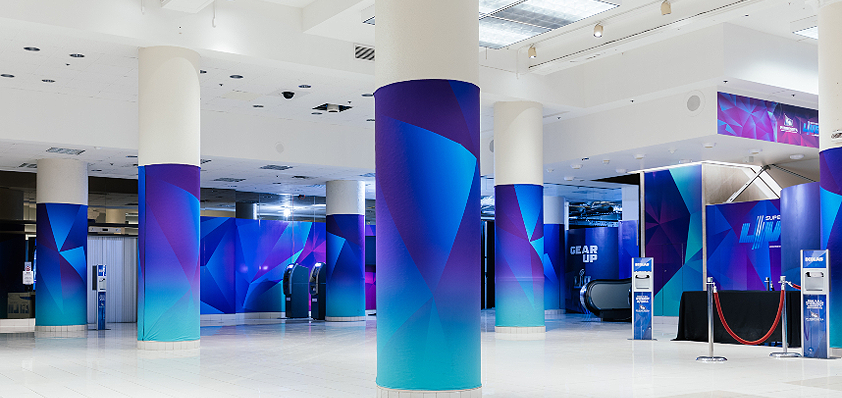 When a building wrap, retail display, fleet wrap or event graphic make you say "wow," it's likely that The Vomela Companies had a hand in it.
The work of this full-service visual communications company can be found on the windows, walls, floors and doors of retail stores, on fleets of cars, trucks, buses and RVs, on buildings, at trade shows, and at major sporting venues and events.
Founded in St. Paul, Minn., in 1947 by Jack Vomela, the company was purchased by its third owners, the Auth family, in 1990.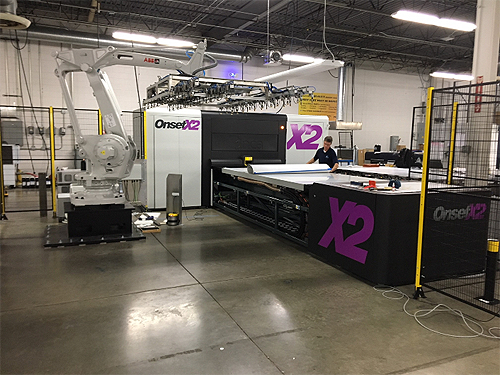 Since then, Vomela has acquired 18 companies and grown from $3 million in annual revenues to more than $300 million annually. Its 1,300 employees – including more than 100 salespeople – work in more than 20 locations across the United States and one in Canada and serve more than 10,000 customers.
If you aren't aware of the size of The Vomela Companies, well, you aren't alone. "We market ourselves under a number of brands," says President and CEO Mark Auth, a 27-year company veteran. "Many don't realize the wide range of our product offerings and capabilities, which includes digital, offset, screen and dye-sublimation printing, along with prototyping, fabrication, design, project management and installation."
The Vomela Companies is continually innovating. The company holds six patents and has three pending, including patents for how event displays connect to how graphics hang from displays or ceilings.
About half of company's revenue comes from its retail customers for whom it creates point-of-purchase signage and store décor items for companies such as Lowe's, Target, Best Buy, Walgreens and others.
The Vomela Companies are a large supplier of vehicles graphics to the fleet and recreational vehicles industry, where the company uses 3M materials and offers design and installation services.
Through its C2 Imaging and Fusion Imaging divisions, Vomela also produces graphics for large events including the New York City Marathon, NBA and MLB All Star games and large building wraps.
Besides the quality of its work and customer service, Vomela differs from the competition with its variety of capabilities and its nationwide footprint. The company can save its clients freight costs by offering regional printing.
In July, Vomela moved to its newly built headquarters in St. Paul, Minn., which will allow the company to combine four locations in the Twin Cities. A lot of the work that Vomela does is space intensive and the new 300,000-square-foot location will allow 300 employees to work together. "This greatly improves our workflow and efficiency and will provide more opportunities for our employees," Auth says. The new building, which will have a large solar array on the roof, is LEED compliant, resulting in high energy efficiency.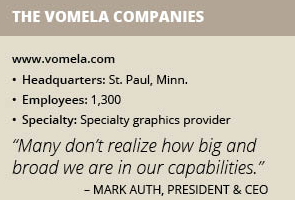 Expanding by Acquisition
Vomela has an interesting approach to growth. "We are opportunistic," Auth says. "We get contacted frequently when a business in our industry goes up for sale. We look at a business based on its capabilities and location. If it adds new offerings to our family of businesses that is great, but not necessary for us to acquire. If it is a good business with good people that will allow us to make money, we will see if we can get a deal done."
While the company has geographic goals – Vomela is seeking to acquire businesses in Atlanta, Florida, and Texas – a compatible culture is a good part of what the company looks for. "Do we have the same philosophy as they do?" Auth asks. "We spend a lot of time with them up front to see if we get along with them."
Though many businesses cut spending wherever they could during the Great Recession, Vomela became more aggressive. "When other businesses were pulling back, we were able to start acquiring companies," Auth recalls. "It gave us a broader, more diverse footprint. We gained good people, equipment, and capabilities. Diversity is a key part of our success. Sometimes one part of our business might be down a bit, but the other parts are doing well. We are not a one-trick pony by any means."
Social Responsibility
While the company has long believed in the power of doing good, it is well positioned to amplify the work done by its employees and various companies across the country. "We are accelerating the good works we are doing by aligning nationally with more guidelines and structure, including hiring a director of social responsibility and cause marketing," Auth says. "People want to work for companies that have a purpose and customers want to do business with socially responsible businesses."
Business is good. This year the company is on track to bring in more than $300 million in revenue, Auth says.
Vomela plans to continue to be aggressive about acquiring new businesses and expanding its footprint, along with continuing to invest in equipment and technology for its current business.