The VP of East Coast Metal Systems details his rise through the ranks
Over the last few decades, East Coast Metal Systems (ECMS), has come a long way as a company, a climb that has been mirrored by the progress of John Trifonoff, Vice President. Having started his journey with the Ohio-based fabricator before graduating from high school, his path stands as testament to the culture and attitude of the company, and the opportunities that arise when you believe in somebody's potential.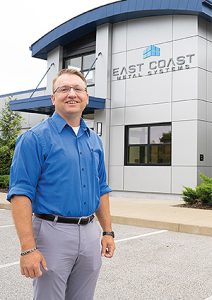 "I'd been working in commercial refrigeration while I was in high school, which led to me moving across to trade school to focus on HVAC," John starts. "Classes took place during the evenings, and when I got to a point where I was only attending high school half a day a week, I applied to an advertisement for a sheet metal worker in a local newspaper. I had to drive a couple of hours for a competency test, but I came out top-of-the-class, and they essentially called me asking me to start the following Monday. I said I'd need to check with my instructor, and they were astonished that I was still in high school. When I told my school about the opportunity, they were happy for me to make up my classes in the evening so I could take the job, but I still went back later to graduate.
Industry-leading solutions
"From thereon I was an apprentice, honing my skillset, but I was as confident in my capabilities as my team. It wasn't a huge shop, so we had to break up our time to get the right volume out, and when it came to the point where we required a third shift, I was put in charge of leading it. This didn't come without challenges of course, being a kid and trying to teach these older guys how to build the products, but it gave me the opportunity to prove that I was able to do it, which led to me becoming the second shift foreman, and then the first.
"When we finally outgrew that first location in Wheeling, West Virginia, and got a second facility across the river in Bellaire, Ohio, they made me the general superintendent, and I used to have to bus back and forth to ensure everything was running smoothly," he adds. "Before long, I was the general manager. I was like a fish to water, I knew the business, how to create the products, and had the resources to teach and lead people."
ECMS primarily served the roofing and industrial sectors in its earlier days, by producing sheet metal flashings, as well as fabricating duct work for various plants and mills. In time, the company focused more on the architectural sector, which eventually became a permanent change in direction. "As we evolved, we turned more towards architectural components, panel systems, and metals, and will have been one of the first fabricators to work with zinc in the states. An early example of this is the flat-lock panel project that we executed for the University of Cincinnati in the mid-1990s.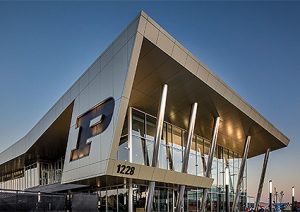 "We still held on to the custom fabrication side as we had a lot of stainless steel work," John continues, "including the manufacture of industrial kitchen, food processing, and packaging equipment. However, around 2000 we partnered with an architectural firm, and started producing their panels for them, which really gave us a lift into the industry. They provided us with the planks and systems, and we fabricated the parts for them, until we realized that we were ready to start developing our own." Today, ECMS manufactures a number of standard and custom systems to suit a wide range of different structures and needs, including its flagship EC-100 and EC-200 ACM cladding systems.
"Over my career I have developed a deep understanding of what is required to complete a job in the field, through my experience in producing and installing our products. In combining this, with our
knowledge of construction schedules and the necessary processes, and our customer-driven focus, we can offer so much more than fabricators who only fabricate for themselves."
Enabling growth
The company's development has seen a considerable shift in a fairly short period of time, from a team of five people up to almost 80, as of 2022, operating out of a state-of-the-art, 60,000-square-foot metal fabrication facility in Triadeliphia. It has recently added the EC-300 system, another variation on the rainscreen principle using single-skin panels made up of aluminum, copper, steel, and stainless steel. "We are always looking towards where the market is heading next," John explains, "to be at the forefront of technology, and in tune with the industry's community. It's through the associations, partners, and people, that we can monitor upcoming trends and formulate how we can remain relevant to them.
"Culture wise," he concludes, "we are always looking at the angle from which we can help. How can we help you as a customer, how can we help our colleagues to grow, how can we train the next generation of youngsters coming through? If I go back to the roots of how I got here, it's hard work and diligence, coming into work every day and making a difference with what I do. We have always held the keys to the business, the owners presented us with an opportunity and said 'here you go, make something of it, and see how you can be a part of this business' growth. How can you contribute towards your own professional growth, and enable the business to grow with you?'"