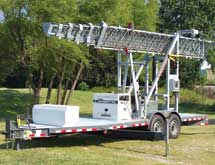 The Will-Burt Co. offers more than high-quality products – it provides complete solutions to customers' needs. The Orrville, Ohio-based company's products include roof-mounted, vertical-mounted and portable telescopic masts used in a variety of industries and applications including mobile communications, broadcasting, police, fire and rescue, and military use. Over the last dec­ade, Will-Burt has expanded its scope to include fully engineered systems.
"We've gone from selling mast products to selling product solutions as part of a mast product line," President and CEO Jeff Evans explains. "We are selling complete solutions as opposed to just a product."
This includes offering positioning and tilt systems for towers sold to the military market and producing lighting systems that accompany the telescoping masts used on fire engines. Will-Burt also offers specialty manufacturing and sheet metal fabrication and prototyping services. Many of these services are offered through its Quick-Turn® department, which provides rapid turnaround times in as little as two days.
These capabilities strengthen a company that is already dominant in its many markets, particularly broadcasting. "We have a Will-Burt mast on every electronic news gath­ering (ENG) TV truck in every TV station in every city in the United States," Evans says.
Will-Burt's fire and rescue products enjoy a 75 percent market share. "In general, we know we have the highest market share in the mast industry across our main markets," he adds. "We do have some good competition in niche markets, which keeps us sharp."
Evans strongly believes in applying lean manufacturing principles to company processes to remain competitive. "Lean manufacturing is key," he adds. "Manufacturing is a very competitive business. … We're competing with low-cost labor in other countries and companies that have the latest technology and equipment. You have to be lean in order to be competitive."
Will-Burt performs fabrication and product assembly in house. Custom manufactured products are produced in small runs and routinely changed.
The company's quality system is ISO 9001:2008 certified. Will-Burt also established a "zero defects escape," or "Z-DEP" policy to prevent manufacturing deficiencies. "We've authorized people through­out the company that if they believe what they're doing may not be right, they are authorized and required to stop production," Evans says.
The company sources sheet metal and other key materials from a number of suppliers, and manages inventory using a two-bin kanban system. How­ever, larger inventory is kept on some items that have longer lead times. "We would rather lean on having a larger inventory than missing a shipment," he adds. "Our focus is to ship products on time, make some money doing it and minimize inventories, in that order."
Will-Burt is proud to serve as a supplier itself. The company is a certified supplier for Cat­er­pillar Inc., a relationship Evans says is a major point of pride. "They're a very discerning customer and have helped us improve our operations," he says. Will-Burt has made improvements to its operation in­clud­ing installing a new paint line as a result of Caterpillar requests. "All along the line they have made us a better company by being a discerning and discriminating buyer."
An Energized Work Force
Will-Burt Co.'s origins date back to a machine repair shop opened by brothers J.W. and B.G. Cope in 1894 near East Greenville, Ohio. It was incorporated in 1918 and began manufacturing combustion controls and coal stokers before taking on subcontracting work during World War II. A series of acquisitions in the 1960s and 1970s ultimately led Will-Burt into the telescopic mast manufacturing business.
"We've taken telescopic masts from just being a product we offered to being the leading product in its category in the world," Evans says.
One major development came in 1986, when it became an employee-owned company, a move Evans credits for much of the company's recent success, as well as for its ability to retain skilled employees.
"We pay bonuses to everyone in the company, but only in good years. We've had a lot of good years – we've paid bonuses every year since I became president and CEO in 2002," Evans says. "We have a terrific work force. … Employee ownership works to keep everyone energized to do what needs to be done.
"In terms of how to run a company and how best to structure ownership, and in terms of true wealth distribution, it's hard to beat."
Since becoming an ESOP, Will-Burt has greatly grown its product line through a number of key acquisitions. It continues to grow, with two acquisitions completed in 2010 and three others planned in 2011.
"I'm proud that we're able to make the company stable, and that it will provide excellent retirement to our employees, as well as a very good benefits package," Evans adds.