Bespoke innovations
As part of Thermacore, Thermacore Europe boasts 45 years of experience in the custom design, development and manufacturing of highly-engineered thermal management systems
Founded in 1989 as part of the wider Thermacore Group, Thermacore Europe specialises in the custom design, development and manufacture of highly engineered thermal management solutions, selling into major electronic OEMs in Europe and the rest of the world. "Thermacore operates in the highly competitive electronics cooling business where the ever demanding need for faster and smaller devices requires more powerful, effective cooling solutions that are critical for equipment life and reliability," begins Mark Robinson, Quality HSE Services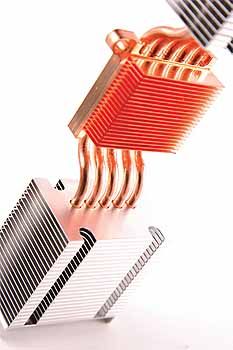 Manager at Thermacore Europe. "The trend of increasingly complex thermal issues in electronics has driven Thermacore Europe to introduce new technologies and develop new products to solve the problems of customers. Today we employ 75 highly qualified staff and are located in two facilities in Ashington, Northumberland (UK); we have also significantly invested in new equipment and processes to manufacture highly engineered, customised products."
The company currently exports approximately 75 per cent of revenues to more than 20 different markets, such as defence and security, space, aerospace, communications, medical/ scientific, Formula One, test systems and power. To meet the unique requirements of each market sector, the company offers bespoke technical solutions and services such as design feasibility studies, thermal analysis, product design, prototype manufacturing and full production at one of its two sites in Ashington.
To further strengthen its capability in providing solutions to customers, the company continuously seeks out new technologies to extend its product offering and support its clients' ever demanding product requirements. "We invest heavily in capital expenditure, and in the last three years this has equated to approximately £700,000 in support of our business plan," says Mark. "This includes the extension of our manufacturing capability, with vacuum brazing and associated heat treatment processes, machine centre expansion to support full five axis CNC machining and the purchase and installation of a CNC co-ordinate measuring machine (CMM) in the quality department."
In addition to major investments, the company has also been actively engaged in the SC21 supplier excellence award scheme since 2011; this industry exchange programme is designed to accelerate the competitiveness of the aerospace and defence industry by raising the performance of its supply chains. Launched in 2006 by 19 founder signatories, including customers of Thermacore such as Airbus, Selex Galileo and Thales UK, the awards scheme encouraged an accelerated continuous improvement culture within Thermacore Europe; this will further aid the company as it re-aligns its quality management systems to AS9100 accreditation as part of its ongoing business strategy.
"The awards scheme is progressive from bronze to gold and in 2011 Thermacore was one of the first companies to be awarded bronze level status in Northumberland; in 2015 we were awarded silver status, which means we are in the top five per cent of suppliers in the UK aerospace industry," highlights Mark.
As a global leader in thermal management technology and solutions, Thermacore Europe has accumulated an enviable portfolio of intellectual property, which includes more than 100 patents; merging these patents with more than 35 expert engineers and 45 years of experience, the company applies these strengths to noteable projects, the majority of which involve blue chip organisations.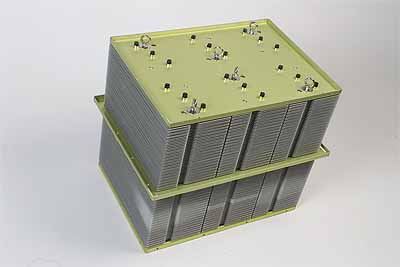 "Over the past 12 months Thermacore Europe was awarded the first phase contract for the feasibility and engineering development to evaluate K-core technology for the Solar Orbiter Project and more recently the second phase for the design and manufacture has been awarded," says Mark. "K-core is a unique composite material combining the thermal properties of annealed pyrolytic graphite (APG) with an encapsulant of aluminium. The resultant material has the same versatility as standard aluminium heat spreaders, but with four to five times the thermal conductivity; the resultant conductivity being in the range of 800 W/mk to 1000 W/mk.
"The mission of the project is to monitor the sun through the atmospheric measurements and high resolution images of the sun's surface. It is a seven-year mission that will measure solar waves, winds and energy particles through the suite of instruments on board; the Solar Orbiter will send back the highest resolution images. Thermacore Europe will be using K-core technology to design and manufacture solid conduction bars and space radiators, which will spread the heat generated by its electronics to a cooler point on the outside of the satellite."
Continuing to discuss services for another key client, Mark adds: "Thermacore Europe is also very proud to be a major supplier of custom thermal solutions to a major autosports brand. The needs of this market are typically ones of high reliability, very tight timescales and the ability to incorporate design changes with a moment's notice, while accepting the fact that failure is not an option."
As business continues to grow at the same rate predicted at the start of 2016, Thermacore Europe seeks to remain competitive in an evolving market through investment and R&D. "We are extensively involved in projects through EU Horizon 2020 programmes, European Space Agency research and UK TSB programmes. These investments are expected to provide the next generation of thermal management solutions, which will allow the business to stay ahead of the competition and drive forward continued growth for many years to come," concludes Mark.
Thermacore Europe
Products: Highly engineered thermal management solutions