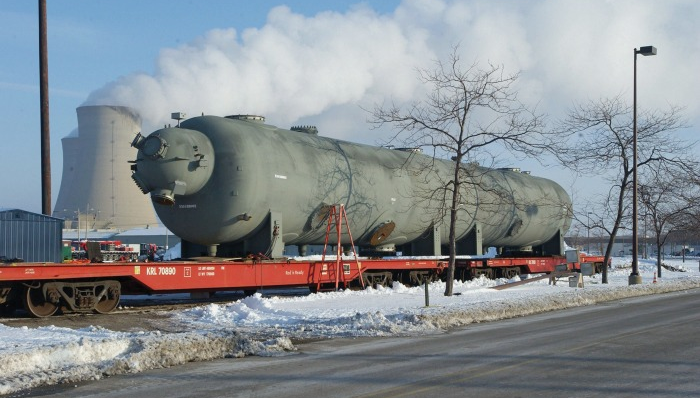 Thermal Engineering International
A leading supplier of heat transfer technology, Thermal Engineering International (TEI) has been continually serving the world's power generation industry for more than 50 years. TEI strives to be an innovative partner for the power and process industries (equipment for downstream refinery, chemical, and petrochemical process plants) by offering fully integrated design, engineering, manufacturing, research and development, construction, and service capabilities.
"This company has stood the test of time thanks to its engineering and fabrication capabilities," COO Bill Boyle said. "The TEI brand name covers quite a bit of products and services for the power and process industry."
Meeting Needs
Today, TEI is part of the Babcock Power family. Babcock Power is a global, multi-product, privately owned energy and environmental services and systems enterprise with active projects in more than ten countries. Part of TEI's footprint includes a manufacturing facility in Joplin, Missouri and relationships with key manufacturing partners in Asia.
"Like TEI, Babcock Power Inc. has been successful for decades and, within its corporate structure, has supplied the power industry with a wide range of products for everyone in the power industry," Boyle says. "Customers like the flexibility of knowing they can come to an experienced, single-source supplier capable of meeting all of their needs."
"The Babcock Power business units have an independent customer base, but we've all grown as one under the Babcock Power umbrella and have found opportunities for customer sharing," Director of Manufacturing Bill Damore said. "Because we work together, we are able to provide better pricing on manufacturing and installing products."
TEI designs and fabricates surface condensers, feedwater heaters, power plant heat exchangers, and moisture separator reheaters (MSRs). In addition to owning and operating dedicated manufacturing facilities within the U.S., TEI has commercial agreements with manufacturing facilities throughout the world. The Los Angeles-based TEI design teams provide integrated product engineering, and offer a single-point responsibility for design, manufacturing, and project management.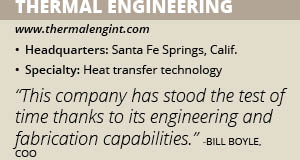 "Over the years, we have been able to successfully execute projects and have earned repeat business with customers," Boyle said. "When we get involved with a project, we provide goods and services in a timely fashion and a certainty of outcome that fits our customers' business models. When we perform well under pressure, they continually have success with us, and we become part of their decisionmaking process. That gives our customers the confidence to keep coming back."
Additionally, the TEI-Struthers Wells Division designs and supplies a full range of fired heaters, waste heat boilers, and heat exchangers for the petrochemical industries. The company's technical capabilities extend from performance analysis, cycle analysis, failure analysis, condition assessment, thermal and structural analysis, conceptual system redesign, and design optimization to finite element analysis, solid modeling, piping flexibility analysis, field modification evaluation, equipment re-rates, physical inspection, engineer and operator training, troubleshooting, and beyond.
"Right now, we are focusing significant efforts on an initiative within the TEI-Struthers Wells product line, which has been a successful part of our refinery and process business," Boyle said. "As the oil industry comes back, we want to take that product line and equipment and expand our footprint in the market. Another outstanding TEI technology that enhances our product portfolio involves TEI's moisture separator and reheaters. This industry-leading equipment is provided to the worldwide nuclear industry, and is a good example of how TEI is seeing an increase in, and responding to, opportunities around the world."
Staying Nimble
As the company moves forward, preparations for market uncertainty and changes to a competitive landscape are dominant priorities. The Joplin facility specifically has dedicated its key investments to infrastructure and machinery. These expansions give TEI the strength in cost structure and the ability to pass on cost effective solutions to customers.
"In this business environment, schedule and cost are two main drivers right now," Boyle said. "Our engineering and design teams are working to improve our efficiency as we take our customer requirements from concept to manufacturing drawings so fabrication can start in a timely and effective way."
"In fiscal 2016, the company invested $1 million into our facility and into technologies such as new plasma systems and latest and greatest welding technology. We've automated many processes and reduced the costs of making our products," Damore added. "We've also invested in new CNC equipment, and we're looking at new technology in tube expansion. We constantly study new technology and have complete buy-in from the company, which has allowed us to drive down the cost of manufacturing."
TEI is also ensuring it is not overly reliant on the oil and coal industries. It is currently looking to expand more business in sectors like nuclear and the fuel gas heating skid market. With flexibility and expansion in mind, the company's engineering teams are driven to find pathways to increased productivity.
"The better we can use our software tools to produce more efficient, complete design, it will help with cost efficiency and turnaround time," Boyle said. "Our customers are developing projects or have maintenance issues, and they need our equipment and services completed quickly and accurately. Therefore, speed from proposal to delivery is a key evaluation factor that customers use in their evaluations."
TEI has a firm footing domestically, with significant international experience. The company has participated in projects in Russia, the Philippines, China, Canada, South Korea, Pakistan, Israel, Brazil, Europe, and more. Thermal Engineering International has the skills and expertise to do business all over the world, while continuing to build on a legacy that began many decades ago.
"TEI is a strong company that has positioned itself well thanks to its people, a strong facility in Joplin, flexible shop capacity, and a solid project backlog," Boyle said. "The company, the technology, and the people here are all strong, and we are looking forward to a successful future."