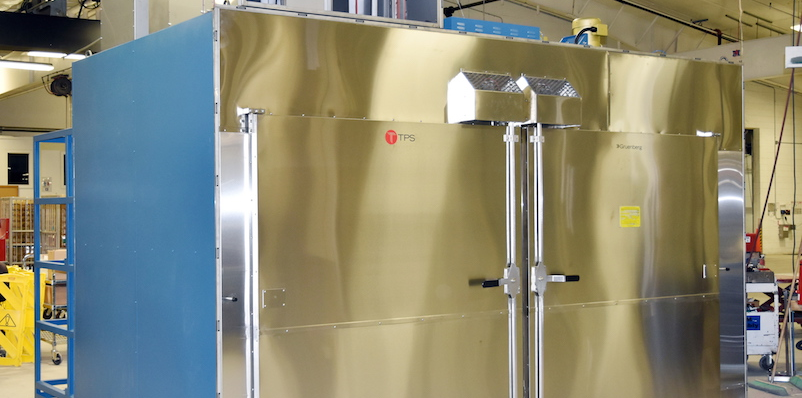 Thermal Product Solutions
Thermal Product Solutions (TPS) designs and manufactures industrial and laboratory ovens and furnaces, and environmental temperature cycling and stability test chambers that replicate environmental conditions for its clients to test their products. Its brands include Blue M, Gruenberg, Lindberg/MPH, Tenney, Wisconsin Oven and Baker Furnace.
TPS is headquartered in New Columbia, Pa., while its brands are located throughout the country. "TPS sets itself apart from competitors by offering equipment in such a wide range of temperatures, from extreme cold to heat and humidity that our customers' products might be exposed to," President and CEO David Strand explains. "None of our competitors do everything we do and that's where the value is with our brands."
Strand got his start in the industry at Wisconsin Oven located in East Troy, Wis., where he worked his way up from the shop floor. The company has been designing, engineering and manufacturing industrial ovens and other heating equipment for more than 45 years.
"I worked my way up into upper management and was given the opportunity to be a minority shareholder," Strand remembers. "Eventually, the founder and other major shareholders sold out and I bought the majority share of Wisconsin Oven in 2005 and became president."
Wisconsin Oven prospered for the next three years and survived the recession, but Strand decided to sell the company in 2012 to one of his board of directors located in France. "He owned Wisconsin Oven from 2012 to 2015 and kept me in control as he wanted to be a hands-off owner," Strand says. "We continued to grow the business rapidly, but he came to me and said he needed to sell the company in 2015."
TPS acquired Wisconsin Oven in 2015 and Strand thought, "We're being bought by a competitor, so it's time to retire." But the company had other ideas. "They said they wanted me to be the president and CEO of TPS and here we are today doing $100-plus million in revenue with four facilities across the country," he adds. "It's been an interesting three years."
Customized Solutions
TPS's Blue M brand is a leader in the design, manufacture and support of laboratory ovens, inline curing ovens, light industrial ovens, custom industrial ovens and ASTM test ovens. The Gruenberg brand is a leading pharmaceutical oven manufacturer. Lindberg/MPH has a long-standing reputation in the heat-treating and non-ferrous melting furnace industry. Wisconsin Oven is a leading custom and standard oven manufacturer.
The Tenney product brand offers one of the most comprehensive lines of environmental test chambers and rooms in the industry. Baker Furnace manufactures custom-built industrial ovens, furnaces and pollution control equipment for the aerospace, finishing, environmental, heat-treating and oil and gas industries.
Although TPS continues to manufacture standard equipment, for the past six years it has been focused on developing custom equipment to better meet the needs of its customers. "We offer warranties up to five years on our standard equipment and up to three years on select custom equipment, which is almost unheard of in the industry," Strand says. "We can offer this because of the quality that we put into our equipment. We build our equipment to last and the quality meets the uniform expectations of the industry. We have developed a very good reputation."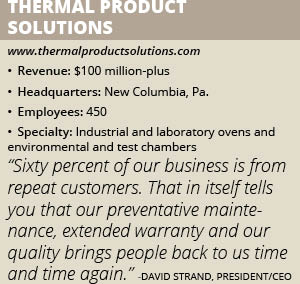 TPS often collaborates with some of the largest and most well known manufacturers in the medical, pharmaceutical, aerospace, technology, energy, electronics, consumer goods and defense industries. The company's engineering design services team helps its customers develop innovative thermal processing solutions designed to achieve the specific results they need and avoid unwanted outcomes.
"We will sit down with our customers and go through the calculations and do simulations to make sure the equipment we are building will do what they need for their products and specs," Strand explains. "Our expert team of engineers, technicians and product specialists are here to help them design the custom oven that's right for their application."
Efficient Manufacturing 
With multiple facilities throughout the country, TPS continues to expand its plants and recently acquired a 140,000-square-foot property next door to its Wisconsin Oven plant to increase capacity. "One of the things that also sets us apart is the size of our facilities allows us to fully assemble the large custom ovens and furnaces to fully test them in our facility and let our customers come in and ensure it meets every spec," Strand explains. "We then disassemble it and ship it on a flatbed and our crew puts it together at the customers' locations."
TPS manufactures from raw materials, procuring all of its own components and parts at each of its facilities. This allows the company to fully fabricate in-house to meet its customers' specifications rather than outsourcing fabrication like its competitors.
"We can manage any work order changes quickly and the overall project, overseeing the entire production," Strand notes. "The custom equipment is all built-to-order so inventory is more order-as-you-go. We have a warehouse for all of our standard, fast-moving inventory, larger quantity items or items with long leads such as blowers, exhaust blowers and insulation
After the materials are fabricated at Wisconsin Oven, for example, each part is then delivered to one of the five facilities on campus where the assembly process begins. "We have a facility that does all the standard equipment batch ovens for drying and curing, mostly out-of-the-catalog type ovens," Strand explains. "Then we have a large custom equipment facility, which is for anything that is over 20 feet high. We have a tall bays with two 30-ton cranes and large massive equipment to handle the equipment."
The remaining buildings on the Wisconsin Oven campus specialize in smaller custom equipment, electrical control panel wiring and small laboratory ovens. The laboratory ovens are made in an assembly line manufacturing facility.
Although TPS is a custom manufacturer, the company has developed efficiencies over the years by standardizing some of its equipment designs. "We have been transitioning into a custom manufacturer for the past six years, so nothing happened overnight, but we began to standardize our custom designs," Strand explains. "It is all custom but done very similarly so we came up with some standard designs. Whenever we can use standardized portions in the custom order we will do that."
The company averages 6 to 12 weeks for turnaround on standard models. Custom equipment can range from 12 to 24 weeks depending on complexity and size. "We have turned equipment around in four weeks and even in one week when one of our customers has had a fire or a bad situation," Strand notes. "We do what we can do whenever we can if our customers need our equipment faster."
Ahead of the Curve
TPS's innovation centers focus solely on product improvements and new product development. "We recently filed four patents for new designs that relate to smart ovens, maintenance and predictability," Strand notes. "Sixty percent of our business is from repeat customers. That in itself tells you that our preventative maintenance, extended warranty and our quality brings people back to us time and time again."
Because innovation is a key focus, TPS prides itself on its training centers to stay up-to-date on the latest technology as well as bring in the next generation of manufacturers. "Wisconsin Oven Universal Training Center, also known as WOC-U, is a co-op with the local high schools and tech schools, and is a dedicated facility for training," Strand says. "We get kids right out of high school with no skillsets whatsoever and we hire instructors from the local colleges to put together a curriculum so students learn how to read blueprints and get hands-on design and training."
TPS pays its students $10 per hour during training. By participating in TPS's training, students can transfer credits to a tech school or take a position full-time at the company, if offered. "Once we get people in to see the exciting things we are building they want to stay," Strand says. "This training center is a big help in securing the next generation."
TPS remains on the leading-edge as it supplies some of the largest companies in the world in the automotive, aluminum and aerospace industries. The company is focused today on incineration chambers for communities as new legislation passes to restrict the creation of more landfills. "We have large contracts with local governments who are putting their foot down on creating more landfills and we sold a couple incineration units last year that were of significant size and price," Strand says. "That's going to be the future and a big part of our growth. These chambers will incinerate the garbage into ash and the ash will be buried."
Moving forward, TPS plans to continue to gain marketshare as the industry leader by staying innovative. "I want to continue to always be on the cutting-edge," Strand says. "We like to be inside our customers' doors knowing the latest technology and what their needs are so we can continue to meet those and grow our marketshare."