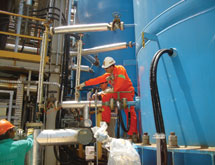 Thermon Canada is part of a global organization that is an industry leader in the specialized field of heat-tracing technology. The business was founded in Texas in 1954 and today remains the only international heat-tracing company completely dedicated to its industry. What started as a Thermon Canada branch office in London, Ontario, has become a significant Alberta-based organization that manufactures and supports Thermon's global growth.
"The Thermon Company was founded from the invention of heat transfer compounds for industrial steam tracing applications in Houston, Texas, 60 years ago," Thermon Canada President David Duval explains.
"During the 1960s, Thermon's business grew into Canada," Duval adds. "Our company worked to become actively involved in the development and advancement of reliable electrical tracing products, systems and services."
Strong Core
The company's focus is on heat tracing, the external application of heat to pipes, tanks and instrumentation. It has invested in a strong team of employees, numbering approximately 180 in Canada and 830 globally. This team is combined with an extensive line of heat-tracing products and design tools.
Ultimately, it is this combination that allows Thermon Canada to assist its clients with heat tracing for pipes, vessels, instrumentation and other process equipment. The company supports everything from materials selection, circuit layout and installation to operating costs for client applications.
"Our core competency is manufacturing electric heat-tracing products, bringing them to market and supporting our customers," Duval says.
"We are not only a manufacturing company, we also have strong service and engineering departments that make sure our products are specified, designed and installed correctly," Duval explains. "We can provide field maintenance support, installation supervision and product training. Thermon Canada does not compete with the installation contractors. We bring a strong knowledge base that supports the end-user."
The company works closely with clients from the initial planning stages all the way through installation and commissioning. Its services can include detailed design engineering and project management with project drawings, documentation, commissioning, site audits and maintenance support. This is part of the company's total systems approach to its clients' heat-tracing needs, for which it provides optimized systems that offer the lowest total cost of ownership.
The oil and gas industry is one of the main markets for the company. Its heat-tracing solutions are put to use in the upstream, midstream and downstream components of oil and gas production, processing, storage and distribution. The company also serves the electrical power generation and chemical processing industries.
"For clients in Canada, heat tracing is mission critical," Duval says. "It helps them protect their facilities in cold climates. Their facilities must function 100 percent of the time. If they are compromised, they lose productivity."
Duval says the scope of electric heat tracing has increased due to requirements related to energy savings and conservation. Additional controls are now required in order to meet regulations. Thermon Canada is fully versed on all regulatory requirements, and its educated salesforce is familiar with all product applications and technical capabilities.
Seeking Improvement
Thermon has been making investments to enhance its manufacturing capabilities. Duval says the company has increased the capacity of its cable plants and controller facilities. It is also increasing the capacity of its tubing bundle facilities.
"We need to stay ahead of the demand curve for the market," Duval says. "As a company, we have increased production capacities, as well, adding a night shift to our Canadian fabrication team."
Retention and training is another key focus area for the company. Duval says Thermon has many long-term employees in the company, both in Canada and in other countries. He says the company strives to build long-term relationships with employees while also retaining and training younger engineers.
"We spend a lot of time bringing people up to speed on our technology and capabilities," Duval explains. "Heat tracing is a only very small part of the overall electrical discipline. Some people love it and stay with it. Some move on to other things, but they often end up becoming our customers."
Duval says there are many growth opportunities for Thermon Canada in the years ahead.  For example, market sectors such as the oil sands and offshore marine industries present enticing opportunities for the company.
"We also see opportunities with engineering, procurement and construction contractors and end-users looking to our service components to save them time and money in terms of managing and engineering their systems," Duval says.
"We also see Canada tying itself from one side to the other with pipelines and pumping systems," he continues. "There will be a lot of opportunities for our products, engineering and applications as that activity happens in Canada."
Much of what the company is focusing on developing today will end up on the market in the next few years. As Thermon Canada prepares for the future, Duval says it will continue to invest in its team, processes, engineering and project management capabilities so it can be ready to provide the best engineered thermal solutions to the energy, chemical processing and power generation industries.