Thompson Pump & Manufacturing Co. Inc.
For more than 45 years, the name Thompson has been synonymous with high-quality, high-performance, portable pumps. Chairman Bill Thompson says the company continues to live up to the values his father George A. Thompson instilled in it when it was founded in 1970 by George and his sons, Bill and George Jr. Those values, along with the tight-knit family culture within the company, continue to serve as the foundation for Thompson Pump's success.
Based in Port Orange, Fla., Thompson Pump serves a very broad customer base with a wide selection of wet- and dry-priming pumps used in numerous applications. "We deal with underground utility contractors, building contractors and mechanical contractors," Thompson says. "We also provide pumps and support services to municipalities and governmental entities, the military, mines, oil and gas operations and plants like steel mills and paper mills."
Despite the company's long history in the industry, Thompson Pump remains a relatively smaller company when compared to some of the large national manufacturers who also occupy the pump market. "I would consider Thompson Pump to be a mid-sized company, and in many cases we're competing against some very large behemoths," Thompson says.
In addition to its state-of-the-art equipment, where Thompson Pump sets itself apart from those larger competitors is in the forward-thinking nature of its people and the rapport it has cultivated with its customers and its support vendors. By being more responsive to their needs and having the agility to satisfy those needs quickly, Thompson Pump has secured its place in the industry and it continues to build on it.
Quality Equipment
From the very beginning, the biggest strengths Thompson Pump has had has have been the knowledge and expertise of its people and its superior equipment, which Thompson says can stand toe-to-toe with anything else on the market in terms of performance, features & benefits, reliability and high efficiency. He credits that to the fact that the company never stops working on improving its equipment. "From a product standpoint, we've invested an enormous amount of money in research and development to make our products highly efficient and environmentally friendly," Thompson says.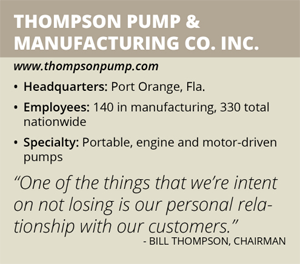 The company's Product Engineering Department works continuously to develop and design the most efficient, user-friendly and durable pumps in the marketplace. Thompson says that because Thompson Pump, in addition to its manufacturing operation, also has an extensive rental network to compliment the business. The company, through its 20 factory-owned rental branches and its Applications Engineering Department, has a more complete understanding of how its products actually are used in the field, making it possible for the company to identify the needs and demands of the actual pump users before the rest of the industry.
The company's ISO 9001-2008 certified manufacturing facility ensures Thompson Pump's equipment rolls off the production floor with no defects, and its sales team supplies that equipment with "an enormous number of benefits," according to Thompson. Among the industry-leading features Thompson Pump's equipment includes are rapid priming, automatic start/stop/variable speed control, remote operation and remote monitoring & notification, SCADA interface, GPS fencing and green technology.
As a relatively smaller company, Thompson says Thompson Pump also has a more personal connection with its customers. The company's family leadership and flat organizational structure also makes it possible for the company to be more flexible and agile than many of its competitors, meaning Thompson Pump can react to customer requests and industry trends much faster than its larger competitors.
Personal Connections
Creating that personal connection with customers has become even more important in recent years, as many competitors are choosing to bypass the traditional distributor/dealer model and make factory-direct transactions. Thompson says Thompson Pump has adopted a hybrid approach to better serve its customer base, dealing directly with some customers but still maintaining a large network of authorized distributors.
"One of the things that we're intent on is maintaining and strengthening our personal relationship with our distributors, end-user customers and our vendors. We view all three groups as being partners with us as we address the challenges together." Thompson says.
Another recent change that has created some challenges for the company has been the federal regulations related to diesel engines. Thompson says Thompson Pump has had to redesign nearly its entire product line over the last several years to comply with the final Tier IV requirements for diesel engines.
Despite the changes and challenges that have come in recent years, Thompson says that the company, now headed by one of Bill's sons, Chris Thompson, is well-suited to meet those challenges and strengthen its position in the marketplace. "We're very optimistic," he says. "We see that the population continues to grow, the infrastructure continues to deteriorate, and people all over the world have higher expectations in terms of quality, performance, support and reliability and availability of product. Thompson Pump stands ready and able to tackle those challenges and to meet those requirements."