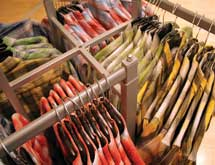 For retailers, presentation is every­thing. A well-placed and attractive display of products could make all the difference when it comes to sales. For more than 100 years, Missouri-based Thorco Industries LLC has created products that help retailers draw shoppers' eyes to products. The manufacturer works with  major retailers and brand marketers across the country to design and create retail displays. "From initial concept to final production, our expertise allows us to deliver merchandising solutions for a wide variety of clients," the company says.
Thorco's display products are used to show off a number of products in­cluding bakery, garden, fashion, craft, toy, pet, sporting goods, health and beauty, household, automotive, hardware, grocery and paper items.
The latest example of the company's work is an end-of-aisle merchandiser for Kansas City, Kan.-based Associ­ated Wholesale Grocers (AWG). The merchandiser, created to display the grocery company's line of "Always Save" snack chips, features a one-inch-thick square tubing frame and adjustable wire shelves painted black. The unit also includes heavy-duty locking casters and a four-sided canopy-style display. The company recently shipped more than 300 of the fixtures to AWG member stores in 12 states.
AWG is the second-largest retail-owned grocery wholesaler in the United States. Its grocery store concepts include IGA, ThriftWay, Cash Saver and Price Mart.
Thorco was founded in 1899 as FM Thorpe Manufacturing, and re-named in 1966. In 1990, the company was purchased by Marmon Group, a Chicago-based holding company that owns a number of electrical and industrial component manufacturers. Berkshire Hathaway Inc. purchased a majority share of Marmon Group in 2008.
Plant Capabilities
Thorco manufactures products at four Missouri locations with a total manufacturing area of more than 600,000 square feet.
Each manufacturing plant is equipp­ed with automated production lines including robot welders and computer-driven powder coat lines. Thorco boasts the ability to custom-make large orders for customers with a 24-hour turnaround time. "By using the latest, most advanced processes and equipment, we offer our customers a higher standard of manufacturing efficiency," the company says.
The company employs a "clean sheet" design strategy to each line of products it makes for retailers. "At Thorco, starting with a clean sheet truly means starting the design process from the beginning," it adds. "Blending extensive re­search, years of experience and market trend awareness second to none, our design team works hard to develop sensible solutions to new merchandising challenges."
Thorco has the ability to quickly produce prototype and short-run products. "In-store testing is an important part of the pre-production process. Large, chain-wide rollouts of new merchandising systems or custom fixtures can be a high-stakes decision," the company says. "With that much on the line, everything needs to be just right the first time. Thorco's carefully crafted short-run samples invite comprehensive evaluation of customer acceptance, shopability and sales potential."
Its manufacturing operations are driven in part by a number of energy-saving initiatives, including:
Use of high-efficiency T5 lighting;
An office paper recycling program;
A scrap metal recycling program;
A low cure temperature powder coat­ing line; and
Recycling of shipping cartons.
"By initiating these energy- and resource-saving programs, Thorco has taken its first steps to preserve the earth's resources for our families and all people that call this planet home," the company adds.