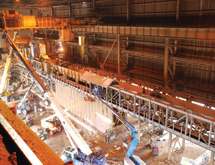 Three-D Metal Works Inc. is named for the three Dail brothers who founded it in 1993: Donny, Gary and Bobby. However, it can also refer to the extra dimension of service the company provides in the steel fabrication business. Donny Dail says the Andrews, S.C.-based company excels at fabricating for practically any purpose, and customer satisfaction is one of its top priorities.
The Dail brothers founded the company after spending their adult lives working in the steel fabrication business for other fabricators. Event­ually, Dail says, they determined that they had the skills and experience to go into business for themselves. "We figured if we could make it for another guy, we could do it ourselves," Dail says.
Armed with this confidence and their wealth of experience, the brothers founded Three-D Metal Works with a grand total of six employees at first. Over time, however, the company's profile grew as it picked up more and more satisfied customers. Today, the company serves a large number of customers in the steel mill industry from its location in South Carolina. Dail says the company's customers can be found as far west as New Mexico, and Three-D Metal Works has grown into a 250-employee operation earning about $45 million in revenue in 2010. In addition to its manufacturing location in South Carolina, Three-D Metal Works has five satellite offices that provide maintenance services for customers.
When asked for the reason behind the company's success in a relatively short period of time, Dail says the company's willingness and capability to do practically anything the customer requires is a significant advantage. However, he adds that being a close-knit, family based company has helped it pull through the lean times and kept it grounded, as well. As the company looks to the future, Dail says the qualities that have made Three-D Metal Works a success in the past certainly will play a role in the company's future success.
Full Capabilities
As a job shop, Three-D Metal Works is built around satisfying customers' specific needs. As such, Dail says the company has a wide range of in-house capabilities that enable it to do nearly everything its customers need, from en­gineering and design to installation and maintenance. "Anything per­tain­ing to steel, we do," Dail says.
In terms of fabrication capabilities, Dail says Three-D Metal Works is well-equipped. The company's fleet of more than 75 welding machines can be dispatched to any job. "We can fabricate anything, no matter how thick it is," Dail says. "We basically do anything that the job requires."
That includes purchasing new eq­uipment if the job calls for it, al­though Dail says this often isn't necessary. "Nine times out of 10, we have it in stock," he says.
Peace of Mind
There's more to customer satisfaction than simply doing the work, of course, and Dail says Three-D Metal Works concentrates on ensuring that custom­ers are satisfied in every respect when it works with them. Most importantly, he says, it is the company's pledge to back up its work. "We stand behind what we do," he says. "We don't go in there, throw it up and leave the customer behind."
Being a family owned company is another advantage Three-D Metal Works has when dealing with customers. Dail says the fact that the company is family owned and operated gives customers confidence in knowing when everything will get done, and that Three-D Metal Works will be true to its word.
Dail says the company also gives customers peace of mind in knowing that there is only one set price for each service, and they won't have to worry about tacked-on charges. "The biggest thing we try to do is try to satisfy our customer," Dail says.
Tough Times
The global recession has taken its toll on the industry, Dail says, and Three-D Metal Works has not been immune to it. In the face of increasing competition from overseas competitors who offer cheaper labor, he says the company has to remain resilient and continue doing what it does best.
"We just have to tighten our belts and do what we have to do," Dail says, adding that the company refuses to jeopardize its reputation of quality work just to compete with overseas competitors on a price point.
The recession recently forced Three­-­D Metal Works to lay off some of its employees for the first time ever, but Dail says conditions have improved enough to bring back all of those former employees who were still available. Retaining the experience and relationships the company's people have is vital for Three-D's survival, he says. "What we're looking for is long-term employees," he adds.
When it comes to new employees who have not worked for the company before, Dail says Three-D Metal Works has an extensive training program in place. He says even though not every candidate who goes through the program ends up making it, the company has confidence in those who do.
"In 90 to 100 days, you can tell if you've got a guy or not," Dail says.
Despite the recent difficulties in the marketplace, Dail says Three-D Metal Works is primed to survive and reach even greater success in the future. As long as the company continues to do what it does best, he says, it will continue to earn satisfied customers. Even though times are tough at the moment, Dail says he has every reason to believe in the company's future success.
"The work is out there," he says.