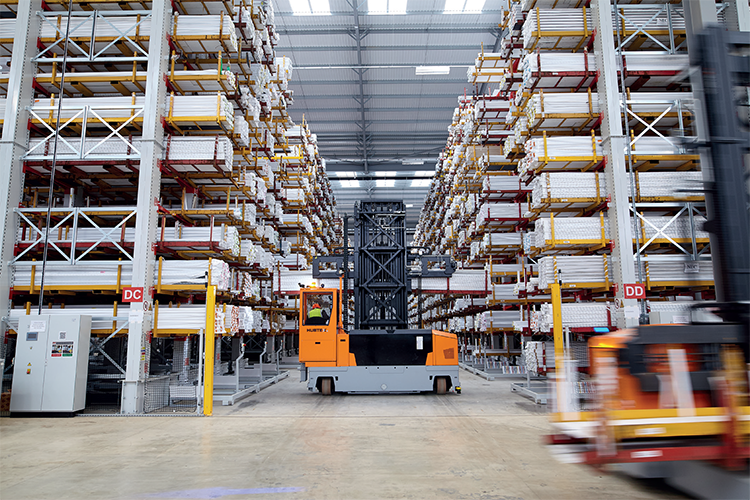 Through almost 50 years of organic growth, Eurocell has broadened the horizons of PVC-U manufacturers
For a long time, there has been a shared belief within the construction industry that wood is the most sustainable material available for the production of doors and window frames. Eurocell, however, has been tirelessly spreading the word and leading the market towards the recyclable nature of another product, which has been in use for over 50 years: PVC-U. The company was founded in 1974, initially as a PVC extrusion business, but over the last five decades, it has organically grown into the UK's largest recycler of PVC-U, and a key manufacturer of PVC products.
"Eurocell is split into two divisions," Collin Hales, Chief Operating Officer, opens. "The first being the profiles division, which is made up of three parts: Vista doors, our producer of composite and PVC entrance doors, S&S Plastics, which manufactures plastic-injection molding products, and lastly our recycling business. This segment is ultimately where we construct rigid PVC profiles, such as window structures, but we also provide foam PVC solutions for roof lines. The second, is the building plastics division. Under this, we have around 219 branches throughout the UK that sell to tradespersons serving the repair, maintenance and improvement sector. Builders are the largest customer group closely followed by roof line and window installers. Retail clients are welcome but most are guided to our branches by their installers. As a manufacturer, we offer an end-to-end service that is completely circular, especially from a recycling perspective.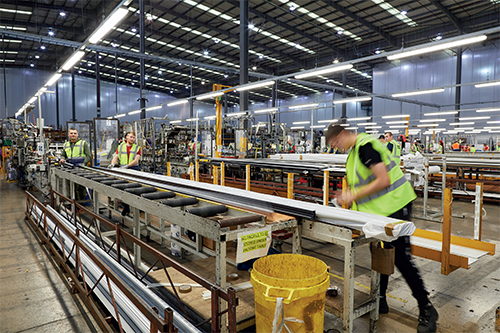 "RMI works makes up 80 percent of our business, with new build and the public sector making up the other 20 percent. RMI is particularly crucial, as it refers to the replacement of the windows, roofing, doors and conservatories in older properties. During the installation process, we are able to repurpose the existing fittings by recycling them through our division one business to feed our manufacturing facilities. We use both virgin and recycled resins in our plant, and of the 61,000 tons of material we use each year, around 17,000 tons are recycled. Our finished products are then stored in our central distribution center. Through our inhouse logistics we intend to provide sector leading fulfillment to all of our customers, service that they can trust and rely upon.
The business has two recycling facilities and a network of hubs throughout the UK where local tradespeople can dispose of windows that they have removed from projects. With the aim of reducing the amount of PVC going to landfill, Eurocell is currently looking into partnering with a third party who can collect this waste from sites at the point of installation to make it even easier. All, but two percent, of the company's waste is repurposed, recycled or reused, in support of its four key themes of sustainability: carbon energy, carbon waste, waste minimization and circularity. In terms of energy, the company is in the process of installing solar panels across all of its facilities, as well as local submetering on all of its machinery, to gage its electricity usage for future optimization. The overall green mission of Eurocell is highlighted by the environmental product declaration credentials that its goods carry.
Towards the end of 2022, the company launched its new Luma aluminum flat roof light. This product is offering customers an aesthetically-pleasing, energy-saving solution that can illuminate rooms naturally, and is available with triple-glazing for heat retention. As Colin details: "A key issue with flat-roof extensions is lighting, which we have sought to resolve. The Luma is stunningly sleek and contemporary, and unlike the more traditional roof lanterns on the market, it uses less plastic and aluminum to maximize the size of the window itself. In terms of security, it's the only product we're aware of that is internally secured, meaning it is harder to tamper with from the outside. Once again, our R&D department has given us something to be proud of, the team is a true differentiator for Eurocell."
However, its well-engineered and innovative product range isn't the only factor that the business has to thank for its significant growth in recent years.
Best-in-class capabilities"I think the overriding theme for me is confidence," Colin explains. "Confidence in what we're bringing to the market, and confidence in everyone who's helping us get it there. This extends to our board of directors supporting the executive team in its decision-making and even to our investors in faithfully continuing to re-invest in the business. This all boils down to the people we have within the organization, and the passion and desire each of them has to be the best. When we talk about sustainability, it's not only on the ESG side, it also refers to sustaining the business and the growth trajectory that we have achieved.
"In this current market climate, we are focusing on consolidating our resources and positioning ourselves for market share growth. Looking ahead, there's a large number of new opportunities waiting for us in different markets or with different products. We are confident in the foundations that we have secured, but now we're ready to push on further yet again," he concludes.
www.eurocell.co.uk