Meaty prospects
The growing demand for Thurne-Middleby's bacon slicers has driven the manufacturer to increase its capacity, in parallel with the company's amplified sales activity in new countries
The purchase of a new building to add to its production space reflects Thurne-Middleby's continued growth in recent times. Having nearly doubled its turnover over the last four years, in 2019, the manufacturer of food processing machines – chiefly bacon and cheese slicers, and case ready meat portioners – proceeded to acquiring the facility next door to its existing factory in Norwich, in order to double its footprint.
"With the extra space available, we will be able to build a higher volume of fully integrated machines," begins Thurne's President, Peter Jongen. "Instead of manufacturing only a slicer, we produce a full line with advanced conveying systems, card dispensers, and other innovative traits. At the new facility, we will have enough room to incorporate these into the slicers and test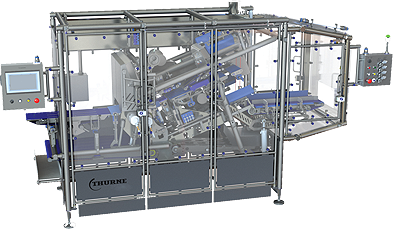 the machines in-house, which, in turn, will make the installation process at our customers' premises a lot quicker.
"We have a product portfolio, which fits well with clients' wishes at the moment. As a company, we do not merely sell machines, we sell complete solutions, which is exactly what the market is demanding," continues Peter, explaining the leading reasons behind Thurne's growth. "Our customer service team is a lot bigger than what competitors of our size are able to deploy, because it is a key priority for us to nurture the relationships with our clients. We are very keen to partner with a customer for, say, 20 years, and every decision we take in relation to developing and marketing our solutions, is in line with this strategy."
Historically, the US and Canada have been where Thurne has achieved its greatest success. A few years back, however, the company developed a new product specifically for the UK market, which has performed so well that it is impossible not to credit it with the improved fortunes of the business. "We have sold more than 20 of these systems here in the UK," Peter points out. "This year, we have also launched a new range of streaky bacon machines and a red meat case ready machine, which are gradually starting to attract the interest of the market all over the world."
It may still be early days, but three Thurne one bacon slicers have already been sold, with the company holding talks with several more customers for the on-site installation of the product. Peter discusses its properties: "It is designed for the higher end of the market and is packed with multiple high-tech features. For instance, this solution comes with a patented vision system with fat and lean detection, which enables its users to cut the bacon into the right thickness. What is more, the compact autoloader maximises throughput and the machine's capacity of producing over 100 retail drafts and up to 150 ten-slice food service sheets per minute, mean that Thurne one bacon excels in the two most important performance indicators for customers, namely, yield and throughput."
Slightly different, the Thurne two version has been developed with less in-built technology, but the same degree of reliability as its brother. Then, the third new addition to Thurne's catalogue – a case ready machine, which was premiered to the public in Chicago in August – is also already piquing the curiosity of businesses on either side of the Atlantic. Judging by the initial demand, Peter's expectation is that the first models of this product will be installed and validated on-site at customers' facilities before the first half of 2020 is through.
Alongside the aforementioned regions that have become a stronghold for Thurne over time, the last couple of years have borne witness to the organisation's expansion into other sizable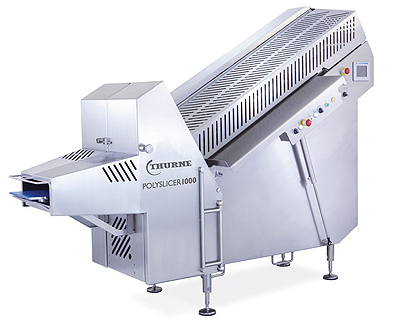 markets. Peter details: "For about 12 months, we have been quite active in Mexico and the Spanish-speaking part of South America. We are also proud to reveal that, not long ago, we also sold a full bacon system in Moscow. Furthermore, we now have agents in South Africa and Australia, meaning that we can say that we operate across no fewer than five continents. At this point in time, we feel that we have enough on our plate, regarding the company's global growth, so we will focus on developing these markets in the coming years, trying to make the most of the opportunities we come across."
Even more aggressive innovation when building new products will be the order of the day at Thurne in the foreseeable future. Peter discloses that a centrepiece of the company's three-to-five years' strategy is to further diversify its offering and establish a presence in new segments of the meat industry. "We are working towards the creation of solutions that will target different sectors from the ones we have become known for, i.e., bacon and red meat. In addition, we are also hoping to mature in the geographical areas that we discussed earlier. If we meet our objectives, I think it is realistic to expect at least a 50 per cent growth in sales within the next few years," he concludes.
Thurne-Middleby
Products: Bacon, cooked meat, and cheese slicers, and case ready meat portioners