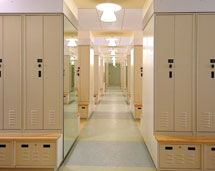 Tiffin Metal Products Co.
If an item needs to be transported down a chute, stored securely or advertised on a 48-foot billboard, Tiffin Metal Products Co. has a product that can help.
The light sheet metal fabricator, founded in 1903, offers a range of advertising display, storage and package handling products and solutions. "One of the most distinctive things about our company is our ability to listen to our customers and come up with a solution that meets their needs – we don't produce the same product day-in, day-out," says Ron Myers, vice president of sales. "The quality of our products is excellent, and if our customers have an issue, we have the ability to fix any problems right away."
Tiffin's major products include metal outdoor billboard panels, trim and hardware; the Sentinel® brand line of evidence and wardrobe lockers for law enforcement; and custom manufactured products including workstations, material handling chutes, tote pans and fence posts for the Department of Defense.
The company is the largest manufacturer of military fence posts and a major supplier of billboard products and equipment to the largest outdoor companies in the United States. The company has produced billboard products since 1927.
Among the company's most popular billboard products is the Panel-Free® frame. The frame is shipped in a compact bundle for easy transportation and is built to withstand high-impact winds. The product is the standard billboard frame used in hurricane zones and other parts of the country known for high winds, Myers says.
One of the company's newest offerings is the SST Gravity Chute, which uses UHMW silicone plastic material to transport lightweight packages at faster speeds. The material prevents the need for lubrication or waxing. "We can build these chutes to customers' specifications and modify them to give the client the best possible option," Myers says.
Tiffin Metal Products' engineering staff works with customers to develop concepts and product designs to their specifications. "For example, with our industrial workstation products, we don't just build the same one over and over again – we build them to meet customer requirements such as ergonomics," he adds.
The company's growth strategy involves seeking niche market sectors. "We look to markets where there's a call for our products – in our market research, we look to factors that include growth potential, and where we can be the number one player," Myers adds.
"We look to markets where we can be highly competitive and hire staff to meet manufacturing needs," he continues. One new market the company has found is museums, for which Tiffin provides cabinets and storage products to contain artifacts.
High Performance
Tiffin Metal Products applies lean manufacturing methodologies such as 5S, kanban and just-in-time inventory management to its production operations. All manufacturing is performed in a 110,000-square-foot manufacturing facility in Tiffin, Ohio.
Manufacturing capabilities include laser cutting, brake/punch press operations, welding, bending, painting, washing and curing. Equipment includes a Mazak laser cutting machine capable of handling up to 2.2 tons of steel; brake machines ranging in size from 35 to 225 tons; spot, arc and wire welders; a Salvagnini PERformER abt® compact panel bender; a Finn Power CNC turret press and a three-stage powder coat paint system. The company invests regularly in new equipment including robotic arms and automation to assist in loading and unloading.
Tiffin Metal Products works in conjunction with area technical schools and colleges to train both existing and prospective employees. The company regularly offers internship and apprenticeship programs, Myers says.
The manufacturing facility's appearance and the efficiency of its staff are high points of pride for Myers. "When we bring a customer through here and they see what our facility looks like, they note its cleanliness, as well as the way our staff demonstrates our dedication to our products," he adds.