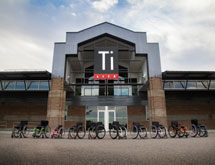 TiLite Inc.'s technological and manufacturing advancements allow wheelchair users greater access to the world to enjoy independent living. The company has concentrated on reducing the weight of wheelchairs, increasing ergonomic features and manufacturing chairs specifically to meet the daily needs of customers.
"When we started doing this, we noticed a real absence of technological advancements in independent mobility for people who use wheelchairs all the time," founder and CEO David Lippes says.
A major advancement was to reduce the weight of the wheelchairs, allowing for easier storage and movement. Fifteen years ago, most high-end wheelchairs weighed about 35 pounds. Today, they weigh about 15 pounds on average. Lighter wheelchairs simply make it easier for customers to move around, "as anyone who has gained or lost 20 pounds knows," Lippes says.
TiLite took an axe to traditional wheelchair design, reducing frame sizes and nixing all unnecessary components to reduce the weight of wheelchairs for better quality and propulsion. Leaders in TiLite's sales, engineering, brand management and marketing teams are themselves wheelchair riders; they know full well what a good wheelchair needs to endure in the day-to-day grind of contemporary life, too. To meet whatever life throws at them, TiLite wheelchairs are made with titanium.
TiLite had previously manufactured bicycle frames, motorcycle subframes for the Yamaha racing team, golf shafts and racecar suspension components before it produced its first wheelchair in 1998. Titanium is ideal for wheelchairs because it has the highest strength ratio of any metal.
One Size Doesn't Fit All
In the past 15 years, TiLite has manufactured more than 150,000 wheelchairs. And yet each TiLite wheelchair is produced according to specific, unique specifications based on the customer and is designed to fit his or her shape – something TiLite calls "TiFit" – and this makes all the difference. "We have many designs," Lippes says. "But primarily our designs are made to fit someone's lifestyle."
Full-time wheelchair users could develop problems in their rotator cuffs, elbows, wrists and upper limbs from overuse, he points out. Therefore, it is essential that TiLite's engineers design the wheelchairs to fit bodies snugly with appropriate ergonomic features.
The wheelchairs are also custom configured as customers choose their wheels, tires, handrims, upholstery, wheel locks, sideguards, armrests, footrests and handles. In addition, they can select custom aesthetic designs for their chairs, such as military themes.
"We try to make our products really attractive," Lippes says. "We like to have the chair reflect personality like a car or clothing might."
Although TiLite offers many different models, the chairs are essentially split into those that fold and those that don't. The folding wheelchairs are easier to transport and store and the non-folding chairs are more stable for maneuvering. For most clients, TiLite recommends a non-folding chair for better propulsion, Lippes says.
Insurance Reimbursements
TiLite works in a business paid by insurance, not consumers. The wheelchair buyers are primarily private insurance companies, state Medicaid systems and the U.S. Department of Veterans Affairs, among others.
A challenge for TiLite is that insurance policies "do not always recognize variations among quality," Lippes says. For example, sometimes the company is reimbursed for a custom wheelchair at the same rate as a non-custom, standardized wheelchair.
As a result, there is a limited ability to price the wheelchairs based on quality, and TiLite is competing with companies that do not manufacture their wheelchairs in America, Lippes says.
Serving Pediatric Needs
In 2012, TiLite Inc. expanded operations to include wheelchairs for youth. The TWIST wheelchair is designed to expand two inches in width and three inches in depth as children grow larger.
Historically, children with mobility issues have been placed in constraining devices such as strollers. This prevented them from interacting with others and developing hand- eye coordination and muscle tone, Lippes says.
Whether they are for children or adults, the chairs reflect the culture at TiLite, where "we have a good time doing what we do. It's a reasonably small company owned by myself and some of the other workers here. Many of us get great satisfaction from knowing we build the highest-performing wheelchair in the world."