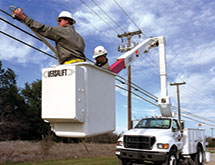 Time Manufacturing has been a trusted name in aerial lifts since 1965 because it continues to offer the latest in safety and product improvements for its global customers to perform their jobs at elevated positions. "Time Manufacturing doesn't ever sacrifice safety or quality," North American Sales Manager Jack Jeffrey says. "We take putting someone in the air very seriously."
The Waco, Texas-based company's VERSALIFT aerial lifts are available in telescopic, telescopic articulated, articulated overcenter and articulated non-overcenter models. It also offers 40- to 55-foot insulated overcenter material handlers and power transmission aerials. A majority of Time Manufacturing's customers are electric utilities, telecommunication companies, tree trimmers and lighting companies.
Time Manufacturing boasts more than 30 engineers on staff who ensure the company delivers the safest and highest-quality product, Jeffrey notes. Protecting workers from harm is the goal of Time Manufacturing's latest product, TruGuard, an electrical isolation system that grounds an aerial bucket's control panel through a central location to protect line workers and service technicians from electrical shocks.
"This is the first and only upper control isolating system," Jeffrey explains. "We look at TruGuard as something that matters and more companies will have a version of this in the future because it matters. It's similar to the airbag on a vehicle."
TruGuard uses a box made of composite materials to isolate electrical and hydraulic controls in the control panel. The system, which attaches to the side of the bucket, also prevents current from flowing to the panel itself if the bucket touches power lines. It also directs debris and contaminating liquids away from the isolating surfaces.
Maintaining Relationships
To manufacture quality aerial lifts, Time Manufacturing needs to ensure it has the right relationships with the right vendors. "With us it's about partnering," Director of Purchasing Mike Yates says. "We are looking for partners who understand what we need."
When the company is considering a new vendor, its representatives visit the plant to become more familiar with the VERSALIFT product. The company encourages the vendor to visit its operation and also monitors the vendor's on-time deliveries, pricing and product quality. Time Manufacturing puts a lot of time into qualifying vendors, which can take anywhere from a couple of days to years. "Take something major like a cylinder that keeps the person in the air, components like that may take months to qualify," Yates explains. "Safety is always our goal."
One of Time Manufacturing's most trusted vendors is Contemporary Products of Texas Inc., a plastic products manufacturer in Walburg, Texas, that builds fiberglass buckets for the company's aerial lifts. "We have been doing business with them for 30 years," Yates says. "They are very good at what they do."
Building Right
Because Time Manufacturing's aerial lifts are customized for each client, the company offers several hundred variations of models to accommodate its customers' needs. Its manufacturing plant operates six assembly lines that can expand or contract based on the market conditions. "If my small lift line is running 15 units a day, which is about average, I can shift one of the lines over and start making other parts," Plant Manager Don Fratus explains. "If it goes up to 20 units per day we can expand the volume line."
The company's manufacturing employees are cross-trained in the assembly process to allow for flexibility and product consistency so they can move with the lines as they expand or contract. Two assembly supervisors oversee the six lines with one managing the flow from paint to testing and the other from testing to shipping. "Looking at our monthly numbers, as far as units built versus hours worked, shows a continuous improving environment," Fratus reports.
Time Manufacturing's efficacies have improved allowing for unprecedented production increases over the past three consecutive years. "That's almost unheard of in manufacturing today," Yates notes.
The introduction of new models and options are normal occurrences in our ISO-certified plant, Fratus says. "It takes time to figure out the best way to get it through assembly and testing," he adds.  Along with TruGuard last year, Time Manufacturing introduced Digger Derrick, a machine capable of drilling holes and setting poles or other large objects in place.
Time Manufacturing is always looking for ways to increase efficiency and encourages its employees to suggest new ideas that will improve the manufacturing process. "We are always evaluating production to look for ways we can improve," Fratus notes. "We also have a manufacturing engineer on-site to suggest how things can be done better. We are in a constant state of continuous improvement."
People are vital to the company's operation, Fratus says, but he also expects the manufacturing process to become more automated in the future, which will increase productivity. "Automation is key," he says. "We need to make sure we stay up with the latest technology."
In the future, Time Manufacturing will continue to customize its aerial lifts and bring innovative features to its customers around the world.
"I think the future is bright for Time Manufacturing," Jeffrey says. "We sell all over the world, so when a market in one area is having a down year another market in a different part of the world may be doing very well. We feel good about Time Manufacturing's position in the marketplace."