The Tingdene difference
For half a century and counting, Tingdene Homes Limited has applied a combination of passion, knowledge and craftsmanship to the manufacture of each and every one of its British-built park homes and holiday lodges
It was back in the late 1960s, when the park home industry was in its infancy, that Jim Gibbard established Tingdene Homes Limited (Tingdene), and in the 50 years since it has built its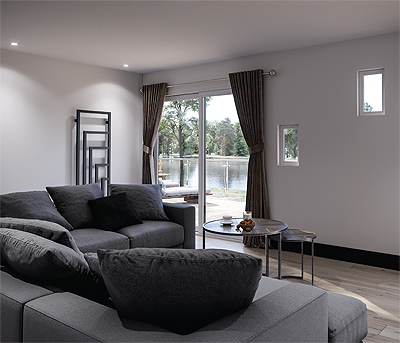 reputation on the back of being one of the UK's leading manufacturers of said homes and holiday lodges. Based in Northamptonshire, the business employs a dedicated and hardworking team of 230 people, and in recent years has been recognised for being at the forefront of innovation and pushing the boundaries of what is capable from park home design.
Innovation has always been a key component of the company's DNA. Whether it comes in the form of its industry-first introduction of the ten-year render warranty in its exclusive Maipei range, or the launch of its unique two-storey Loft model of holiday lodge, Tingdene has repeatedly evidenced its ability to push standards of craftsmanship, service and design. "We have always pushed the envelope when it comes to design and innovation, and while the park home industry isn't necessarily renowned for being Limitedprogressive, we have been able to bring new materials and designs to the marketplace that ultimately filter out to the rest of the sector," states Tingdene's Commercial Director, Jamie Wilkins. "Tingdene is also known for the flexibility of its approach in dealing with its customers, so as to ensure that their needs are not only met, but surpassed."
All of Tingdene's homes and lodges are constructed to BS3632 standards within its state-of-the-art production facility. "As a business, we are continually improving upon our manufacturing processes to better reflect the changes we are seeing in the marketplace," Jamie continues. "Our customers, for instance, want larger, open plan rooms, which means we are seeing a lot more steel being put inside the build, whereas traditionally the build would be made out of timber. This means that we are increasingly more reliant upon structural engineers to assist us with our designs to ensure that they are safe, while remaining functional and interesting.
"The park home industry is renowned for operating primarily within the industry 2.0 phase, but as technology becomes more accessible and cost effective, some elements are moving towards 3.0 and even 4.0. For our part, we have smart bins that send notifications to our store team when stocks run low, CNC machinery is becoming more common place within our facility, and we are even reducing our reliance on pen and paper with our maintenance and quality inspections being completed on tablets, and held securely in the cloud."
As has been well reported, the 'staycation' marketplace in recent years has experienced enormous growth, and this has helped to expand the leisure lodge side of Tingdene's business considerably. In order to meet this demand, and achieve considerable improvements in efficiency across its production processes, the company undertook a major, multi-million-pound upgrade of its factory in 2017. This, as Jamie explains, represented a pivotal point in Tingdene's history and marked a major transition towards the future.
"Our factory was built in the 1970s in a number of phases with a few modifications over the following years," he says. "Needless to say, however, that the homes that come off of our production line today are completely different to those that were manufactured 50 years ago. Our homes today are much bigger, heavier and more complicated to build, and this has presented us with a number of challenges during manufacturing, and limited our maximum output."
Tingdene's response to this was to undertake a huge programme of upgrading, replacing or removing equipment, machinery and infrastructure throughout its manufacturing site. "We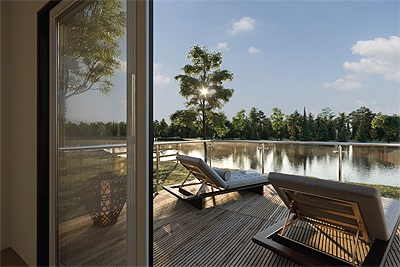 upgraded our incoming mains and did a rewire, we changed all of the site drainage systems and installed attenuation tanks," Jamie details. "We reclaimed land and moved our yard closer to our boundaries, knocked through the gable end of the building, and extended the factory by building new stores, a maintenance workshop, paint wash area and offline assembly areas. Further to this, we created new offices, installed new gas pipework, new heaters and destratification fans, upgraded all of our lighting to LED, and put a new roof on the factory. As you can see, therefore, this was a massive project for us – one that took over a year to complete – but one that was undertaken without any loss of output, which is a testament to the work and dedication of our team."
Following the success of its upgrade programme, the tail-end of 2018 would mark the beginning of a process to rebrand the business. "We consulted with our internal teams in order to gain their feedback as to what Tingdene means to them and to our customers, before setting the wheels in motion for rebranding, and we have not stopped since," Jamie enthuses. "We have found a perfect partner in the form of our creative agency, Fluid Ideas, and they have helped us to get to where we are now from a branding point of view. We are 50 years old now, and need to stay modern and relevant, but do so whilst also drawing upon our heritage to ensure that we continue to offer our customers the best possible experience."
To celebrate its 50th birthday, Tingdene created a game changing super-lodge called The Quantum. The first luxury lodge to feature a roof terrace that spans the full footprint of the home, The Quantum also features its own hot tub, as well as a huge open plan living and dining area. Available in a choice of three internal layouts and two distinct roof configurations, it is a lodge that can be tailored to the needs of both small groups or larger families.
In 2018, Jamie, along with Operations Director Luke Wilkins and Production Director Alan Betts, was appointed to Tingdene's Board of Directors. Together, they have a strategy for the next three-to-five years, the focus of which is to take the company forward through managed growth in order to increase turnover. "We aim to achieve this by further improving the efficiencies in our sales and production processes, however we understand that, at the same time, we need to continue to develop and train our staff as new skills become necessary," Jamie adds. "Although we are keen to grow, we will always remain mindful that it is imperative that we offer our customers the same high quality products that Tingdene has become recognised for producing."
Tingdene Homes Limited
Services: Park homes and holiday lodges