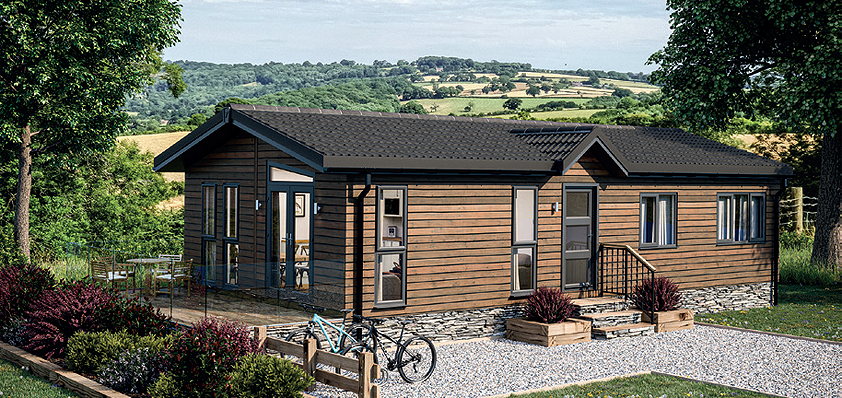 Artful lodges
One of the oldest and most innovative manufacturers of residential park homes and holiday lodges, Tingdene Homes is benefitting from the recent resurgence of the 'Great British staycation
For more than half a century, Tingdene Homes has been setting the standard that its competitors have to follow. Industry-renowned for its unwavering commitment to quality and innovation, the company has grown into one of the UK's leading manufacturers of residential park homes and holiday lodges Over the course of the last two years, Tingdene has seen its customer base grow significantly and the company currently offers products to more businesses than ever before. Understandably, 2020 was a momentous year in more ways than one for the business, and thanks to a strong response to the Covid-19 pandemic, Tingdene was able to make the most of a tremendous increase in demand.
"It goes without saying that the pandemic has changed our business significantly," explains Commercial Director Jamie Wilkins. "Before Covid, I would have been lucky to have one remote call a month, but now I'm on multiple calls a day. It works really well and has helped increase productivity through improved collaboration. It just took a while for everyone to get used to it!
"Our manufacturing plant changed dramatically in 2020, in order to keep everyone safe. We had to review all our processes and invest heavily in protecting everybody. As soon as we were
able to, we brought people back to work, but we did this very slowly. We reviewed everything and we frequently adjusted our practices to keep the business going, but safety was our top priority.
"We were actually the first in our industry to get back to work and this gave our customers the confidence that UK manufacturing hadn't stopped," Jamie adds. "Our marketing and sales departments opened up new channels of communication with customers who saw that there was demand heading their way, and they took advantage by getting to the front of the queue."
Operating from two facilities in Wellingborough, Northamptonshire, with a workforce of more than 220 people, Tingdene is a long-standing supporter of British manufacturing and craftsmanship. Situated close to the company's indoor showroom, Tingdene's state-of-the-art production site constructs all its homes and lodges to BA3632 standards, and has continued to do so throughout the pandemic.
"In the beginning, Covid-19 really affected efficiency due to social distancing because we're a hybrid indoor construction and manufacturing site, however, we've continued to update procedures and make changes to unlock new efficiencies," Jamie says. "Two key people have recently joined the Tingdene team as our Head of Manufacturing & Production and Head of Procurement. Using their experience, we're reviewing every process to ensure we become more proficient and produce higher quality homes, which allows us to fight back against some of the price increases we are seeing from our supply chains."
By far the biggest alteration implemented by the business in 2020 was the introduction of Spacebands for its workforce. A wearable technology designed to alert the user when they're closer than two meters to another wearer, Spacebands recorded contact interaction for Tingdene employees and helped enforce social distancing.
"The use of Spacebands meant that if someone tested positive with Covid, we wouldn't have to close down a whole section of the manufacturing plant; we could just see who that person was in contact with and isolate those individuals only," Jamie reports. "It's given the workforce the confidence to come back to work, safe in the knowledge that they will be free of harm whilst they are here."
As Jamie suggests, securing the trust and ensuring the safety of the company's workforce was vital to Tingdene's success in 2020. Though the firm's full turnkey offering involves the use of various technologies and equipment to guarantee the production of park homes and holiday lodges of unrivalled quality, it is Tingdene's people that remain the 'heart and soul' of the business.
"Without our team, we're just two industrial buildings in Wellingborough," Jamie asserts. "Our workforce is everything to us. They're the ones who give vital feedback to our managers, they're the ones who stay late and come in at weekends when we've got big contracts going on, and they're the ones who put their all into making sure our customers have a smile on their face when their home arrives on-site. I truly believe that there isn't a better team out there.
"Creating a successful company culture is quite simple, but maintaining it can sometimes be challenging, especially with all these new Covid pressures. Throughout the pandemic, we've tried to make sure everyone feels valued, whether they're new to the team or part of the furniture. We believe that if you make your staff your number one priority, they will, in turn, look after your customers in the same way."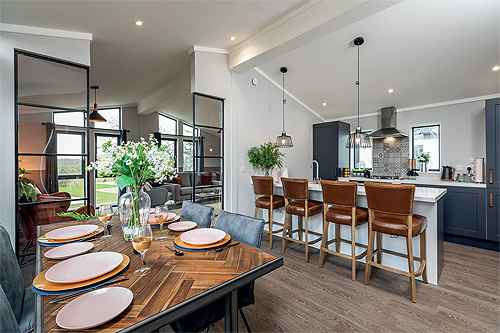 2020 is a year that will always be synonymous with the Covid-19 pandemic, and the associated obstacles and difficulties it presented. However, the Covid crisis also created a number of opportunities, and for Tingdene, the surge in UK citizens holidaying at home due to Covid restrictions led to an unprecedented rise in demand.
"Anyone who has tried to book a holiday in the UK in the past 12 months will know just how much prices have increased as demand vastly outstrips supply," Jamie remarks. "Our customers are investing significantly in their businesses in order to take full advantage of the 'Great British Staycation'. They want more holiday lodges on their parks at record speed. Our order book is full, with limited production space for the next 16 months, so we're increasing production each month to meet the demand from our customers. It's an exciting time for everyone here."
Always looking to release new products, in February 2021, Tingdene launched its first luxury holiday lodge of the New Year – The Viewpoint. A spacious, open-plan lodge, with modern, luxurious fittings, two double bedrooms – each with an en-suite – and an optional games room, The Viewpoint is ideal for family retreats and weekend getaways. Built, as always, to BS3632 standards, the lodge boasts vertical Canexel cladding, a ten-year Platinum Seal structural warranty, and hand painted skirting, architraves, sills, and coving.
The Viewpoint is the latest addition to Tingdene's growing range of holiday lodges, which also includes The Brampton – a three-bedroom lodge with en-suite facilities, a walk-in wardrobe and an open-plan living area – and Cosgrove – a compact model designed to maximize interior space with one double and one single bedroom. At present, on the other side of the business, Tingdene's residential park homes range is headlined by The Overstone, a luxurious property with two double bedrooms, a separate shower room, vaulted ceilings, and anthracite grey French doors.
From the company's industry-first 10-year render warranty in its exclusive Maipei range, to the launch of the firm's 50th anniversary Quantum lodge, Tingdene continues to push standards of service, craftsmanship and design. Most importantly, customers remain at the heart of every decision, and this personal touch has helped the company forge remarkably strong relationships with buyers and park operators alike.
"The industry remains a very close-knit community, and after 50 years of trading, we're now working with the second and third generations of park operators, so we have some solid relationships with our customers," Jamie states. "It's our experience and knowledge that gives all our clients the confidence that they're dealing with an established and reputable business focused on customer satisfaction. That's what keeps people coming back, year after year.
"All in all, we believe that we're more than just a manufacturer; we're there to guide and support our customers throughout their journey. Whether it's helping a land owner with a new park development or a couple moving into their retirement years, we provide a service that is simply unrivalled."
As the days grow longer and the UK moves deeper into its vaccination program, Tingdene's residential park homes and holiday lodges will soon be in use by thousands of people enjoying the British summer. With interest in the company's services soaring, and some substantial contracts on the horizon, Tingdene can now look forward with optimism towards a future of organic growth.
"The top goal for us in 2021 is probably the same as everyone else's – to bounce back from Covid and the downtime our production facility endured," Jamie declares. "Aside from that, we must increase our production capacity to meet demand, so all our current work revolves around making operational improvements each month. By the end of 2021, we hope to have a 50 per cent increase in output compared to pre-Covid times.
"Benefitting from the new additions to our management team, we're planning some major changes over the next couple of years and it's quite exciting. Without giving too much away, we'll be focusing on our manufacturing and operations processes to allow us to produce more efficient timber and steel frame buildings."
Tingdene Homes
Products: Manufacturer of residential park homes and holiday lodges
www.tingdene.co.uk