Mastering ones' craft
Innovation runs through the heart of Tinmasters. That is why it continues to invest in the most up-to-date equipment, technology and processes to keep its customers one step ahead
When Manufacturing Today last spoke with Richard O'Neill – Chief Executive Officer of Tinmasters, the largest independent metal printer in the UK – in the summer of 2018, the company had just completed the installation of a new piece of equipment that it hoped would extend its capacity and capabilities. "The equipment in question was a state-of-the-art, highly automated,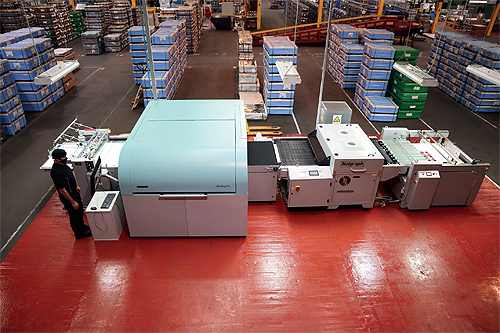 six-colour Metalstar 3 print line with AVT inspection technology," Richard recalls when we caught up with him again in October 2020. "Prior to its installation, we were very much operating at nearly full capacity and at times having to turn away orders. The addition of the Metalstar 3 line almost immediately brought with it growth in terms of new sales, which as you can imagine we were extremely pleased with."
For those who may be unfamiliar with the name, Tinmasters provides its customers with the type of top quality, service reliability and compliance assurance that one would come to expect from a master in the field of metal printing. With a range of services including metal procurement and stockholding, coating, slitting and various printing options, the company's expertise covers mainstream and bespoke requirements, high volumes, contingency assignments and last-minute orders with short lead times.
In the little more than two years between the two above mentioned conversations, much has occurred within Tinmasters, as Richard goes on to detail. "The first major development came in August of 2018, when a decision was made to acquire what was then our number one competitor in the UK, Afon Tinplate, with a view to it operating under the Tinmasters brand." Afon Tinplate offered Tinmasters the opportunity to further strength and expand its own metal printing and coating services across a wide range of high profile customers, and the company would go on to spend the next 12 months or so integrating the pair.
With this complete, the end of 2019 brought with it another defining moment for the business, when the decision was taken to restructure its operations in Wales by consolidating onto one site. This involved the closure of its Caldicot facility and a move of its entire operations to its newer Swansea site. "The most obvious reason for choosing Swansea was the fact that it represented twice the space of our original site, allowing for room for future expansion," Richard explains. "This was a massive undertaking for us, and one that was challenging enough before Covid-19, but I am happy to say that it proved very successful, with six complete lines transferred in total, including the Metalstar 3 line which we managed to move in 65 days, which is a remarkable achievement in itself!"
The move to Swansea was completed in June 2020, and with the dust settled and normal activity now resumed, Richard can reflect on the other benefits and efficiencies it has created. "Having two sites that were 65 miles apart meant that we often encountered a certain level of duplication in terms of activity and what we were paying for, be it rent, insurance or operating costs. Now being based at one location obviously provides us with clear cost savings, but what it also does is give us a greater degree of flexibility and ability to adapt to market changes or demands."
Tinmasters now also finds itself in a better position than ever before to invest in and adopt new technologies in order to further improve upon its output and efficiencies. "One area of significant investment that we have increased this year is in the field of digital printing," Richard continues. "This is an area that we have been exploring for a number of years now, and has culminated in the installation of a Fujifilm Acuity B1 press, which is now printing commercial orders. This particular piece of equipment marks what we believe is a game changing moment when it comes to the quality output needed to support metal packaging.
"A major motivation for us in purchasing this press is to explore digital inkjet printing as the ultimate sub 500 sheet solution. When it comes to smaller print orders or bespoke print designs, we feel that digital offers significant benefits over traditional offset lithographic printing. These include significantly reduced make ready and set up costs, and fantastic color consistency from the very first sheet to the last, so we are very excited about what digital printing capabilities can bring to the table for ourselves and customers with smaller, more bespoke orders."
Tinmasters has been working with metal for more than a century now, and the aforementioned advances in different printing techniques highlights that there is plenty of life left in this particular craft. As Richard is also all too willing to point out, metal packaging also deserves greater recognition for its environmental credentials. "There are a couple of things for me that separate metal packaging from other formats," he states. "The first is its recycling rate. Metal is one of the most recycled packaging materials available, and this is because it is very easily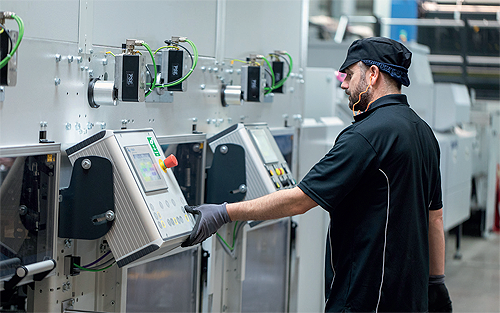 recycled. Secondly, is the fact that metal is infinitely recyclable. Unlike other formats, which eventually degrade to the point that they can no longer be used again and thus end up in landfill, metal can be used over and over again.
"One other thing that I think people can often miss with metal, is that it is proven to provide superb protection to the products stored within. This is especially important when it comes to food products, where metal shields from things such as UV light – which is why lots of craft beers come in metal cans rather than glass bottles – and oxygen. The latter usually translates into longer product shelf lives, which is a big positive in a world where today we need to do all that we can to reduce the problem of food waste."
As we approach the latter weeks of 2020, Richard is asked to foresee what the short and longer-term future holds for Tinmasters. "I think as we head into 2021, there will remain a fair amount of uncertainty and disruption as a result of Covid-19 and its impact, particularly in the first half of the year. We do, however, have hopes of selling our Caldicot factory during the early part of 2021.
"Beyond that, we see ourselves continuing to grow, and within the next three-to-five years we would expect to be seeing substantial growth in our top line. This will come from not only increasing our share in existing markets, but also making headway in new ones, perhaps driven by the expansion of digital print technology. In regards to this, we also believe that in around a five-year timespan we could also see a further technology transition within our business, led by advances in digital packaging."
Summing up Tinmasters' decades of success, Richard highlights two key elements that have proved priceless to the company. "Firstly, it comes down to customer service, so really focusing all of our time and effort on establishing what it is our customers need from us, and how we can best deliver this to them. Secondly, it is also about innovation. Tinmasters was the first business of its kind to install a four color – and later a six color – print line in order to meet the demands our customers set us, and this has continued with our move into digital printing. Together these qualities have brought about the success we have had, and that we will go on to have moving forward."
Tinmasters
Services: Metal printing, coating and associated services
www.tinmasters.com