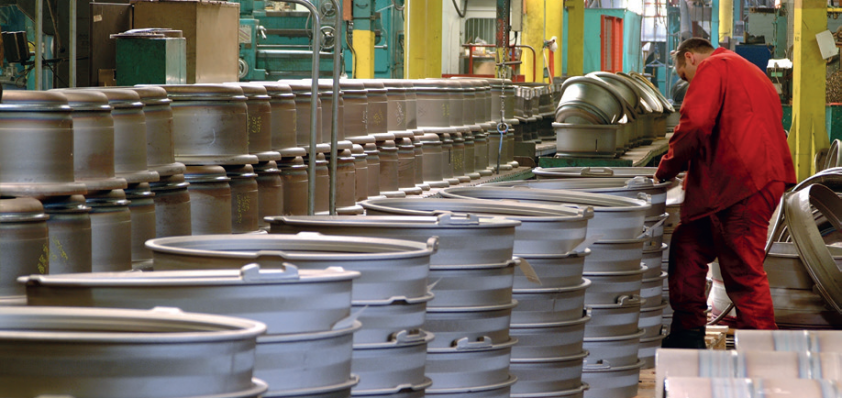 Keep moving
Dedication to innovation is embedded in the DNA of Titan International, and its UK division Titan Steel Wheels can draw on this vital resource to meet the needs of its customers
A global brand that is well known for its durable products and high quality service, Titan International, Inc. is today the global market leader in the manufacture and production of off-the-road tires and wheel technology.
Via its manufacturing operations and dealers located all over the world, the company produces and supplies a broad range of products to meet the specifications of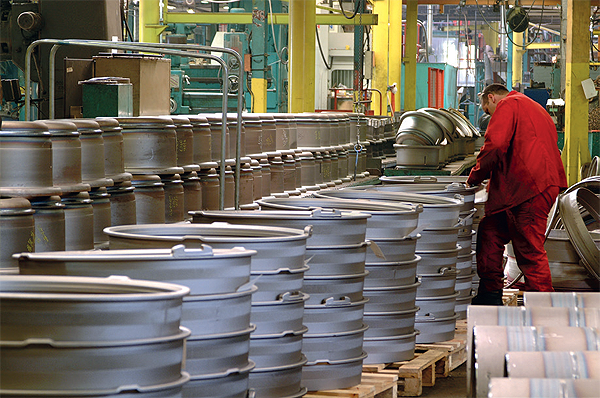 original equipment manufacturers (OEMs) and aftermarket customers, in the agriculture, construction, forestry and mining equipment sectors.
Still headquartered in Quincy, Illinois in the US (and where it can trace its roots back over 100 years) Titan International has several other American sites, as well as those based in South America, Australia and the EMEA region. In this latter territory, Titan operates wholly-owned manufacturing and distribution facilities in the UK, France, Italy and Turkey, as well as being a shareholder in Wheels India (the largest wheel manufacturer in India) and has a joint venture in China.
In the UK, Titan International's own historical legacy is matched by its subsidiary – Titan Steel Wheels, based in Kidderminster – which operates a factory dating back to 1650, and in the words of Managing Director Chris Akers is 'probably one of the oldest manufacturing sites in the UK.'
"Of course, the product we manufacture today is very different from those first wheels, although we have kept to the basic principle of making them round!" he added with a smile. "The site we occupy today has moved through many product lines over the generations, but it has always been a heavy manufacturing site involved in forming metals. In its earliest days, it was puddling and slitting iron, moving through commercializing tin plate and latterly into press works and fabrication. Today, it is a very modern manufacturing facility."
Customer partnerships
In fact, the Kidderminster site is equipped with some of the most state-of-the art technology and philosophies available, in order to create wheels that are not of the same breed that are found on a typical family car. "The processes we have onsite are rolling, welding, presswork, machining and painting, and approach wise, lean manufacturing is an important bedrock of our facility," Chris stated. "My background is automotive and so I have introduced many ideas from that sector. We have moved from a batch building culture to more of a production and flow line system, and we have devised a layout that gives us great product flexibility while at the same time allowing us to line balance the work across the various production cells.
"We produce a specialist and niche range of wheels designed for machines in the Earthmoving, Construction and Lifting industries," continues Chris. "Typically, these are called the 'yellow goods industries', presumably because most of the products created for them are painted in various shades of yellow."
What makes the yellow goods industries stand out is that each manufacturer has individual requirements and applications for wheels, and therefore they are all unique and they can't be built to stock. "The product is individually designed for the customer application and built to order," Chris confirmed, before going on to identify what really sets these products apart from more run of the mill automotive wheels. "Our wheels are designed to operate in the toughest and harshest conditions. They travel to places you can't even walk, and likely wouldn't want to. They have to endure huge forces, be that from the tire inflation pressures or simply the payload and torque of the machine. Although our wheels are significantly larger and heavier than those found in the automotive market they are often built to tighter tolerances, and we hold a number of unique designs and patents for our wheels, too. In effect, we are the silent partner of our customer, although we fill a critical role. Without the wheel the machine wouldn't exist, and a tire without a wheel is not that useful. We are all familiar with the name brands on the vehicles and the tires, but we should spare a thought for the vital importance of the wheels too."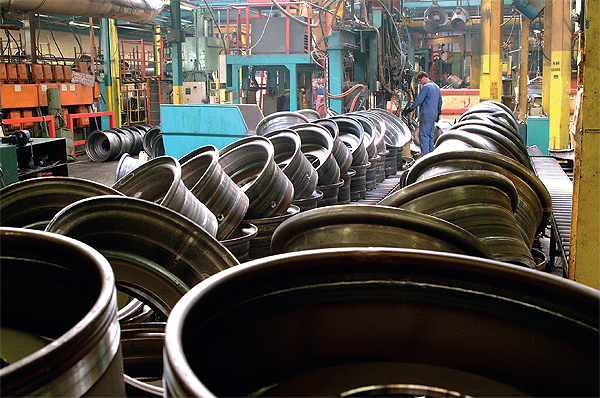 It has not gone unnoticed by the yellow goods manufacturers that the wheels from Titan are something special – to the extent that Chris was able to claim that 'probably everyone in the industry is wearing a set of Titan shoes on one of their products.' "We have worked diligently in partnership with a number of major OEMs over the years evolving the product to meet changing needs," he elaborated. "So, one example might be a brief to reduce weight and improve safety, and we designed and created a completely new wheel design that shaved some 25kg weight off per fitment. On some larger machines with numerous wheel fitments, this was a saving of over half a ton to the vehicle weight, just from the wheels. That's a large and valuable weight saving to a customer, and at the same time performance was not reduced and safety was enhanced. In another area, we have been 'fine tuning' the product design again to remove weight of material, but also cost was important for this customer. We created a solution with less process steps and less material, and delivered a more cost favorable product without reducing performance."
Heart of innovation
It is clear from Chris' examples that each application and machine has its own design problems that need to be overcome in order to meet customer expectations, and it is here that the heritage of Titan really comes into its own. "Our long history in designing and developing this product is very helpful, and when a customer comes to us with a problem (which is how many of these projects begin) the first thing we will do is use that long history to see if we have made something similar in the past. That is always a good and safe starting point, but if we haven't then we do a ground up redesign.
"But the design freedom for the wheel is quite limited. The wheel forms the interface between the tire and the machine, and standards dictate the rim profile, in order to ensure it will fit a tire. The machine hub and braking system then sit inside the rim, so our free space is fairly restricted. Having said that, our engineers do a brilliant job. We have regular design review sessions involving not just engineering, but a cross section of the Titan team. At these reviews, we will pull out existing drawings and products and analyze them for opportunities for innovative change. It's actually quite staggering how much you can find from this process. When you think you have exhausted all the opportunities someone says 'what about if' and off you go again."
This heart of innovation is combined with the biggest testing capability in the world, and that is another string to Titan's bow. "It's actually very hard to test this product to destruction and simulate actual working conditions, so the best test subjects we have are the millions of wheels we have out in the field successfully meeting the customers' expectations," Chris pointed out. "Over the years, we have developed many small design details that finesse the product performance, so it's really a bit like a heavy-duty Formula 1 car, each season builds on the last and every season a newer, better design arrives."
European launch
Having already become the maestro of heavy duty steel wheels, Titan is now embarking on another exciting journey – to bring back one of the most famous agricultural tire brands to Europe. "This is something the company is really excited about – for many years Titan International has been the holder of the Goodyear Farm Tires brand in North and South America and now it is going to launch the brand into Europe. Titan not only holds the brand, but also makes the tires at two very large ex-Goodyear facilities in North America, an ex-Goodyear facility in Brazil and we also own the largest tire plant in Russia," Chris explained.
"The Goodyear Farm Tires brand was stopped in 2012 by Goodyear with the closure of its agricultural tire plants across Europe. Shortly after, Titan was granted the licensing rights for the brand and also acquired all the tire molds and technology. It has relocated those molds into its facilities, refreshed the designs and now embarked on that journey.
"Titan is still a small player in this market, but in the last 12 months, sales have increased by over 50 per cent and as more new products are added to the portfolio, the future is looking very bright."
Chris is clearly enthusiastic about the potential growth of Goodyear Farm Tires, and looking further ahead he believes that the business will maintain its position as a world leader, and also predicted quite a significant change: "At the moment we are a wheel maker that sells some tires. Based on the adventure that we have started with Goodyear, I think that narrative will change to us being a tire maker that sells some wheels."
After highlighting the growth in demand for Goodyear Farm Tires products, and the exciting potential that it could bring to the business, Chris balanced the news with feedback on the impact that Covid-19 has had on Titan Steel Wheels, causing the order book to take a fall. "It is now stable and we are really looking at what will happen going into 2021," he added, reassuringly. "The negative news has stopped and we are starting to see some small positive shoots popping their heads out. Let's just hope that continues and the variety of stimulus packages offered by various Governments turn into a rapid recovery to growth.
"During the crisis, the plant shut down for a few weeks, as we followed our customers. We are now back up and running and just this week introduced a third shift in one area of the business. My fantastic team here did a great job preparing the facility and then adjusting to working in a new socially distanced environment. When the plant re-opened after the short closure period we didn't miss a beat and hit the production numbers from day one."
Having mentioned his team and their attitude in response to the pandemic, Chris also credited them as being a pivotal contributor to Titan Steel Wheels being awarded a Queen's Award for International Trade in April 2020. "We export nearly everything we make, mostly into Europe, but also further afield. There won't be a country in the world that doesn't have some wheels from Titan rolling around it somewhere!" said Chris. "It makes you very proud to think that a product from the small village of Cookley in the Worcestershire countryside is supplying the world.
"The Queen's Award was for Outstanding Short-Term Growth in Overseas Sales, and I see that win as a demonstration to the employees that they are part of a successful team," he continued. "We really do have an amazing group of employees here at Titan Steel Wheels. I can't pinpoint one secret behind the creation of a great working atmosphere, but I do always try to treat everyone how I would like to be treated. That's something I use daily in any decision I make, and I think another essential element is that all staff feel like that they all play an important part in the overall company. I can truly say this is the nicest place I have ever worked and I would really like to thank the entire Titan team for making this plant the great place to work that it is."
Titan Steel Wheels
Products: Manufacturer of wheels and tires
titan-intl.com