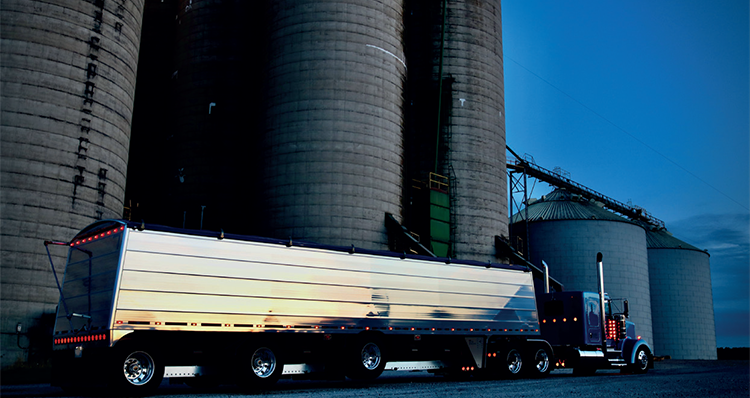 Hauling innovation
Titan Trailers Inc has become one of the largest trailer manufacturers in Canada and with determination and ambition, this family-owned business is hot on the tracks of continuing with its impressive expansions
Chris Kloepfer is the son of the man who brought the hopper trailer to Harley, Ontario back in 1973. Mike Kloepfer was a farmer back in the 1970s, and travelled south where he saw the potential of long haulage trailers to help move grain across Canada. Once word travelled amongst his community of what he was building, business grew and Mike established Titan Trailers (Titan). By 1994, he was able to purchase a 40,000-square foot factory in Tillsonburg. Together with his family and employees, they have gathered best practices from across the world and brought innovation to the manufacturing industry to solve challenges for their customers.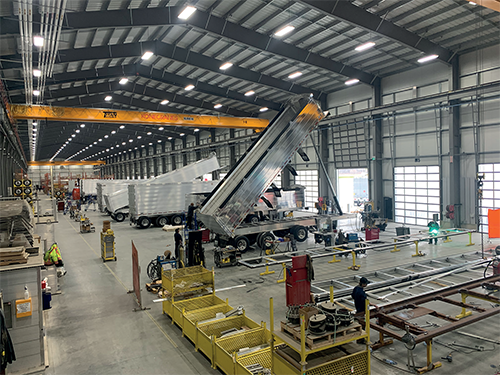 "At one point, we went to a trailer convention show in Germany and found that they were using extruded aluminum panels to build trailers, so we came home and decided to give that a shot. That is how our Thin wall range was created," Chris begins, "Basically, it's a hollow core extruded panel that runs horizontally instead of vertically, and we are one of very few businesses in the industry that do this. A couple of years into building this product, we got one of the biggest waste haulers in the US to order a trailer from us and he switched over about 98 percent of his fleet to Titans. He had faith in our work and that has really encouraged us to keep going." But the drive to push forward the business name did not end its journey there. In 2000, Titan sent a trailer to England, which grew into an even greater success. Now, it builds approximately 120 trailers a year in the UK, with a 60,000-square foot manufacturing warehouse facilitating this.
"Although our trailers are more expensive than others, they last longer and they are of a great quality, which I believe is why people appreciate them. We build walking floor trailers for garbage, wood chips for aggregates, we do tipper trailers, hydraulic cylinders, and of course our hopper trailers. We are starting to build more and more hopper trailers for grain and feed product, like dad wanted when he first started out," Chris shares.
One might assume that developing a product of this size may leave behind a substantially larger carbon footprint, however, Titan has implemented measures to ensure that its operations adopt the greenest strategies possible within its capacity. "We are always trying to go green. When we build a warehouse, we do what we can to save on energy in small ways that end up making a huge difference, like installing underfloor heating and clear doors to let in more sun for example. Our trailers are also lighter than your conventional steel trailer, which helps cut down on carbon emissions, and the side walls are smooth, with minimal drag. We build trailers with rounded fronts for fuel economy, for emission purposes. On the other hand, it's important to remember that certain aspects of the manufacturing industry will struggle to find greener alternatives, but I feel that it's important to play our role in whatever way we can," he says.
Sophisticated equipment
It goes without saying that manufacturing trailers that stretch up to 53 feet in length requires workshops that are just as massive. Four years ago, the company purchased a 250,000-square foot windmill factory that used to belong to Siemens in Tillsonburg. "Alongside that one, at the location where I manage, we also have a fabrication department that is about 100,000-square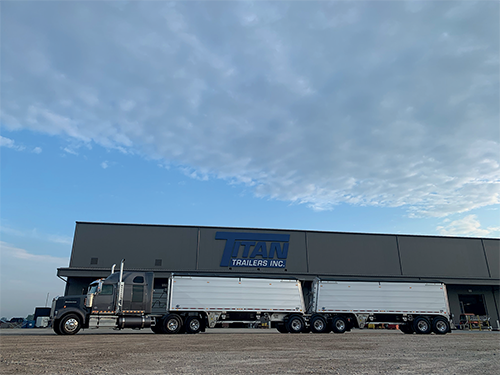 feet. Then, on the other side of the wall, we build the hoppers, dumps and round trailers. As all of our panels run horizontally, we need big equipment to produce the trailers, and machine and process them. In order to get this done efficiently, we have two 60-foot milling machines that are special and unique to our manufacturing requirements," Chris notes.
Not only are Titan's facilities built to manufacture these impressive trailers, they also come equipped with the technology to support damages, of which horizontal panels hold a greater risk. "This is why our trailers are on the pricier side of the market. We have to buy an extrusion that is 50 feet long because if there is a scratch or dent on that panel, it pretty much has to be scrapped. So, we have a couple of big break presses; there's a 600 ton, a 500 ton and a 320 ton one. The 320 ton is brand new, while the 600 and 500 are all steel and slightly older. We also recently bought a ten-kilowatt fiber laser, which has been immensely beneficial to us; it cuts quickly, it's accurate, there is no heat effect, and it's fully automated to load the sheets on its own. We used to run a twin-head hypothermia high definition plasma and when we installed our laser, it took a huge chunk of the work from the plasma, and it has the capability to run day and night," Chris explains.
Growth trajectory
According to Chris, establishing this well-oiled machine of a company that prioritizes cutting edge innovation, did not happen overnight; around-the-clock dedication to research and development has gone into ensuring that Titan's trailers are of a world-class standard This, he shares, is especially true for its Thinwall trailers. "We are constantly trying to figure out better ways of manufacturing and discovering new markets that might suit our product. Our Thinwall comes equipped with a tongue, chamfer and groove, so it's 100 percent welded on the inside and out. We offer different thicknesses on the skins to better support customers who are hauling contents that are more aggressive or abrasive, and in addition to that, we can configure the trailer to make the bottom panels thicker than the top, which helps save on weight," Chris highlights.
The product is so popular that despite the challenges brought on by the Covid-19 pandemic, Titan is busier than it has ever been. "I think our biggest problem has been stabilizing our supply chain. We've struggled with sourcing air fittings, axels and extrusions, but I believe that this is owing to the fact that everything has kicked back into gear again after a year of being brought to a halt. Now that businesses are trying to get ahead, supply chains are doing their best to keep up. But that's not stopping us – we're staying as strong as ever," he says, and he isn't wrong.
With new projects on the horizon, Titan Trailers is focusing on maintaining the same growth trajectory it has had since its inception. "We were thinking of building a belt-out trailer and exploring frameless dumps. This will hopefully be supported by our growing sales in western Canada. Above that, we do also want to strengthen our facilities in the UK and sustain the growing demand for our trailers across the pond, but that will take time. At the moment, we are happy to keep improving the trust in our name and our product, and let our expansions grow organically like they have been doing since the day my dad got this business started," he concludes. With that, we look forward to catching up with Titan in the future to see where else business has been hauled to.
Titan Trailers Inc
www.titantrailers.com
Services: Bulk commodity trailer manufacturer