Sealing its success
A recent acquisition has put Derbyshire based TMAT Ltd on the global map, and it is now able to serve its OEM customers in North America
Operating from a purpose built site in Derbyshire, TMAT UK exists to solve noise, vibration and harshness (NVH) problems for industrial vehicles. With a client list including major OEMs Caterpillar, JCB and Case New Holland, the company works closely with individual customers to design and produce chemical based products to protect vehicle operators from vehicle specific problems. Materials used include polyurethane (PU), elastomer, foams, compressed fibres and composite sandwiches. The factory has a daily capacity to produce 30,000kg of elastomer, 1.5 million litres of PU foam, and 2000kg of moulded, pressed and cut composite materials. Last year saw the company acquired by Canadian company Blachford Acoustic Group, a move that has had positive impacts for both parties, and looks to secure the future success of both.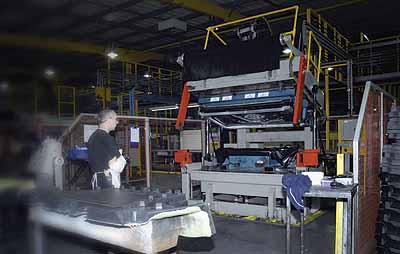 TMAT prides itself on being a solutions-based organisation focused solely on the needs of its customers. Speaking to Manufacturing Today Europe, managing director Jason Lippitt explains: "What is genuinely unique about TMAT is that we are a bunch of chemical engineers who formulate our own systems for individual problems. When someone buys a system from us, they're buying a formula designed specifically for them. We're not going to sell them what they don't need, only what the vehicle needs to have functionally."
Part of what makes the company a success, as a small-scale business, is its approach to innovation. "Being an SME we can't afford to throw millions of pounds at R&D," says Jason. "But innovation starts with a good idea, and good ideas are free. The skill for us is deciding which ones to pursue. We can innovate, and our processes are full of it all the time." Testament to this commitment to innovation is the recent development of a silicone based, high-temperature visco-elastic foam, which has been subject to academic publication as well as commercial success. Solving a problem that exists within slow moving, large engine vehicles such as tractors, the foam is used as a sealing application to help cooling performance and can withstand temperatures of up to 120 degrees Celsius. As Jason explains: "If the engine isn't getting cooled sufficiently, the engine management system will often lower the engine's state of operation to prevent over heating. With this seal, 100 per cent of the air is being driven through the engine allowing it to run at its optimum state. This makes the engine more economical and means the operator can get the job done a lot faster having positive effects on user productivity."
TMAT also has extensive knowledge and experience in polyurethane manufacture, which has been highly beneficial to the company's acquisition by Blachford Acoustics Group. "The acquisition is strategically the most important thing that has happened to the company," highlights Jason. "It was also a really easy deal to put together as we both had exactly the same business plan, so synergies were there from day one. As our customers adopt a more global purchasing strategy they are constantly looking for a global supplier with a local presence. That's a tremendously difficult thing to do for a small business no matter how good it is, but joining with Blachford allows us to be this. Now our customers can have the confidence that they're buying from a very robust supplier. The strength of the supply chain has become a lot greater," continues Jason. The move also means that they have become the only supplier of complete interior acoustics to industrial vehicles in North America and Europe.
TMAT can also benefit from Blachford's gold supplier certification from Caterpillar. "This is tremendously important," expresses Jason. "Caterpillar didn't get to be the world leading company it is by choosing average suppliers. They only work with the best in the world, so it's a great honour to be part of this." TMAT brings with it the knowledge of polyurethane manufacture, which has been predominantly absent from the US market that tends to prefer natural rubber products. "Blachford is starting to use polyurethane now as TMAT teaches them how to do it," emphasises Jason. "Its quite important for our international customers that this can be manufactured in both places now."
As a UK company with exports forming a large part of the business, the strengthening pound has hit TMAT's operations in Europe, and this isn't being helped by a general decline in the agricultural vehicle market, which is down by about 20 per cent in Europe this year. Despite this Jason remains positive about the future: "It hasn't altered my conviction that I've got the right strategy Importantly, it hasn't lead to any fall in sales, we're just not growing as fast as we were."
With Blachford behind TMAT however, the Derbyshire plant has been made the centre for all polyurethane developments for the group. "This means that a lot of investment has been put into furnish and equip a new laboratory," adds Jason. "We've already got a couple of PhD chemists here and we've got some exciting blue sky projects to work on." This makes for an exciting future for TMAT, and puts it in a strong position to achieve its vision of doubling the size of the business and becoming a world leader.
TMAT Ltd
Products: Manufacturer of bespoke NVH solutions for industrial vehicles
Sites: Derbyshire, UK
Employees: 180