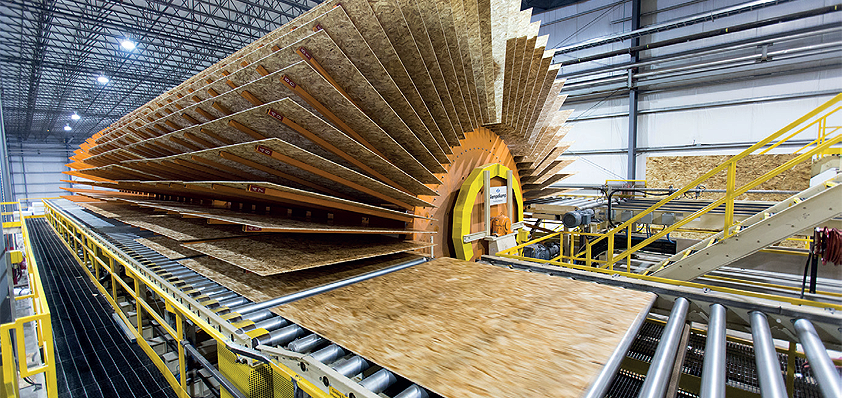 Dedicated to people, products, and community
For more than 60 years, Tolko Industries Ltd. has been driven by its vision to be a top-decile forest products company, providing strong customer value, while operating sustainably and delivering world-class performance
If we are to look at the history behind Tolko Industries Ltd. (Tolko), we first have to go back to 1956, when Harold Thorlakson established the Lavington Planer Mill in the Lavington area just east of Vernon, British Columbia. In the years that followed, the business continued to grow, with the creation of a permanent sawmill structure on the Lavington planer site being a particular highlight during the 1960s.
Following in the footsteps of their father, Harold's sons Doug Thorlakson, James A. Thorlakson (who goes by Al), and John Thorlakson would all go on to join the family business, and in 1973, the company changed its name to Tolko, which comes from every second letter of the family name. Then, in 1979, seeing the business was doing well in the hands of his sons, Harold Thorlakson turned control of the business over to them.
Over the next 40 years, the business continued to expand and shift, as other mills were constructed, purchased, or sold. At the same time, the business grew into other provinces, including Alberta, Saskatchewan, and, for 19 years, Manitoba. Some key changes during this time included the purchase of Balco Industries in 1987, which brought Tolko into the plywood business with the Heffley Creek plywood plant, and the construction of three world-class Oriented Strand Board (OSB) mills in High Prairie, Athabasca, and Meadow Lake from 1996 to 2008.
In 2004, the company took a major step forward with the purchase of BC-based Riverside Forest Products and its eight divisions. Meanwhile, some other key events in the past decade have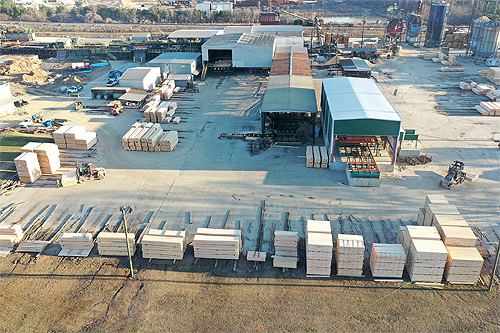 included Brad Thorlakson taking over as President and CEO in 2010, as his father Al moved to the role of Executive Chairman, the commission of the Lulu Island Terminal as a reload facility for exports in 2012, and joint ventures with Pinnacle Renewable Energy on state-of-the-art pellet plants in 2015 and 2020. Expanding into the United States also represented a key milestone, as Tolko announced joint venture partnerships with lumber mills in Urania, LA, Ackerman, MS, and Jasper, AL.
Today, Tolko manufactures a wide range of forest products for customers around the world. Particular highlights include lumber (quality stud lumber and dimensional lumber being core items), plywood (sold under its T-PLY line), veneer, oriented strand board (sold as T-STRAND), and laminated strand lumber (LSL). Other important facets of the company's product portfolio are its Engineered Wood Floor System, its remanufacturer collection of wood products produced by Tolko's Lake Country Division, and its range of co-products that are used in pulp and paper production, particleboard, MDF, power production and animal bedding. Last, but certainly not least, the company is also focused on producing heat and electricity for various applications, and utilizes wood pellets to help reduce the use of coal and other products.
"For me personally, there are three key areas to the business that set it apart from our competition, and those are people, values, and product and geographical diversification," explains Brad Thorlakson. "From a people perspective, Tolko has a focus on career development, youth, diversity and inclusion, innovation, geographic and product expansion, customer service, community investment, and indigenous partnerships. With our diverse list of products and 65 years of experience, we're continuing to look forward. We have the employees, the drive, and the determination to deliver excellence and innovation in everything we do. We believe our mix of youthful enthusiasm combined with three generations of industry know-how is the perfect formula for success in the forest industry.
"At the same time, our company values of respect, integrity, open communication, profit, and progressiveness guide our actions every day, and our vision reflects who we want to be as a company. We hire, develop, and retain talented people who demonstrate our values. We grow our own, offer a competitive salary and benefits package, and create an environment where employees can take pride in their work, feel valued, and go home safely each day."
Thirdly – in regards to the company's product and geographic diversification – Tolko continues to build its operations, customer base, product mix, and logistics network in equal measure. "A key element is pursuing North American growth while continuing to re-invest in our core assets and systems," Brad continues. "One example from the past year is the completed Athabasca rip line, which increases our production of finished LSL products."
Tolko's Athabasca Division has the longest continuous press in North America, manufacturing a steady stream of uniform Engineered Wood Products (EWP). In July 2018, the industry-leading facility near Slave Lake, Alberta began commercially manufacturing LSL to diversify its product line. Although Athabasca initially produced primarily Oriented Strand Board (OSB), much of the equipment was specifically designed to incorporate LSL down the road. "The mill's design, product diversity, uniqueness, and breadth of LSL applications gives Tolko a significant advantage over competitors," Brad states. "Before the rip line was completed, boards had to be ripped into the requested lengths at Tolko's Meadow Lake division. Now that Athabasca has its own rip line, the mill handles the entire process, from strand to final product distribution."
In another example of recent expansion, the company's Northern Pellet Limited Partnership in High Level is now fully up and running, which represents Tolko's second joint-venture with Pinnacle Renewable Energy (now a subsidiary of Drax). The new facility in High Level, Alberta, is 50 per cent owned by Drax (who just completed a purchase of Pinnacle Renewable Energy) and 50 per cent by Tolko through a limited partnership. The pellet plant uses high-quality wood fiber, sourced primarily from Tolko's sawmill in High Level, and has a projected run-rate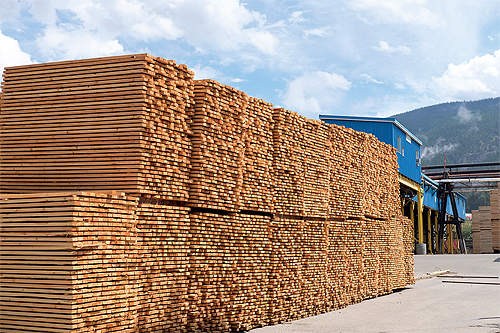 capacity of 200,000 metric tons per year. It uses state-of-the-art technology to produce pellets and includes pollution control equipment that meets the requirements of Alberta Environment and Parks. Overall, the facility incorporates the best safety practices and technology from the past and present.
"Tolko and Pinnacle have a strong working relationship, which has existed since our first joint investment at Lavington, BC, in 2015," Brad reveals. "The facility brings economic and employment benefits to both companies and the community, and by using green energy from biomass in the manufacturing process, there are environmental benefits as well that help reduce our carbon footprint. The new facility allows Tolko to make use of our bark, shavings, and sawdust to produce pellets for growing markets.
"By converting residual fiber from mills and the forest, we're able to offer a sustainable product that can be used as an alternative to coal in traditional and supercritical coal-fired power plants around the world, helping to reduce their carbon footprint on a lifecycle basis. Today, most of Tolko's sawdust, shavings, and a portion of our harvesting residuals are converted to wood pellets via the sale of sawmill and harvest residuals to existing pellet producers or partnerships in wood pellet production facilities."
In November 2020, Tolko also announced its most recent expansion project, that being a 50-50 joint-venture partnership in an existing sawmill, shavings business, whole log chipper, and trucking operations in Jasper, Alabama. Brad adds; "The collaboration is officially known as Jasper Forest Products LLC., A Jasper-Tolko Partnership. It's our third US lumber partnership and supports our product and geographic diversification. We are pleased to support this facility and enhance its sales, marketing, and logistic capabilities to service existing and new customers across North America and abroad."
Vital to Tolko's success today, and in the past, has been its relationship with its various partners, and its commitment to its people. In the case of the former, in addition to the strong bonds that it has with its various joint venture collaborators, the company's Woodlands team also works closely with over 80 Indigenous communities in Western Canada. "We recognize the connection between Canada's Indigenous Peoples and the land, their families, communities, and traditional economies," Brad proclaims. "We believe that our business will flourish when Indigenous communities flourish. Our path forward is together — we are interdependent."
Mutually beneficial business arrangements between Tolko and Indigenous companies have been recognized and celebrated for their successful partnerships, and it's a model that the company is committed to expanding across its operations. Examples of its joint venture agreements include Tsi Del Del Enterprises in central British Columbia, which is a joint venture logging company that is equally owned by Alexis Creek First Nation and Tolko. This business has been going strong for 25 years and sustains more than 85 well-paying jobs in the community as well as a number of owner-operator enterprises. The company also created a fund that provides post-secondary education or trades and technology training for band members.
Others worth noting are ECOLINK Forest Services, which was established in 1990 as a joint venture between Esk'etemc and Tolko, and Pelican Lake and Witchekan First Nations. In the case of the latter, it was in February 2021 that Tolko signed an Agreement in Principle with the goal of helping these communities further their expertise as logging contractors on their traditional lands in Saskatchewan. The company will be forming a Limited Partnership that includes the development of a logging company, training for Indigenous youth, and other business opportunities.
"In addition to our Indigenous joint venture partnerships, we have other long-term working relationships with Indigenous groups," Brad continues. "At our OSB mill in High Prairie, Alberta, Driftpile First Nation operates the logyard service, unloading the logging trucks, decking logs, and feeding them to the mill. When Driftpile took on this contract, it was their first entry into the logyard management business. Working together, we have seen this business mature and operate successfully.
"Tolko has a long history of working with our Indigenous partners on mutually beneficial opportunities across the three western provinces. This includes planning co-management areas, timber development, silviculture, harvesting, and road construction synergies. These significant partnerships are an important volume supply of high-quality log products to our operations and supporting sustainable forest management of the landbase. Partners include Yucwmenlucwu (Caretakers of the Land LLP) and Splatsin, Ntityix Resources LP and Westbank First Nation, Sk'atsin Resources LLP and Neskonlith Indian Band, and Tk'emlups te Secwepemc (Kamloops Indian Band)."
At Tolko, the people side of the business is also tremendously important. "We hire, develop, and retain talented people who demonstrate our values of safety, respect, integrity, open communication, progressiveness, and profit," Brad enthuses. "We grow our own, offer a competitive salary and benefits package, and create an environment where employees can take pride in their work, feel valued, and go home safely each day. We are guided by these values and see them as a foundation for a strong and vibrant workforce that serves to improve the morale and productivity of the company as a whole. Employees who adopt these values as their own help create a healthy, productive, and profitable work environment. We know living our values every day is our guarantee of success.
"We want to be a company that has the right people to deliver quality products in a sustainable manner to customers the world over. To do this, we need our mills and our culture to support industry-leading performance on both the people and the operations side of the business. Diversity and inclusion are other important aspects of our culture. We are committed to living our value of respect by creating an environment where people feel welcome and safe from harassment and discrimination. To support these efforts, we recognize the need to educate ourselves, build internal awareness, and provide relevant training to all employees."
Looking to the months and years ahead, Tolko's strategic plan will see it working towards what it calls its 'Power of Great' goals. Said goals include, having a Recordable Incident Rate (RIR) of zero as a company, growing its sales, increasing its North American product and geographic diversification, and focusing on ensuring the safety and health of its employees, their families and communities as it works through the ongoing Covid-19 pandemic. It is also Tolko's resolve to remain an employer of choice. "We are mid-way through our five-year Power of Great strategic plan, and we will continue to build on our successes over the next three-to-five years," Brad concludes. "What is also certain is that we also see an exciting future as we continue with our product and geographic diversification efforts."
Tolko Industries Ltd.
Products: Lumber and sustainable wood products
www.tolko.com