Tomburn Ltd.'s investments in robotics are paving the powder-coating path for future generations
Powder coating the future
After 40 years in service, Tomburn Ltd (Tomburn) is taking its wealth of industry knowledge in a new direction. The powder coating and specialist finish manufacturer made the call to close its Birmingham subsidiary five years ago to focus on its bases in Portsmouth and Letovice in Czech Republic. Following this, last year, the company underwent an owner-supported Management Buy Out (MBO) – seeing the company exchange hands from John Tomlinson and David Hepburn, its original owners, to Chris Mansfield, Commercial Director, and Paul Hepburn, Financial Director.
On the face of things, Tomburn will remain an industry leader in powder coating, offering solid color, metallic, and mimetic products. The company highlights that because the MBO was the result of a share purchase agreement, there will be no difference in the way the business operates, and all contacts will remain the same. However, Chris Mansfield still sees this as an opportunity for the company to move forward in ways that it hasn't previously.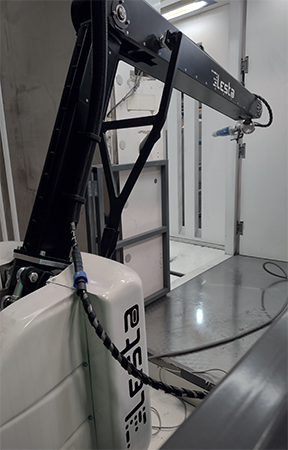 As Chris explains: "We are approaching our positions as owners, running the day-to-day operations of the business, as two younger heads – we're moving the business forward in different ways. We have analyzed the markets that we're currently in and looked over the new ones that we're aiming for, and ultimately tried to expand what we can do in terms of what we are offering our customers, considering our range, production times and costs. We've made a number of investments for the future, it's time to modernize the plant a bit more.
"We are now a Qualicoat-approved applicator for architectural coatings – moving our work a step above the previous approvals that allowed us to offer certain warranties. Qualicoat is an independent organization that offers extensive quality monitoring, which our guys' efforts passed first time, so we're very proud of the work that they've put in. Alongside this, we have made significant investments into robotics to help increase the productivity of our lines."
Tomburn has recently invested over £250,000 in a number of robotic cells with Lesta robots, new guns and extraction and fire suppression systems in a move to improve overall quality rather than just the production line's throughput. Chris' ambition is to cut down on production time, by reducing the number of rejects from each run, by ensuring every product reaches the company's high standards. As he details: "The robotic arms work on a 'follow me' system. This involves your experienced sprayer spraying the first load of work material by guiding the robot over the piece and essentially showing it where to powder coat. The robot remembers the movements and then simply repeats itself over and over again. This means that by getting it right once, we get it right every single time. This implementation negates the issues of human staff getting tired or distracted or needing a break and means that every flight bar of the same type is painted in exactly the same way. Less rejects, means less time taken to complete tasks and there's also less responsibility on our team to replicate the exact same job repeatedly."
Despite the introduction of their automated colleagues, Tomburn still places great importance on its human workforce. The company strives to maintain all of its training initiatives in-house, whilst outsourcing assistance from the developers of the technology that it has employed. Chris favors the bespoke element of the internal approach that allows its teams to focus only on the relevant pieces of equipment – teams that it's constantly searching to expand from within to enhance employees', and indirectly the company's, skillsets.
Casting his eye to the future, Chris is hoping for more of the same. The company successfully made it through the pandemic by relying on a combination of the UK Government's furlough scheme and the smaller half of the business, which is oriented around spraying stairlifts in kit form. It has recently completed a large cladding package for one of its bigger customers, of which Chris was incredibly proud: "The Dart is a transportation system that connects Luton airport to the railway station. The project required over 10,000 square meters of materials to be coated in a gold metallic, which is a notoriously difficult product to apply consistently. But having looked at the photographs and visited the site myself, the consistency that the team achieved is absolutely astonishing. It was essentially six pods, set like upside-down umbrellas and clad in bespoke panels that were put together like a jigsaw. Any inconsistencies would've stuck out like a sore thumb, but there are none – it looks amazing. It's a project we want to showcase as it's one of which we're immensely proud," he concludes.
www.tomburn.com