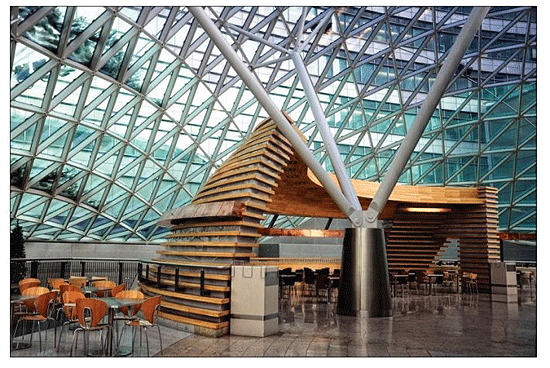 Coatings of many colours
Tomburn is the largest independent applicator of architectural powder coatings in the UK and has worked on many significant projects both at home and further afield
The organisation offers clients access to its knowledge of a wide spectrum of finishing and accompanying services, accrued from over four decades of industry experience. These customers are market leaders in their own right, coming from industries such as mobility, rail, ventilation, solar shading, street furniture, glazing, fencing and electronics.
Carl Tomlinson, Operations Director explained how the business is organised into three divisions and gave further details of their services: "Tomburn Limited was formed in 1998 by John Tomlinson and David Hepburn when they acquired the UK business from Heywood Williams plc in a management buyout," he began. "The business now operates from two UK divisions – Birmingham Powder Coatings (BPC) and LBL Finishers (LBL) – and it has a Czech subsidiary called Tomburn CZ s.r.o."


Now operating from a 45,000 square foot factory, situated in the south of Birmingham at the centre of the country's motorway network, BPC originally started as a powder coating company working on British Army barrack bed frames. "These were needed in black as standard issue, and beige, which is a sand colour for use in desert environments," said Carl. "Following experience gained in this area, the business progressed to painting hospital beds before then moving into the automotive industry. This was quickly followed by a move into the architectural field. Today BPC is widely acknowledged as one of the leading applicators of quality architectural powder coatings, with a growing reputation for added value activities such as the assembly of solar shading modules, taping of coated profiles and logistics. It is also the longest continuous holder of a Syntha Pulvin applicator's licence, which enables it to offer warranties of up to 40 years."
The second division, LBL Finishers, was created from the merger of three other companies: Lofting Stoving and Engraving Ltd, Banstead Finishers Ltd and Lustre Stoving Enamels Ltd. and has built on the traditional industrial, rail and architectural markets of these businesses. The factory in Portsmouth now also serves the mobility, fencing and filtration markets.
Finally comes the newest addition, which was opened in August 2008. Said Carl: "Tomburn CZ, located just north of Brno in the manufacturing heartland of the Czech Republic, coats and shotblasts both aluminium and steel. As well as serving the mobility market the business is growing its reputation for coating large, complex fabrications for the agricultural, heating and industrial equipment markets. Tomburn CZ plans to expand into the European architectural market and install manufacturing and assembly operations."
United by a dedication to quality and service, the three divisions of Tomburn are also able to offer insights to clients about current market conditions, trends and advice on the best options for their particular requirements. "As active members of ALFED and CAB, we benefit from up-to-date insights into our markets and from contact with key players in the aluminium value chain," Carl confirmed. "So for example the construction market has been very busy over the summer period, but we are expecting to see that slow down as we enter autumn/winter. Our other markets are showing a strong trading level."
To give further details of what Tomburn can offer, Chris Mansfield, Commercial Director gave some specific examples of recent contracts: "We are currently supporting an aluminium systems business by coating approximately 30 tonnes of extrusions a week," he began.
"We are also involved in a project where we are cutting and preparing aluminium extruded solar shading items before painting them in a specially formulated, high durability powder coating and packing for transit to the Middle East.
"Furthermore, we have developed – in conjunction with our customer and powder supplier – a bespoke shot blasting and coating solution for mild steel that provides an aesthetically pleasing product with excellent abrasion resistance for the mobility market."
It is clear from Chris' comments that Tomburn values close working relationships with both clients and suppliers, and as he explained, the company's offering is more than a simple service: "We are offering a coating system," he emphasised. "We take our customers' free issue materials, pre-treat these using speciality chemicals and apply the powder over the treated aluminium. All stages of the process have to be in control for the system to work and our suppliers regularly test our process, and the work we produce to ensure we can all be confident of the market leading warranties we offer. We also work alongside paint suppliers to develop new finishes to keep our customers ahead of their markets.
"Our ability to service and exceed our clients' expectations has accounted for solid partnerships lasting in excess of 30 years."
This dedicated process is supported by a range of state-of-the-art facilities that have been the recipient of investments and improvements in recent times. "Over the last five years Tomburn has been overhauling all its plant to enable us to reduce energy consumption, improve quality and productivity and maintain service levels," said Chris. "We are currently completing this process at BPC, and completing this investment in order to maximise our quality, and capitalising on the market opportunities this offers, are high priorities for the business going forward."
In order to ensure that the best value is extracted from these investments, Tomburn trains its staff in all procedures and monitors compliance through a stringent programme of internal audits, which are reviewed at board level monthly. "We are also approved by all major powder suppliers, who audit us regularly," added Chris. "We are also audited by suppliers and work closely with them to build their requirements into our systems."
With the ongoing investments and some highly impressive contracts under its belt including the National Assembly of Wales, Costa Coffee in Liverpool, The London Underground, The Pestana Hotel in London and The Wall in Utrecht in Holland, Tomburn's next few years look set to be exciting. Chris concluded with some further plans for the future: "As the founders of Tomburn start to plan their retirement we are building a new management team to grow the UK and CZ businesses. We have identified target markets, which will enable us to broaden our sales base, and we will be looking at new technologies to enable us to offer a broader suite of services."
Tomburn Ltd
Products: Architectural powder coatings
Sites: Two in UK, one in Czech Republic