The future of fitness
You can truly #beyourstrongest with Tonal's revolutionary, AI-powered fitness system
With its leading strength tracking and dynamic, outcome-driven, full-body workouts, Tonal is changing the face of home fitness. The Tonal system is expertly engineered for exceptional results; using a patented digital weight system, which makes thousands of calculations a second, the company is able to deliver customers a smooth weightlifting experience that eliminates the need for traditional metal weights. Today, many big names in the sports and fitness world, from Serena Williams to Stephen Curry, are lining up to invest in Tonal, as the company stands daringly at the cutting edge of fitness technology.
"Tonal is the world's smartest home gym and personal trainer. Unlike traditional dumbbells and barbells, Tonal uses adaptive digital weight, which leverages electromagnetic resistance to deliver 200lbs of pure force and continually personalizes workouts so they're most effective for you. All of our products are led by our experienced coaches," outlines Shannon Crespin, Chief Operations Officer at Tonal.
The company's long history of innovation begins with its founder, and Chief Executive Officer, Aly Orady. Having struggled with his weight since childhood, Aly wanted to create and share a solution that worked. "The problem was that going to the gym or working with a trainer everyday wasn't sustainable." When Aly couldn't find a better solution, he invented one. By using electromagnetics to create electronic resistance, he found a way to replace all the equipment he used in the weight room with a single digital weight system.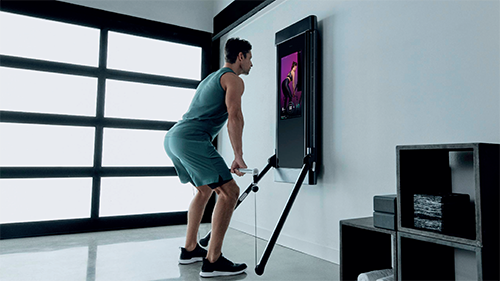 "Aly envisioned an intelligent system that assessed what you needed to do, told you how to do it, and let you do it from home; he feels that everyone needs a personal trainer, and incorporated coaches with exercise programs that are specific to individual goals. Ultimately, we strive to help each of our members be their strongest," discusses Shannon.
The specialized equipment designed by Tonal leverages AI technology in order to dynamically adjust the weights for each exercise in real time; with Tonal, customers can generate dramatically more muscle activation at a given resistance of weight. As Shannon explains, this engineering is an important element of Tonal's personalized approach: "Tonal enables people to lead healthier lives by providing them with the equipment, technology, and guidance to effectively reach their fitness goals.
Content strategy
"By using a proprietary digital weight system, powered by electromagnetic resistance instead of metal weights, Tonal can generate the equivalent of 260lbs of gravity-based resistance and replicate every machine in the weight room with a fraction of the equipment. While a dumbbell always provides 25lbs of resistance, Tonal can alter the resistance curve throughout each movement to tax your muscles where they are at their strongest – driving more physiological impact on a rep-for-rep basis.
"The first time you work out on Tonal it guides you through an initial strength test, allowing the trainer to set your perfect weight for each movement. As you gain strength in different muscle areas, Tonal continually adapts the weight in real time to make each rep more efficient. Tonal's adaptive weight adjustment is important for safety, incremental progress, and efficiency during a workout regimen. The technology, and how it monitors and interacts with each individual, is why we see our members increase their strength score 25 percent in the first 90 days."
Always looking towards the future of fitness, Tonal began offering live sessions in 2021, and will continue to build up a portfolio of educational content, which will support customers on their journey toward a healthier self. As Shannon affirms: "Tonal is always refining its technology and rolling out new features, but we are particularly excited to further build out our content strategy this year. We launched live classes in September, and we just recently opened a second content studio in New York, in addition to LA, where we plan to hire more coaches."
Growth curve
Working as part of a wider network has helped Tonal bring its technology to customers across the US. The company's production facilities play an important role in creating the highest quality equipment, as Shannon confirms: "We collaborate with our suppliers and contract manufacturers to design and develop manufacturing and supply chain processes that are efficient and resilient.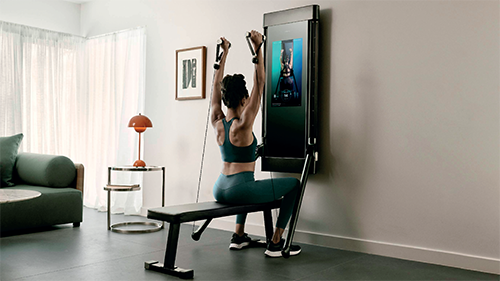 "Given the end-to-end supply chain market conditions we are all experiencing for the products we buy, our focus has been on developing joint processes that are efficient and create a high degree of resiliency. As the demand for our products has grown rapidly, we are expanding and diversifying our production capacity across Asia and North America, so that we can meet demand with shorter lead times. In our supplier selection process, we look for demonstrated capabilities in Lean manufacturing, with a mindset for continuous improvement to build best-in-class operations."
None of this would be possible without Tonal's trusted suppliers, who are considered a vital part of the team. "We consider our suppliers our partners. Our growth and success is interdependent with them, and so we collaborate closely to ensure we sustain a healthy, growing and competitive business. Our suppliers have an amazing set of diverse capabilities that we intend to continue to leverage in creating value for Tonal, and our network of suppliers," says Shannon.
Fitness habits have no doubt changed over the last few years, as the pandemic inspired many to find new ways of working out inside the home. Having played a vital role in keeping people fit throughout lockdown, Tonal now continues to thrive, even as gyms begin to open back up. "Though Tonal's member base grew while gyms were closed, we have seen significant growth since gyms have reopened. While gym equipment remains the same, with analog dumbbells and machines that don't track form or progress, our personalized approach to strength training at home with our motivational and expert coaches is here to stay, and is only just at the early innings of our growth curve," enthuses Shannon.
It is clear that this is just the beginning of Tonal's journey, as the company tripled its sales in the 2021 Holiday season, compared to the 2020 Holiday season. The last six months have been particularly exciting for the company, as the latest figures reveal that Tonal has one of the highest engagement rates in the health and lifestyle industry, with members working out an average of 40 minutes per day.
Now, the company looks to take on new horizons, and branch out into a new customer base. "As we know, strength training has historically skewed towards male audiences, but the value of strength training is of course not gender specific. Therefore, we are increasing our focus on women, knowing they represent a large portion of our potential audience, even though some may be reluctant to add strength training to their routine. This strategy is reflected in our focus on female athletes such as Serena Williams, Sue Bird, Lindsey Horan, Simone Manuel, April Ross, and Alix Klineman," details Shannon.
"In addition, to enable our growth, we want to expand our footprint in terms of Tonal locations to ensure as many people as possible can experience the magic of our product. Once someone demo's our product they feel first-hand the magic of this technology and in turn often buy a Tonal, so driving traffic to our Nordstrom and Tonal retail locations will be an important lever," she adds.
As a company known for its ambition, it comes as no surprise that Tonal has big plans for the future. "Our long-term goal is to reach as many households as possible; Tonal is targeting 45 million households and the $60 billion addressable strength training market segment in the US, which is a much larger opportunity than studio fitness or any cardio segment. We also hope to take Tonal public in the future while continuing to grow a healthy, sustainable business," Shannon concludes.
Tonal
www.tonal.com
Products: Home fitness equipment