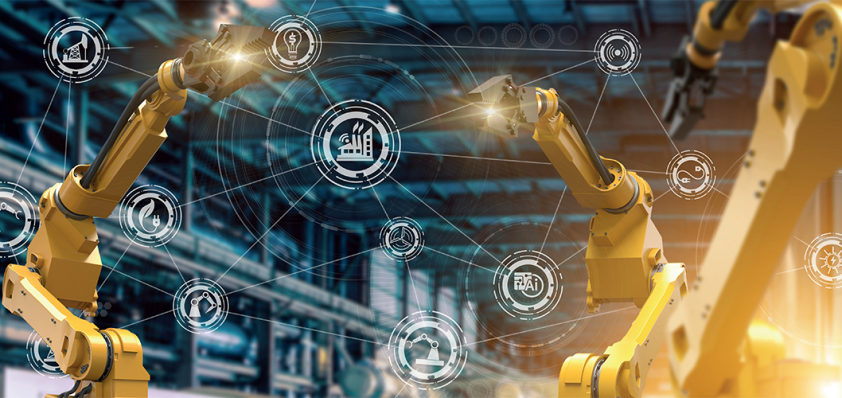 Over the past 12 months, global supply chains have been severely disrupted by the ongoing impact of the pandemic, and manufacturers have been forced to adapt fast to survive. But Covid is just one of the latest, albeit the most severe, events to disrupt the manufacturing industry.
Extreme weather, political protests, transport strikes, cyberattacks, the impact of Brexit and economic upheaval have all created similar, if more localized, challenges. And all the signs are that disruptions like these will become even more frequent and extreme in the future.
So, to prepare for a future beyond the pandemic, and to protect against events that are out of our control, manufacturers need to build resilient manufacturing operations. In 2021, there's a critical new factor in building resilience: industrial automation.
In order for manufacturers to future proof their business, they must invest in technology and prioritize automation, not only to help build agility and flexibility but to also to accelerate digital transformation. The latest technologies, from AI to innovations in the supply chain, can help manufacturers to stay ahead of the curve and bounce back quickly from a crisis.
Machine Health is business health
Reliable machines form the basis of any resilient manufacturing operation. Machine Health uses IOT and AI to predict and prevent machine failures. By staying ahead of potential problems, manufacturers can avoid unplanned downtime, slash maintenance costs and importantly, maximize productivity.
For example, one of our customers, Colgate-Palmolive, detected rising temperatures in one of their tube makers and reacted to the problem quickly, saving time, money and energy. Overall, this saved them 192 hours of downtime and 2.8m tubes of toothpaste, plus $12,000 for a new motor and $27,000 in variable conversion costs.
Reaching autonomy with AI
Artificial intelligence has the potential to play a prominent role in helping manufacturers leap into industry 4.0 and streamline operational processes. Yet, the reality is that only nine per cent of manufacturing organizations are leveraging AI. AI algorithms can react more quickly to disruptive events, helping build resilience.
Essity, one of the world's largest tissue makers, already leverages 7multiple AI-based systems including Machine Health, automated vision systems to monitor quality and intelligent process control. Essity has also semi-automated centerlining, determining the best machine settings for a production process using insights from fuzzy logic and predictive models.
Building cyber resilience
In the digital age, cyber threats are top of mind for all organizations and the manufacturing industry is no different. In fact, one in five manufacturing companies in the US and UK have been victims of a cyberattack in the last 12 months.
Building a strong cyber resilience strategy is a no-brainer. We've seen a rise in manufacturers working together with security companies to not only utilize new tech but to build the strength of these systems. I expect to see a growth in these kinds of partnerships, as manufacturers continue to innovate with new technology.
Agile industrial robots
For years manufacturers have been utilizing robots, particularly for repetitive tasks in hazardous environments. However, robot capabilities are now going well beyond traditional tasks.
In the UK, we're already seeing manufacturers introducing game-changing innovations with robotics. Arrival, the UK electric van maker taking on Tesla, has deployed robotics to transform its production line and run a unique microfactory. As industrial robots become faster, smarter, and cheaper, more and more companies will integrate this technology to help the workforce to build agile, forward-thinking manufacturing plants.
Automating the supply chain
Covid has transformed the global supply chain, and now more than ever before, supply chains are on boardroom agendas. Automation is the future of the supply chain and technology will help to improve efficiency across every step of the process, including procurement, inventory, assembly, logistics, and transportation. AI can help build resilience by providing early warnings of supply chain disruptions and how they will affect supply, demand and capacity.
The last year has provided a hard reset for manufacturers and an opportunity to grow stronger, more resilient and resourceful. Moving forward into 2022 and beyond, technology shouldn't be deployed to simply cope with a crisis, it should be implemented to transform, innovate and streamline the entire manufacturing process. At last, the UK is beginning to emerge from the pandemic. In May, we saw the fastest rate of growth since 1975. To capitalize and maintain this growth and productivity, manufacturers need to prioritize building resilience through industrial automation.
Saar Yoskovitz
Saar Yoskovitz is co-Founder & CEO of Augury, an AI-driven machine health diagnostic platform that offers the world's first AI insurance policy – Guaranteed Diagnostics. Augury has partnered with one of the largest reinsurers of industrial equipment, HSB, to provide cover up to $100,000 for the cost of equipment repair or replacement if the AI system fails to detect a malfunction and alert the customer.
www.augury.com