The best medicine
Priding itself on being a responsible, professional and compliant manufacturer, Torbay Pharmaceuticals plays an integral role in supplying injectable products to the NHS, and has a bright future ahead in the world of international contract manufacturing
Almost 18 months have passed since the activities of Torbay Pharmaceuticals were first documented within the pages of Manufacturing Today Europe. As reported previously, this unique
manufacturer of pharmaceutical injectable products not only forms a critical part of the supply chain of Torbay and South Devon NHS Foundation Trust, but is also fast carving out a space for itself within the commercial and private sectors.
Speaking with Leon Rudd, the company's Commercial and Strategy Director, he begins by detailing how the last year has seen Torbay Pharmaceuticals continuing with the pace of change, both internally and in the market, that has influenced its recent success. "Key to what we have been doing in the period of time since we last spoke has been the ongoing development of our contract manufacturing base, both in terms of adding new customers that can bring us larger opportunities, transferring in six new products, which puts us on the path to adding an additional 60-70 per cent to our total output," he says.
From a product development perspective, Torbay Pharmaceuticals has also spent invaluable time reviewing its product base to see how it can advance its offering, create added value, and ultimately better support its customers. An example that Leon offers us involves one of the company's most important products, Metaraminol, for the treatment of acute hypotension due to loss of vasoconstrictor tone as may occur during spinal anesthesia. "We are the UK market leader in the supply of Metaraminol, and have recently licensed and introduced to market a 'ready-to-use' version of this product, which delivers safety benefits for our customers and the patient," Leon explains.
In this instance, the term 'ready-to-use' relates to the fact that, as opposed to having to dilute a concentrated form of the product in theatre, Torbay Pharmaceutical's new variation of Metaraminol can be drawn up directly from an ampoule and used. "This has important implications in terms of things like increased patient safety, minimising dilution errors, and making the product more effective for use in clinical settings," Leon enthuses. "This represents a big step forward and is one of a very select few 'ready-to-use' products to have been introduced into the theatre environment in quite some time.
"Outside of this, we are busy being engaged with the licensing of several other products, and internally we are continuing to usher in a comprehensive cultural change and organisational development programme, representing a significant investment in our teams and the individuals within them."
On a domestic level, Torbay Pharmaceuticals has also found itself working closely with the NHS' Commercial Medicines Unit – the body that drives tendering activity for generic medicines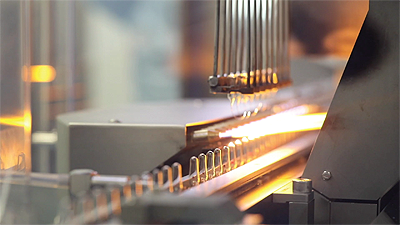 in the UK – as it helps to plug any shortages in key products. Meanwhile, the company has also shifted some of its focus to the growth potential that exists in different export markets around the world. "We welcomed a new export manager into the business earlier in 2019, and he is fast becoming a fantastic asset to us," Leon states. "While we have long been a UK- centric business, we see international growth as being hugely important in achieving our future goals."
Looking ahead to where the company wants to be in the years to come, Leon hopes to see Torbay Pharmaceuticals as the largest global NHS owned, generic contract manufacturer and licence holder. "Over time, we will be bringing a wider range of new products to market," he enthuses, before finishing on an equally as important point. "At the same time, it is good to remember that as a part of the NHS there is an inbuilt expectation that we will continue to play a vital role in supporting both it and the wider UK market. The great thing is that, with our profits and returns going back into the NHS, as we become more successful as a company, the NHS places itself in a more sustainable position for the future."
Torbay Pharmaceuticals
Products: Manufacturer of UK-licensed sterile injectable, unlicensed essential pharmaceutical products, and a range of CE-marked devices