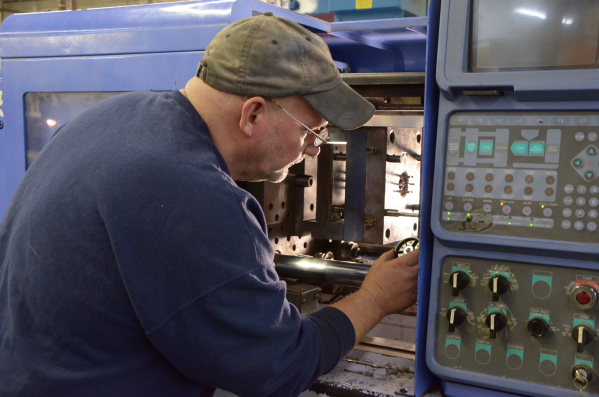 When it comes to manufacturing, Torque Transmission's customers have as much of a role in designing products as the company's own engineers. Before it begins production, the power transmission components manufacturer works with customers to nail down requirements and determine what materials and design would best fit the need. President John W. Rampe says the process boils down to learning the customer's  need and figuring out what Torque Transmission must do to help solve their problem. "For us to design the best possible product, we need to work in tandem with their design group," he says.
Sometimes those collaborations help Torque Transmission realize a demand in the market and a custom component becomes a permanent part of its product lineup. About 70 percent of the company's sales come from its standardized timing pulleys, roller chain sprockets, gearboxes, multi-v pulleys, and thrust bearings, the remaining thirty percent is specially made for the customer. "If you can't find what you're looking for in our standard product line, let us know because most times we're able to modify our standard product to fit your needs," Rampe says.
Using custom components can sometimes cause manufacturing costs to swell. Torque Transmission is sensitive to its customers' bottom lines, which is why the company first looks to adjust one of its existing products to meet specifications with minimal tooling and redesign. "Our ability to use our standard product line and modify it as required to meet the customer's specifications has given us the ability to be extremely versatile," Rampe explains.
Evolving with Market
Rampe's grandfather John F. Rampe and great uncle Charles Rampe founded Rampe Manufacturing Co., the company that would become Torque Transmission, in 1947. It began as a tool and die shop for the emerging plastics industry but over time expanded to include the production of capital equipment vibratory and tumbling metal finishing machines. The Torque Transmission division was started in 1957 for the purpose of creating components for its machinery line. Changes to the market forced  Rampe Manufacturing Co. to gradually shed its other divisions  leaving only Torque Transmission and its sole focus, power transmission components.
Today, Torque Transmission is ISO 9001:2008 certified and a member of the Mechanical Power Transmission Association. With an established reputation for quality and customer service, Rampe sees his family's company as the go-to place for manufacturers who cannot find exactly what they are looking for. "Our goal is to design a product that meets all of their requirements and is easily manufactured to keep costs low," he says.
The company supplies components for a range of items in the automotive aftermarket, medical, home healthcare, industrial and robotics industries. Its products can be found in everything from consumer blenders and garage door openers to fitness equipment, medical equipment, surgical tools and security cameras. "We find our customer base is spread out over multiple industries," Rampe says. "It's not just one niche of the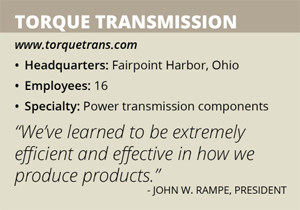 marketplace."
Torque Transmission is constantly looking at ways to refine its products and expand its client base. The company is in the process of launching a multi-rib pulley line that uses Poly V® and Micro V® belts with applications in the industrial, medical, automotive and off-road equipment markets.
Its unique plastic and plastic/metal power transmission products are a proven viable alternative to machine metal components. The molded plastic parts have two advantages over traditional metal pulleys, sprockets, and couplings, Rampe says. Plastic is more cost effective to produce and lighter weight, reducing the amount of inertia a machine needs for starting and stopping. Plastic components are also sought after by the food and medical industry because they do not corrode and have a smaller magnetic footprint.
Even industries known for their heavy-duty needs have benefited from switching to plastic materials. An agricultural customer wanted to reduce the cost and minimize the inventory requirements of a 14-inch-diameter timing pulley. After meeting Torque Transmission,  the customer realized that plastic would meet all of its requirements and Torque Transmission designed a replacement pulley that cut the customer's expense by two-thirds.
Becoming Lean
Torque Transmission has a 24,000-square-foot facility in Fairpoint Harbor, Ohio. In the late 1990s, the company had as many as 27 employees, but a downturn in the early 2000s forced it to reevaluate everything from the plant layout to how it purchased materials and the production lot sizes. Torque Transmission went through a period of implementing a lean manufacturing philosophy and now operates with only 16 employees. "We've learned to be extremely efficient and effective in how we produce products," Rampe says.
When the recession hit in 2007, Torque Transmission was ahead of many of its competitors in streamlining operations. Lean manufacturing policies already in place helped the company to weather the economic decline and emerge intact.
A major factor in that survival was Torque Transmission's new approach toward inventory. The company used to stock large amounts of standard parts, but in adopting a lean philosophy it realized that inventory was bogging it down. Eliminating most of its inventory enabled the company to  stop producing components that sit unused. "We make today what we need to ship today and tomorrow we make what we need to ship tomorrow," Rampe says. "It allows us to turn on a dime and meet our customers' needs immediately."
Torque Transmission continues to invest in new equipment to increase efficiency, such as machines for its thrust bearing assembly process that allow one person to work three stations simultaneously. Streamlining its manufacturing has allowed the company to increase production without increasing the size of the facility.
To increase growth, Rampe is focused on designing new components that customers will need. He sees the most promise in Torque Transmission's gearbox line. Customers value lightweight, compact designs and, more importantly, flexibility for multiple applications. Making sure its gearbox lineup meets those requirements is just the latest step in Torque Transmission's strategy for success. "Our whole purpose is how we can ensure the customer gets exactly what they want when they want it," Rampe says.