Winning the war on waste
With two wholly owned recycling centres and a quality rating for recycling export amongst the highest achievable, Total Recycling Services (TRS) is a total waste management company specialising in recycling, hazardous waste recovery and industrial services
Waste Management Innovation.'That is the strapline that accompanies Total Recycling Services (TRS), one of ' the UK's leading waste management providers.The innovation that the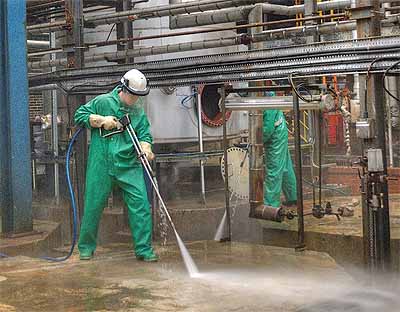 Darlington-based company, set up in 2002 by Managing Director Alex Foreman after the sale of his family recycling business, is helping to drive forward revolves around services and technology to promote and encourage a 'zero to landfill' approach to waste management. By delivering efficient solutions,TRS aids its customers in divert waste from landfill via innovative methods of recycling and waste recovery.
Unlike other waste management companies that tend to specialise in either hazardous or non-hazardous wastes,TRS has a large degree of experience in having brought together directors, managers and key personnel from both industries.This has given it an in-depth understanding of the waste management industry as a whole and allows it to assist its customers in applying the correct waste hierarchy of waste prevention, minimisation, reuse and recycling.
As a service organisation,TRS places particular emphasis upon customer requirements, producing cost-effective solutions that are based upon compliance and results. Its services encompass three main categories; commercial recycling, hazardous waste recovery and industrial services.To service the commercial sector TRS owns two large recycling centres that provide the capacity for both storage and processing, and are equipped with industrial balers, and a plastic shredding and granulation plant. From here it provides a comprehensive recycling service for most materials including various grades of paper, cardboard and plastic, while most other recyclable waste including WEEE, wood and metal can also be collected for recovery.
Once at its facilities,TRS sorts, segregates and bales recyclable material for re-processing in the UK and for export. In fact, its quality rating when it comes to exports is amongst the highest achievable.Additionally, it is also able to offer an on-site service providing the necessary equipment and manpower, where necessary, so that recyclable waste can be managed at a customer's own facility.
When it comes to hazardous waste recovery,TRS owns a fleet of specialised vehicles that operate from its 55,000-square foot, purpose build hazardous waste management facility, which is run in accordance with its environmental permit and ISO accredited management systems. Highly trained, experienced staff working to a set of company procedures ensure that hazardous waste disposal activities are carried out in a safe and effective manner, and TRS can use its expertise to guide you through the hazardous waste regulations and advise on waste classification, waste acceptance criteria,WEEE Regulations, CDG/CP, and ADR. It also provides pre-acceptance and consignment note documentation for all hazardous waste loads that it collects.Also, onsite is a laboratory for waste sampling and analysis, and TRS has recently invested in a bespoke chemical drum decontamination and recycling plant, allowing it to provide a genuine recovery route for containers that formerly held chemicals.
Last, but by no means least,TRS offers a comprehensive suite of industrial service packages,including the cleaning of grease traps,site surfacing,drainage systems, interceptors and storage tanks. High pressure water jetting to facilitate internal cleaning of tanks, pipework and industrial surface cleaning is also available. Bunds, steel work and cladding can be jet washed to remove all contaminants, while pipe work and vessels can be cleaned to remove all residual materials where practicable. Support from its own ADR tanker service is available for transporting any waste generated from the activity.All industrial cleaning activities are carried out in accordance with an integrated management system that incorporates ISO9001 Quality, ISO14001 Environmental and OHSAS 18001 Health & Safety standards.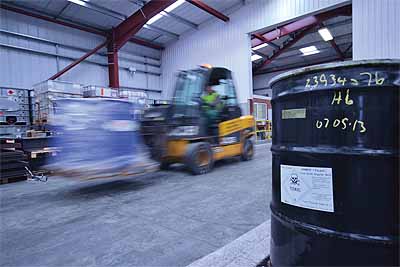 TRS' industrial cleaning services division has in fact emerged as a source of rapid growth in recent years for the company. In response to demand for these services the company has invested considerably in various items of bespoke machinery, including two new 30,000 litre tanks, a roll-on roll-off truck with a further three units, and a glass imploder, the latter of which cost approximately £60,000.
As well as securing further business and making strong investments for future growth, 2018 has also seen TRS continue to pick up several awards, including the title of 'Best Services Provider' in the Teesside Heat of the North East Business Awards.
Responding to the company's win, Managing Director Alex Foreman was quoted as saying;"I am absolutely gobsmacked.To go up against some of the best service providers in the region is an honour in of itself, but to bring home the win is unbelievable and I'm happy to be in the position to celebrate the successes we've had over the last ten years.We've constantly tried to do things differently at TRS, and to win such an award is fantastic recognition of the hard work our staff put in and the excellent work we provide for our customers every single day."
Having achieved a reported turnover of £15 million in 2017,TRS is now embarking on an ambitious strategy to double this by 2022.With rising demand for its expert services, particularly those in the industrial field, designs on establishing a larger footprint in key regions, and strong partnerships with large manufacturing companies such as Hitachi, JCB and AkzoNobel, it may in fact be sooner than later that TRS reaches its goal.
Total Recycling Services
Services: Total waste management