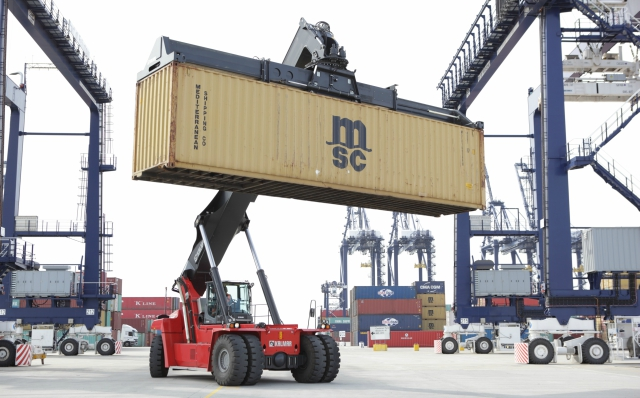 Since Gerald Cannon founded the company in 1965, Ohio-based Towlift has been a leading provider and servicer of material handling equipment. With over 50 years in business, Towlift's experience working with diverse industries helps it understand its customer's unique needs and advise them on material handling best practices. Towlift offers a diverse portfolio of products including industry-leading forklifts, warehouse equipment, pallet racking, rail car movers and many other related industrial products from top manufacturers.
Much of its longevity can be attributed to committed long-term employees and consistent family-owned leadership.  Towlift has successfully transitioned into its third generation of family ownership.
"Exciting changes are happening at Towlift", comments Ryan Harmon, general manager of Towlift-Pittsburgh. "Matt Adams, Towlift's current third-generation president has a long-term strategy and is making investments for the company to continue to grow in the future."
Expanding Footprint
Towlift has traditionally served the Ohio and southeast Michigan lift truck markets, with full service locations in Cleveland, Mentor, Columbus and Toledo. In 2016, Towlift took a big step by opening its first office in the Pittsburgh area. In a short period of time the Pittsburgh office was appointed the exclusive dealer for two major material handling suppliers.
The first dealer agreement was with Mitsubishi Caterpillar Forklift America (MCFA), a leading manufacturer and distributor of Cat® Lift Trucks, Mitsubishi Forklifts and Jungheinrich warehouse equipment.  In 2016, MCFA announced that Towlift-Pittsburgh would serve as the new dealer for its product lines in Allegheny, Armstrong, Beaver, Butler, Fayette, Greene, Indiana, Washington and Westmoreland counties.
The second dealer agreement came in 2017, when Kalmar appointed Towlift-Pittsburgh as the region's authorized dealer of its counterbalanced products, which include forklifts, reach stackers and container handlers. "We are excited to bring the Kalmar line to the Pittsburgh market," Harmon says.
This agreement brings Kalmar's lineup of high-capacity forklifts – suitable for handling large loads such as steel, lumber and filled containers – to heavy industrial users in western Pennsylvania and parts of West Virginia and Maryland. "We are committed to providing excellent sales and aftermarket support to our customers in the greater Pittsburgh area and beyond," Harmon adds.
Talented People
The expansion into Pittsburgh prompted promotions for key Towlift personnel. Harmon was elevated to general manager, giving the Pittsburgh branch guidance from an 11-year material handling industry veteran with expert knowledge of warehouse products, racking and forklift equipment. Likewise, Jamie Feathers, a long-time employee of Towlift's Columbus, Ohio, service department, was promoted from Columbus service supervisor to Pittsburgh product support manager.
In addition to those promotions, Towlift hired Phil Verspelt as a large truck specialist focused on the Kalmar product line for its Pittsburgh office. With a group of talented people in place, the Pittsburgh branch is primed to serve the material handling equipment needs of the entire region.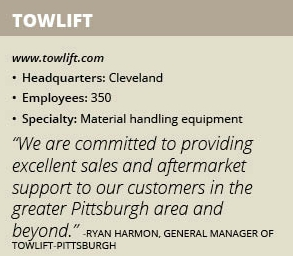 As an authorized Kalmar and MCFA dealer, the Pittsburgh branch offers a strong portfolio of material handling equipment that can best meet the needs of a variety of customers. Kalmar produces an array of high capacity forklifts with load capacities ranging as large as 158,700 pounds – ideal for steel and concrete – to as small as 11,000-pound capacity electric forklifts perfect for indoor use in emission sensitive environments. MCFA offers a complimentary range of smaller capacity products, with solutions designed for the food and beverage, freight, manufacturing, paper, retail and wholesale industries.
The selection of Towlift as the exclusive dealer for Kalmar and MCFA products in the Pittsburgh region is a testament to the company's strong sales performance for the OEMs. Towlift has been a Kalmar dealer in Ohio and Michigan since 2003, establishing 15 years of cooperation between the companies.
Towlift has a long-term relationship with MCFA and its predecessors. It has been an MCFA dealer since MCFA's inception, and previously represented the Cat Lift Truck and former Towmotor lines that were prior to the MCFA joint venture formation.  MCFA regularly recognizes Towlift as a top dealer and Towlift is a current MCFA Dealer of Excellence, an accomplishment it has achieved numerous times over the past 25 years.
"Our continued focus on excellent customer service made us the recipient of MCFA's Dealer of Excellence Award for many years," Harmon says. "This helped us win the Pittsburgh market for the MCFA products."
Customer Focused
The exceptional customer service that earned Towlift MCFA's recognition has been a part of the company core since its beginning. Towlift employs more account representatives than most material handling dealerships, giving each rep more time to get to know each individual customer's material handling requirements. Account representatives make themselves available to take client questions at any time and they consult on products and services to develop solutions that deliver the best results.
Finding the right piece of material handling equipment can be challenging for clients, each of which has its own requirements and expectations. Towlift sales reps strive to provide a smooth experience, starting with a complimentary application survey at the customer's business. The survey gives sales reps a stronger picture of the customer's operations and helps them identify the perfect forklift or warehouse rack for the application.
The relationship between Towlift and its clients does not end at the point of sale. The company backs up its products with fast service response to limit downtime. Service vans are stocked with the parts and tooling needed to repair forklifts, stockpickers, warehouse racks and other pieces of equipment, enabling Towlift's expert technicians to perform maintenance and repair at the customer's location. For more substantial repairs, Towlift will pick up machines from its customers and bring them to one of its full-service shops.
"Current ownership is committed to investing service related technology," Harmon says. "Our technicians are all equipped with iPads, which helps stream-line reporting and invoicing and provides schematics and other technical resources to the technicians in the field."
Customers return to Towlift time and time again because the company is committed to partnering in their success. The same is true for Towlift's own employees. Towlift believes a foundation for success must begin with safety, which is why Towlift employs a full-time training and risk manager and full-time compliance administration to set safety policies and keep abreast of government regulations.
Employees are expected to play a role in safety. Each location has a safety committee that meets on a regular basis to review and implement safety measures. Further, the service department hosts weekly talks with technicians about various safety topics and employees are trained on proper forklift operation.
Just as Towlift strives to keep its employees safe while on the job, it works to improve the communities they live in. When hurricane Harvey hit Houston, which is where MCFA is headquartered, a collection was setup to support the families affected by the storm. Towlift has also supported the JDRF, Red Cross and the United Way. But most of Towlift's charitable donations are to local organizations around Cleveland, Toledo and Columbus. Towlift-Columbus has a fundraiser each year to support the Mid-Ohio Foodbank, which includes an evening at a comedy club where all proceeds go to the foodbank. It also recently donated a new Mitsubishi forklift to the Mid-Ohio Foodbank. Plus, Towlift has donated forklift equipment to the Greater Cleveland Foodbank and has supported other organizations such as Feed Lucas County Children.
"We're locally owned and operated so our employees like to get involved with organizations that help people right in the neighborhoods we do business in," Harmon explains.