Toyota Manufacturing UK Ltd
Dawn of a new era
In January 2019, production of the all-new Toyota Corolla Hatchback and Touring Sports Wagon – the first Corolla models to be built on the Toyota New Global Architecture (TNGA) platform – commenced at Toyota Manufacturing UK's Burnaston plant
Toyota Manufacturing UK (TMUK) was the vehicle manufacturers' first major operation in Europe, with production at its Burnaston car plant and Deeside engine plant beginning in 1992. Since then, the company has invested more than £2.75 billion in the business, produced more than four million cars and engines, and been responsible for a number of key innovations, such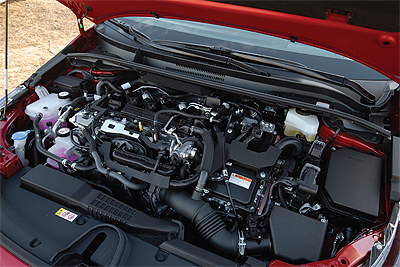 as becoming Toyota's first European site for hybrid electric vehicle production in 2010.
Looking back on the long and storied history of Toyota and its various models, it is the Corolla that holds the distinction of being the world's best-selling model nameplate, with more than 45 million vehicles sold worldwide since its introduction in 1966. It was, therefore, of great significance when the company announced in that the world-famous Corolla name would return to the UK in 2019 with the launch of the new, 12th generation range of Hatchback and Touring Sports models.
Manufactured at Toyota's Burnaston factory, the new Hatchback and Touring Sports are the first Corolla models to be built on the Toyota New Global Architecture (TNGA) C platform. This platform, which is also used for the current Toyota C-HR crossover and Prius models, brings with it multiple benefits in terms of strong dynamic performance thanks to a lower centre of gravity, balanced chassis and a highly rigid body. It also contributes to increased safety and greater design freedom that's witnessed in distinctly different styling for the Hatchback and Touring Sports versions.
The introduction of TNGA has required multiple upgrades to the Burnaston plant, and has seen Toyota investing some £240 million into its operations, upgrading its facilities with new equipment, technologies and systems. This included £21.4 million of UK Government funding for training, research and development, and environmental measures from its Regional Growth Fund. Specific additions to the plant included an aluminium stamping capability and resin back door assembly, so that lighter weight body shells can be produced, more than 200 new high-speed robots to increase the vehicles' structural rigidity for enhanced driving performance, and a global resin paint line to achieve higher levels of environmental performance. The factory has also been equipped with an all-new TNGA engine sub-assembly line.
TNGA is the foundation for all Toyota's future powertrain and vehicle development, bringing a new consistency to the driving quality experienced across the entire Toyota model range. TNGA is a philosophy, not simply a platform, marking a revolution in the way the company designs, engineers and manufactures its vehicles. It is central to Toyota's mission to build ever-better cars that are more stylish and more enjoyable and even safer to drive. TNGA introduces new, defined guidelines for positioning different components, simplifying vehicle design in key areas. The impact is on items that are largely out of sight, so designers still had the freedom to give each new Corolla version a distinctive, individual look with a lower stance and more appealing proportions.
"The TNGA engineering and design philosophy brings a whole new dimension to our next generation C-segment models," said Dr. Johan van Zyl, President and CEO of Toyota Motor Europe. "Adding to Corolla's renowned quality, desirability and reliability, it delivers the more emotional values that our customers aspire to, such as a distinctive design, interior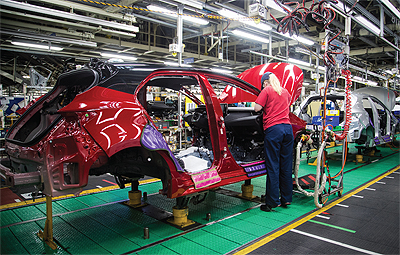 refinement, rewarding driving dynamics and powerful yet efficient hybrid electric powertrains. There is no better moment than the launch of the upcoming new generation model to reintroduce the Corolla name to our C-segment hatchback and wagon."
On 14 January, 2019, production of the new Toyota Corolla Hatchback and Touring Sports Wagon officially commenced at the Burnaston factory with an event attended by Dr. Johan van Zyl, Mr. Hiroki Nakajima, Mid-size Vehicle Company, Executive Vice President and Concurrent Chief Engineer, Toyota Motor Corporation, The Rt. Hon Greg Clark MP, the UK Secretary of State for Business, Energy and Industrial Strategy, and His Excellency Mr. Koji Tsuruoka, Japanese Ambassador to the United Kingdom.
Dr. van Zyl, said: "The highly-qualified workforce at TMUK has a fine record of delivering superior quality products. Our continued investments, combined with the dedication of our members, will ensure that we can deliver ever better cars to our customers. The new Corolla will play a critical role in our market ambitions in Europe. It delivers the benefits of the new TNGA platform and increases the appeal of our industry leading self-charging hybrid electric technology."
Marvin Cooke, TMUK Managing Director, added: "This is a proud day for everyone at TMUK, as making the new TNGA Corolla is a major milestone in our production history. This is a real sign of confidence in the capabilities of our workforce and in TMUK as a centre for world-class manufacturing. We will continue to deliver the highest level of quality products to our customers."
The new Corolla will be the first Toyota model in Europe to offer customers the choice of two hybrid powertrains: an upgraded 1.8 Hybridlitre engine that is manufactured at the Toyota Deeside engine plant in North Wales, and a new powerful 2.0-litre hybrid powertrain. The new Corolla Hatchback and Touring Sports wagon will be launched commercially across Europe from February 2019.
Toyota Manufacturing UK Ltd – New Corolla Production
Products: Automobiles