Wheels in motion
Since 1989, more than £2.5 billion has been invested into the activities of Toyota Manufacturing UK, with an additional installment contributing to the introduction of a new, game-changing production platform
When Sakichi Toyoda sold the patent rights to his automatic loom for £100,000 in 1929, he took this money and gave this to his son, Kiichiro, in order to develop automotive technology at Toyoda. This would result in the launch of the company's first ever passenger car in 1936, a year before the Toyota Motor Company was born. Eighty years later, Toyota operates a total of 62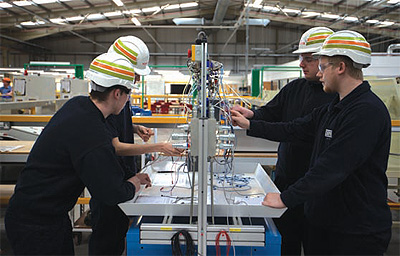 manufacturing companies in 27 countries and regions, marketing vehicles in more than 160 countries. Toyota's manufacturing presence in Europe began in 1989, with Toyota Manufacturing UK established in December of that year.
By 2003, Toyota had delivered its 12 millionth vehicle in Europe, and has since achieved record sales results for six years in a row. The company has long held a belief in a policy of localising its vehicle manufacturing process in order to meet the needs of its varied customers. This has resulted in the company's operations being located within the communities they serve.
When it comes to the UK, high on Toyota's list of reasons for entering the country was its strong tradition in the manufacturing and engineering sectors, and the large domestic market for its product. In addition, the UK offered Toyota solid industrial transport links to its customers, along with its British and European supply chain partners. The company would also find support from the British Government, which had a positive, supportive attitude towards inward investment at both a local and national level.
"Toyota has two manufacturing plants in the UK, a vehicle manufacturing plant in Burnaston in Derbyshire and an engine manufacturing plant located in Deeside in North Wales, employing around 2400 and 600 people respectively," begins Tony Walker, Deputy Managing Director of Toyota Manufacturing UK. "From Burnaston we manufacture both the saloon and touring sports variations of the Avensis model, the hatchback and touring sports versions of the Auris, and the Auris Hybrid, the first, mass-produced, full hybrid in Europe."
In 2016, Toyota Manufacturing produced approximately 180,000 vehicles, 145,000 of which were its Auris model, 60 per cent of these being its Hybrid variant. "In Deeside, meanwhile, we manufacture 1.6 litre and 1.8 litre petrol engines, and modified 1.8 litre engines for our hybrid vehicles," Tony continues. "Of the 280,000 engines made here in 2016, 240,000 were fully assembled, with the remaining 40,000 engine sets being cast and machined before being shipped to Brazil."
From the beginning of its operations in the UK, the business adopted and embraced the world-renowned Toyota Production System (TPS). Created on the back of many years of continuous improvements, this is a production system steeped in the philosophy of 'the complete elimination of all waste' and the pursuit of the most efficient manufacturing methodologies. TPS was created to result in three desired outcomes. The first is to provide the customer with the highest quality of vehicle, at the lowest possible cost, in a timely manner with the shortest lead times. The second outcome is to provide its employees with a combination of work satisfaction, job security and fair treatment, while the third is to give the company the flexibility required to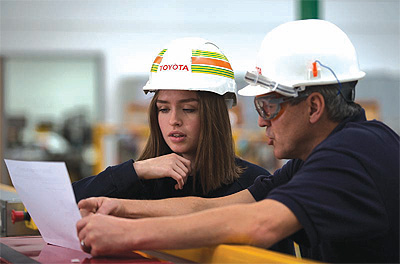 respond to market demands, achieve profit through cost reductions and obtain long-term prosperity.
The foundations of TPS are built around the concept of standardisation, which ensures a safe method of operation and a consistent approach to quality. By continually striving to improve their processes and procedures, Toyota's employees work to ensure maximum quality and improved efficiencies. This is known as kaizen and this principle is applied to every sphere of the company's activities.
"Both of our sites are fully vertically integrated and possess a full production lineup," Tony states. "We begin with coils of steel, which we cut up and press to make panels, before we weld up the bodies, paint and assemble them. We also have our own plastics facility on site where we make front and rear bumpers, instrument panels and plastic trim. At Deeside, we receive raw aluminium, melt it down and then cast, machine and assemble the parts."
"We are extremely flexible, in that we work with what we call a pull system," says Marvin Cooke, Managing Director of Toyota Manufacturing UK. "It is a sequence operation built end-to-end, providing a direct link to a customers order, through the production process, right back to the parts supplier. Everything is built in sequence according to the order of the customer, meaning that we are able to offer great flexibility and variety with 155 major variants."
In the years since Toyota Manufacturing UK commenced operations in the country, a total investment of approximately £2.5 billion has been made towards continuous improvements across the business. A recent announcement revealed that a further investment of an additional £240 million will be used to upgrade the factory to allow production on the Toyota New Global Architecture (TNGA) platform. An extension of TPS, TNGA will help the company to build cars using standardised platforms, powertrains and major components, allowing it to streamline resources and improve efficiency.
"The adoption of the TNGA platform will provide us with the ability to harmonise the manufacturing process, allowing us to build everything from hatchbacks to SUVs, and to bring these vehicles to market quicker," Tony says. "At the same time, we are introducing new, more flexible forms of manufacturing so that we can move between vehicle variants faster and cheaper. For example, whereas in the past our welding units would include rigid fixtures to hold the vehicle body together, we are now programming robots to move from model to model, offering us a much higher degree of flexibility."
The increased use of automation in Toyota's manufacturing processes is just the latest representation of the company's embrace of innovation, an ethos that has existed since its early days. It was this ethos that saw Toyota become a forerunner in the production of environmentally friendly hybrid vehicles. "It was 20 years ago that the Prius was first brought to market and, while it took some time to gain real traction, it is absolutely now firmly established in the mainstream, which is testament to Toyota's ability to recognise its suitability for the European market," Marvin enthuses. "With the Auris Hybrid, it has gone from representing 25 per cent of our total Auris production line in 2010, to more than 60 per cent today. From a manufacturing perspective, the Auris Hybrid is built in line with our other variants and is very suitable for mass production."
Successes aside, the on-going challenge for Toyota Manufacturing UK is to remain truly competitive. "In our world of manufacturing, competitiveness is measured in three main areas," Tony concludes, "these being quality, productivity, and the cost of the completed product. As well as focusing on these core themes we are also always taking great strides towards improving the environmental sustainability of our operations, minimising the emissions we produce and maximising the biodiversity of our sites. All of the above also occurs because we are committed to being positive members of our local community, working with local stakeholders and through our Charitable Trust.
"Over the last 25 years we have endeavored to make continuous progress and improvements to our business in order to remain at the peak of our industry and this has placed us in a position where we believe we are poised to thrive in any environment or business climate we find ourselves in."
Toyota Manufacturing UK
Products: Automobiles