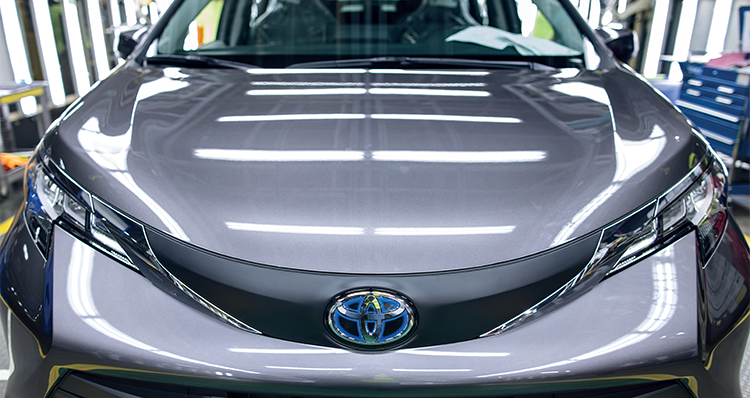 Toyota Motor Manufacturing Indiana, Inc
Electric Dreams
Having invested considerable sums into building out its advance global architecture program, Toyota Motor Manufacturing Indiana is now equipping its manufacturing lines for the arrival of two new electrified vehicles
Situated in Gibson County, Indiana, the city of Princeton is home to Toyota Motor Manufacturing, Indiana (TMMI). It is here that over 7000 Toyota team members assemble more than 400,000 vehicles each year, including the company's Sequoia and Highlander/Highlander Hybrid SUVs, and its ever-popular family minivan, the all-new, all-hybrid Sienna.
Built back in May 1996, the Toyota Indiana plant was created to begin production of a full-size pickup truck solely for the North American market. A little over two years later, in July 1998, Tim Hollander – now Toyota Indiana's Vice President of Manufacturing – would join the business, and six months on from that, the plant celebrated the official line-off ceremony of its initial first-generation Tundra vehicle in December 1998.
"Not long after we successfully launched the Tundra – the first full-size pickup from a Japanese manufacturer to be built in North America – we made the announcement of Toyota's intention to bring the Sequoia full-size, frame-on-body SUV to Indiana. Produced at our West Plant, we launched this initiative in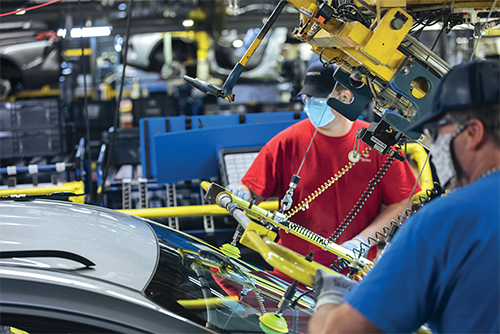 December 2000," Tim details. "It was around that time that we also unveiled plans to build what would be our second plant, which we dubbed our East Plant. It was from here that we set about producing the first iteration of Toyota's Sienna minivan, which we began to line-off in January 2003."
Learn, Leverage and Lead
Fast-forward to 2008, and the global economic crisis resulted in the well-publicized drying up of the automotive market in most of the world's leading economies. In looking to turn a negative into a positive, Toyota Indiana decided to shut down operations at its two plants for a period of three months, during which time it undertook considerable plant refurbishment activities, and employee training and development, and community volunteerism. In fact, during this time it did not lay-off a single Toyota team member. "We also used this time to launch our L3 program – which stands for Learn, Leverage and Lead – across the entire plant, which enabled us carry out comprehensive base line training with our people, re-familiarizing them with Toyota's foundations and principles, and preparing everyone for the time when the automotive market would inevitably bounce back," Tim continues.
The events of 2008 would also bring about the decision by Toyota to consolidate Tundra production at its Toyota Motor Manufacturing, Texas plant in San Antonio. The organization then announced that production of its mid-size crossover SUV, the Highlander would be shifted to TMMI, to begin in 2009. "We celebrated our first Highlander offline ceremony in October 2009, with the model emerging from our West Plant, which at the time was the only Toyota facility globally to be producing both a chassis and a frame vehicle (the Sequoia) on the same production line," Tim explains. "The Highlander was – and continues to be – hugely popular, with demand such that production was eventually bridged over to our East Plant in 2017.
"A further major milestone then occurred in 2019, when Toyota Indiana launched the new generation Highlander and the new generation Sienna under Toyota's New Global Architecture TNGA) Platform. To facilitate this, we made an investment of approximately $1.3 billion, and added 550 additional roles to the business, which resulted in an increase in our capacity of some 40,000 units."
Ongoing capital investment is, however, only one contributing factor behind Toyota Indiana's 25 years of success. "In short, it is our team members who drive us as a business and generate our successes," Tim states. "For our part as a management team, we recognize the importance of getting everybody on the same page, which is why, when taking on new employees we carry out extensive on-boarding educating them on the Toyota way, its history, the Toyota Production System, and its core values. Meanwhile, from a manufacturing perspective, the aforementioned Toyota Production System – and its associated tools and processes – is responsible for driving efficiency throughout the plant."
Process efficiency
Another reoccurring phrase that comes up often when speaking to Tim which speaks to the success of Toyota in general is 'continuous improvement'. "That mind-set of looking for a better way of doing things has been imbedded within Toyota since its inception," he enthuses. "Here at Toyota Indiana, we are constantly examining production and manufacturing processes, looking to identify more efficient and productive ways of doing things. We also work hard to better understand our work balance and our element cycle time verses our actual cycle time, and our people quickly come to realize that such approaches to process efficiency are not only reasons why we have been so successful to date, but are key to maintaining this long into the future."
Lexus arrival
When Tim says with a chuckle that at Toyota its people never take much of a breath, it is because it is an organization always looking to innovate and lead the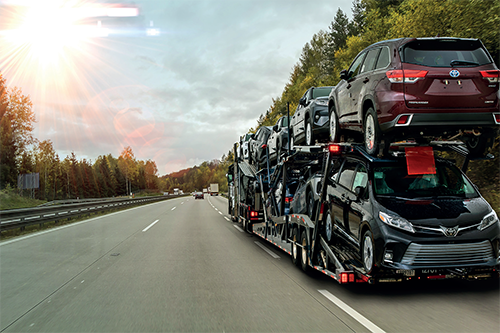 way in terms of product development. Case in point would be its revealing this year – 2021 – of an additional investment of $803 million dollars (and the forthcoming creation of 1400 new jobs) to bring two exciting new Toyota products to market. "One of these will be an eight-passenger Toyota SUV, while the other will be an eight-passenger Lexus SUV, the first Lexus vehicle to be produced at Toyota Indiana, which we are thrilled with," he says.
"Both of these vehicles will form part of Toyota's electrified portfolio, and will further represent the organization's commitment to having a diverse mix of power trains that support our customers' needs and choices. This is, of course, nothing new for Toyota, which today produces more hybrid vehicles globally than any other carmaker – we currently have some 54 models in our global electrified portfolio – and this type of investment will continue in order to further transform our products and our plant to support the future electrification of the automotive industry. Toyota plans to expand to around 70 electrified models globally by 2025. This future lineup will feature 15 dedicated BEVs, including seven carrying the bZ (Beyond Zero) brand moniker. We're going to offer other hybrid and BEV powertrains options on other vehicles. This diverse portfolio of electrified products will help propel Toyota toward its goal of carbon neutrality by 2050."
Driving forward
Toyota is fully committed to a zero-carbon future. When it comes to its own emissions, TMMI is investing over $4 million on various carbon reduction projects, and an additional $2.7 million to accelerate towards carbon neutrality. "On the manufacturing front, how we achieve significant reductions in energy usage is a big focus area," Tim adds. "One specific thing we are looking at is tooling upgrades and how we can ensure that the tools that we purchase now and in the years to come are more energy efficient. For instance, we have spent the last few years moving away from the use of air-powered tools and more towards those that are electric-powered.
"Furthermore, whenever we are installing new equipment such as conveyors, lifters and other large piece of kit, we are ensuring that they have variable frequency drives installed on them. These drives mean that said equipment only consumes the amount of energy required for a certain cycle or element, thus reducing power consumption. We are also currently in the process of upgrading the entirety of our two plants with the introduction of LED lighting, which as everyone knows generates less waste and lasts longer than traditional bulbs."
Moving ahead and towards 2022, Toyota Indiana is ploughing on with its target of bringing its two new SUVs to market, and will soon be finalizing the vehicle development process for these within its West Plant, before transitioning into the process set up phase over the next 12-to-18 months. Meanwhile, its East Plant efforts are underway to increase capacity by as many as 70,000 units, which will also see it shift to 24-hour operations.
As for where Tim and the Toyota Indiana team see the industry in three-to-five years' time, it all comes back to that drive for advanced electrification. "As noted, this massive strategic shift will definitely create significant process changes for us, meaning that we will have to continue to retool our facilities in order to be best placed to take whatever the next steps for industries will be," he declares.
"In the meantime, the global architecture that we have developed here – which includes the $1.3 billion investment previously discussed – has set the Princeton, Indiana plant up to receive manufacturing orders from anywhere in the world, which is one of the contributing factors behind us being tasked with producing the new Lexus SUV," he notes. "We are proud of the fact that we are constantly ensuring that our plants are flexible and nimble enough to take on the challenge of building the next generation of automotive vehicles, guaranteeing the long-term future of Toyota Indiana and the people who have made it such a success to date!"
Toyota Motor Manufacturing Indiana, Inc
www.toyota.com
Products: Automotive manufacturing facility